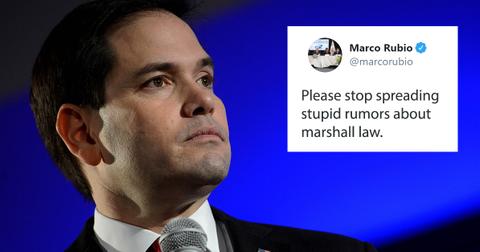 Marco Rubio tweeted about 'marshall law' and people are roasting him
By Mark Pygas
With coronavirus now spreading across the world and with over 6,500 deaths, there's no shortage of fake news out there about the virus. Senator Marco Rubio of Florida recently took to Twitter to dismiss one such rumor that the United States was declaring martial law in response to the virus — they're not.
The problem? Rubio misspelled martial law as "marshall law." Twice.
"Please stop spreading stupid rumors about marshall law," Rubio wrote. "COMPLETELY FALSE. We will continue to see closings & restrictions on hours of non-essential businesses in certain cities & states. But that is NOT marshall law."
As you can imagine, people were pretty quick to roast Rubio for his mistake.
"How was Marshall Law not an Eminem album?" one user asked.
While another joked: "A helpful primer for your family, Facebook friends, and occasional senator: "Martial law" is military government, involving the suspension of ordinary law. "Marshall law" is one of them snitch-ass Paw Patrol dogs."
"NO ONE HAS DECLARED MARSHALL LAW EXCEPT FOR SUSAN AND KAREN SO EVERYONE NEEDS TO KNOCK IT OFF," another user added.
Another user joked: "Marshall law? Is 'Justified' coming back? "
While one user concluded: "I hate it when I get the impulse to dunk on someone, such as Sen. Rubio for his 'marshall law' tweet. We will continue to suffer gravely for electing so many craven fools to high office. It's a deadly problem we tend to treat with irony, and that's a mistake."
At least everyone knows to stop spreading rumors about marshall law now.
The best way to prevent contracting or spreading coronavirus is with thorough hand washing and social distancing. If you feel you may be experiencing symptoms of coronavirus, which include persistent cough (usually dry), fever, shortness of breath, and fatigue, please call your doctor before going to get tested. For comprehensive resources and updates, visit the CDC website. If you are experiencing anxiety about the virus, seek out mental health support from your provider or visit NAMI.org.