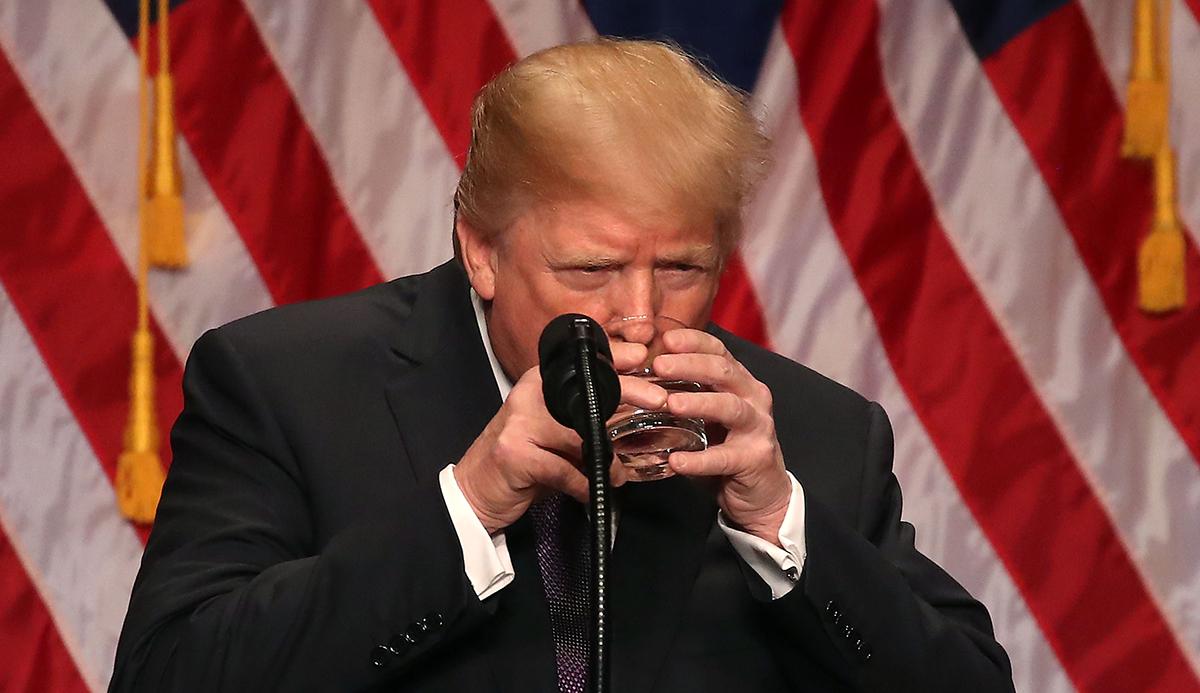 Mar-a-Lago charged taxpayers $3 to serve Trump a glass of water, report
By Mark Pygas

Oct. 29 2020, Updated 8:49 a.m. ET
According to a report by The Washington Post, President Donald Trump's Mar-a-Lago golf club in Florida charged government officials $3 for a glass of water. The publication explains that the charge was made when President Trump hosted Japanese Prime Minister Shinzo Abe in April 2018.
Article continues below advertisement
Along with the expensive glass of water, the United States government was also charged $13,700 for rooms, $16,500 for food and wine, and $6,000 for floral arrangements.
Article continues below advertisement
"When Trump and Abe met at Mar-a-Lago, their first meeting was a brief one on the couch in Mar-a-Lago's central living room," the Post's David Fahrenthold reported. "The two men shook hands for the press, and made brief remarks about what they hoped the summit would achieve."
"There was no food served. No private room to rent. Seemingly, nothing to charge for. But Mar-a-Lago still sent the government a bill. 'Bilateral meeting,' the bill said. 'Water.' The price was $3 each, including service charge."
According to The Post, the president's businesses have made $8.1 million off the taxpayers and Trump's supporters since he became president. The government has paid at least $2.5 million.
Article continues below advertisement
This news comes after it emerged that President Donald Trump paid just $750 in federal income tax in both 2016 and 2017, according to a report by the New York Times. According to tax records obtained by the publication, Trump also paid no income taxes at all in 10 of the previous 15 years.
Article continues below advertisement
The records reveal "chronic losses and years of tax avoidance," according to the paper. President Trump is the first President since the 1970s not to make his returns public, despite facing legal challenges to do so. The Times said the documents it obtained were "provided by sources with legal access to it."
The Times reports that President Trump was able to pay so little tax "largely because he reported losing much more money than he made." Trump's reports to the IRS "portray a businessman who takes in hundreds of millions of dollars a year yet racks up chronic losses that he aggressively employs to avoid paying taxes." In a public filing, President Trump said he made $434.9 million in 2018. The Times states that Trump instead made a loss of $47.4 million in 2018.