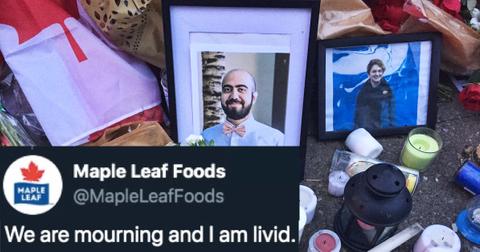 Canadian CEO blames Trump for Iran plane crash that killed an employee's family
By Robin Zlotnick

Updated
Michael McCain, the CEO of Canadian food company Maple Leaf Foods, took to Twitter to blast Trump for his mishandling of the Iran conflict. He views the recent plane crash in Iran, which led to the deaths of all 176 people on board, including 57 Canadians. One Maple Leaf Foods employee lost his wife and 11-year-old son as "collateral damage" in Trump's "ill-conceived plan."
Article continues below advertisement
Using Maple Leaf Foods' verified Twitter account, McCain launched into a thread chastising the president for his actions. He says the administration's actions led to the recent plane crash in Iran. Iran said it shot down the plane by mistake hours after firing missiles at Iraqi military bases that house U.S. troops, according to CNN.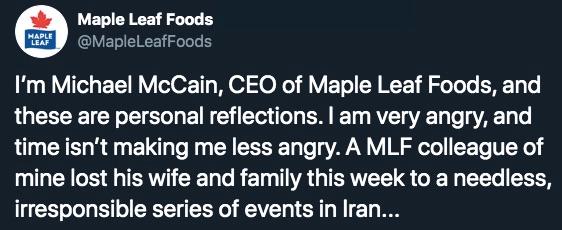 Article continues below advertisement
The plane that crashed was a Ukrainian Airlines jet. CNN reports, "57 Canadians were killed in the crash. The victims also included 82 Iranians, 11 Ukrainians, 10 Swedes, four Afghans, three Germans, and three British nationals."
McCain called Trump's behavior that of a "narcissist," and says his actions — the targeted attack and killing of Iranian commander Qasem Soleimani — effectively tore "world accomplishments apart," destabilizing a region the world had worked so hard to "contain."
Article continues below advertisement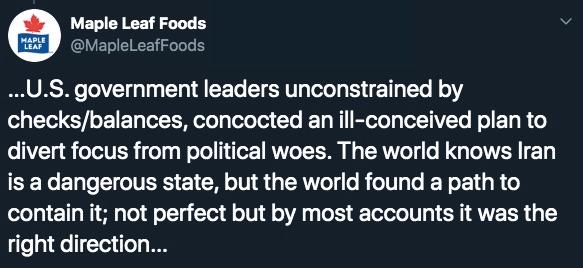 He calls Trump's impulsive behavior "an ill-concocted plan to divert focus from political woes," suggesting Trump's motives for killing Soleimani rested in the president's desire to pull attention away from his impeachment and toward a bid for re-election in 2020.
Article continues below advertisement
"I am very angry, and time isn't making me less angry," McCain writes. Since McCain posted his thread on Sunday evening, it went completely viral. The Maple Leaf Foods account may only have a few thousand followers, but McCain's message snowballed into a cultural moment.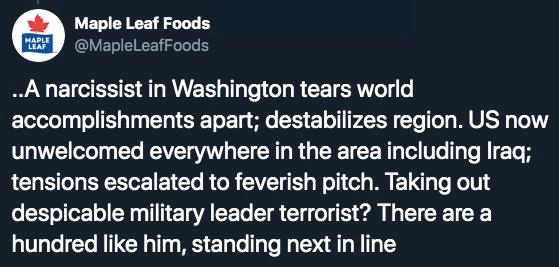 Article continues below advertisement
The visceral emotion and hurt can be felt in his words. In his final tweet, McCain says the collateral damage of Trump's "irresponsible, dangerous, ill-conceived behavior" is that "...Canadians needlessly lost their lives in the crossfire, including the family of one of my MLF colleagues (his wife + 11-year-old son)! We are mourning and I am livid."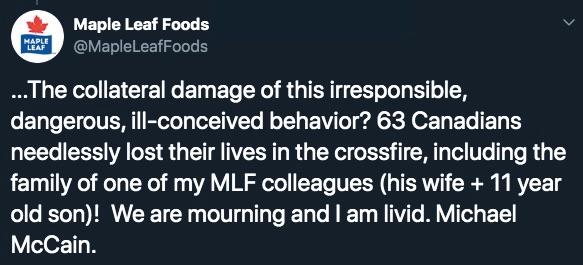 Article continues below advertisement
McCain's thread, which has tens of thousands of retweets and likes, has prompted many responses from Canadians and Americans alike. "Please remember it was not all Americans that did this," one woman writes, "instead it was the tyrant in the White House and several of his close cult members. God be with you, and our thoughts and prayers are also with you. Americans are so truly sorry!"
"Fantastic exercise in branding," another person writes. "Currently looking up all products produced by MLF and not going to purchase a single one from now on. It is one thing to express your personal beliefs on your own page but to do so using your company's Twitter page with logo is corporate suicide!"
Article continues below advertisement
"I really have to wonder," a Twitter user writes, "if the shareholders, employees, and customers of Maple Leaf Foods are all OK with the CEO taking this account to make a personal rant against the U.S. and the President of the United States?" As of right now, it's unclear what the real-world reaction to McCain's thread will be.
Reactions and responses on Twitter, however, are all over the map. Even some who may agree with McCain's sentiments seem to view his use of the Maple Leaf Foods account as inappropriate. But one thing is certain: he wanted his voice heard, and it was.