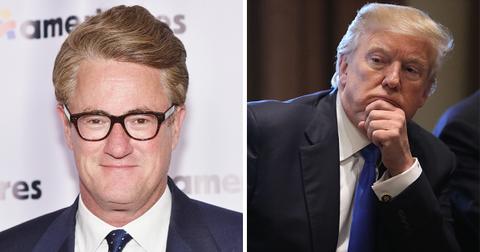 Lori Klausutis' husband asks Twitter to delete Trump's claims that Joe Scarborough killed her
By Mark Pygas

Updated
The husband of Lori Klausutis has asked Twitter to delete baseless claims made by President Donald Trump that MSNBC host and former congressman Joe Scarborough killed his wife.
Lori Klausutis, who was a staffer to Joe Scarborough while he was in Congress, died while working in one of Scarborough's district offices.
As is usual with unexplained deaths and deaths at a young age — Klausutis was 28 — an autopsy was performed. The medical examiner concluded that Klausutis had an undiagnosed heart condition that caused her to pass out and hit her head. Klausutis' head injury was the primary cause of death.
Despite this conclusion, President Donald Trump has repeatedly pushed an unfounded conspiracy theory that Joe Scarborough played a role in the death of Klausutis.
A lot of interest in this story about Psycho Joe Scarborough. So a young marathon runner just happened to faint in his office, hit her head on his desk, & die? I would think there is a lot more to this story than that? An affair? What about the so-called investigator? Read story! https://t.co/CjBXBXxoNS

— Donald J. Trump (@realDonaldTrump) May 24, 2020
As recently as this morning, President Trump implied that Joe Scarborough murdered the woman, saying that he's always wondered if Scarborough could have done "such a horrible thing."
....about whether or not Joe could have done such a horrible thing? Maybe or maybe not, but I find Joe to be a total Nut Job, and I knew him well, far better than most. So many unanswered & obvious questions, but I won't bring them up now! Law enforcement eventually will?

— Donald J. Trump (@realDonaldTrump) May 26, 2020
President Trump's allegations go back as far as 2017, when he called the death an "unsolved mystery."
So now that Matt Lauer is gone when will the Fake News practitioners at NBC be terminating the contract of Phil Griffin? And will they terminate low ratings Joe Scarborough based on the "unsolved mystery" that took place in Florida years ago? Investigate!

— Donald J. Trump (@realDonaldTrump) November 29, 2017
Last week, Scarborough's wife and co-host Mika Brzezinski slammed President Trump for the claims, and called on Twitter to delete the tweets.
This morning @morningmika tore into Trump after he once again accused her husband and co-host Joe Scarborough of murder and says on her Twitter feed that "a call is being set up with @jack and the GC." So, stay tuned.

Looks like I picked the wrong morning to sleep in. Go Mika! pic.twitter.com/oP6lOqEKIe

— Amee Vanderpool (@girlsreallyrule) May 20, 2020
"Donald, you're a sick person," Brzezinski said. "You're really a cruel, sick, disgusting person."
"He's once again tweeting conspiracy theories about Joe, falsely accusing him of murder."
Brzezinski also slammed Twitter for allowing the tweets to remain on their platform, later revealing that a call had been set up between her and Twitter CEO Jack Dorsey.
.@jack At what point is @Twitter a part of this? TAKE DOWN TRUMP's ACCOUNT— the world world be safer. Retweet if you agree

— Mika Brzezinski (@morningmika) May 20, 2020
And on Monday, Timothy Klausutis, widower of Lori Klausutis, also called on Twitter to remove the posts in a letter obtained by the New York Times.
"Please delete those tweets," Klausutis wrote in part. "My wife deserves better."
"An ordinary user like me would be banished from the platform for such a tweet but I am only asking that these tweets be removed," Klausutis added.
"I am now angry as well as frustrated and grieved. I understand that Twitter's policies about content are designed to maintain the appearance that your hands are clean you provide the platform and the rest is up to users. However, in certain past cases, Twitter has removed content and accounts that are inconsistent with your terms of service."
Klausutis also wrote that the conspiracy theory is making it hard for him to move on.
"There has been a constant barrage of falsehoods, half-truths, innuendo and conspiracy theories since the day she died. I realize that may sound like an exaggeration, unfortunately it is the verifiable truth. Because of this, I have struggled to move forward with my life."
"These conspiracy theorists, including most recently the President of the United States, continue to spread their bile and misinformation on your platform disparaging the memory of my wife and our marriage."
Sources told the Times that Twitter has accelerated work to label certain tweets as false and provide links to high-quality information and reporting that refute the misinformation in repose to President Trump's claims.