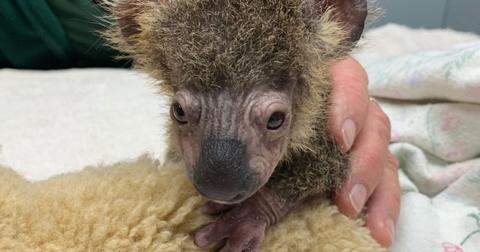 People are loving this tiny koala joey's stunning recovery after being rescued from Australia bushfires
By Mark Pygas

Updated
Wildfires have been devastating much of Australia since September, with animals being among the hardest hit. Experts estimate that over 1 billion animals have perished in the flames. Koalas are among those hardest hit, with at least 8,000 believed to have perished in New South Wales, a third of the state's pre-fire population. Nationwide, 25,000 koalas may have perished.
Article continues below advertisement
In an interview with Sunrise, Terri Irwin explained why koalas are so hard hit: "Koala instinct is to go up, as safety is in the top of the tree. Eucalyptus trees have so much oil that they ignite and actually explode in a fire. That means being able to treat and help koalas is few and far between because they're basically incinerated."
Port Macquarie Koala Hospital is among a number of animal hospitals working around the clock to save animals injured in the wildfires. A GoFundMe campaign for the hospital has so far raised $6.7 million, to help koalas brought into the hospital as well as to build water stations in areas devastated by drought and fire.
Article continues below advertisement
One of the patients that the hospital received was a koala joey named Keli, who was "found abandoned on the ground" when the fires first began back in September.
Earlier this month, the hospital took to Facebook to update their followers on the young koala's situation and to share one of the best transformations on social media.
Article continues below advertisement
Port Macquarie Koala Hospital explained in a caption alongside the photo: "Just a brighter moment in all the tragedy in Australia at the moment we wanted to share something good. Meet Koala Street Keli who was found abandoned on the ground on 8th September 2019, in very poor shape with a fungal infection and only weighing 275 grams."
"Look at Keli today a whopping 1 kg in weight, the fungal infection has gone and all his fur is regrowing. its still early days yet, we will get very excited when he makes 2.5 kg and its time for him to come into the 'dehumanising trees' in preparation for release back to the wild. Release will not happen until the cooler months, and thankfully there is still some good habitat left in selected locations."
Article continues below advertisement
Unsurprisingly, people loved the transformation, with one user writing: "I love him, the work everyone is doing at the koala hospital to save babies and all of the koalas that are burned is amazing."
While another added: "These Koalas are so lucky to have such fabulous carers giving them their best chance to recover/survive."
According to estimates by ecologist Chris Dickman from the University of Sydney, over 1 billion animals have been killed since fires began. That figure includes 800 million mammals, birds, and reptiles.
But that number excludes certain animals like bats, frogs, and invertebrates. If you include those, Dickman concludes "without any doubt at all" that over 1 billion animals have been killed. And Dickman stressed that even that figure is still being conservative.
Article continues below advertisement
Mark Graham, an ecologist with the Nature Conservation Council, explained to lawmakers that koalas are especially susceptible to the fires because they "have no capacity to move fast enough to get away" from fires that spread from treetop to treetop.
"The fires have burnt so hot and so fast that there has been significant mortality of animals in the trees, but there is such a big area now that is still on fire and still burning that we will probably never find the bodies," Graham said.
"We've lost such a massive swathe of known koala habitat that I think we can say without any doubt there will be ongoing declines in koala populations from this point forward.