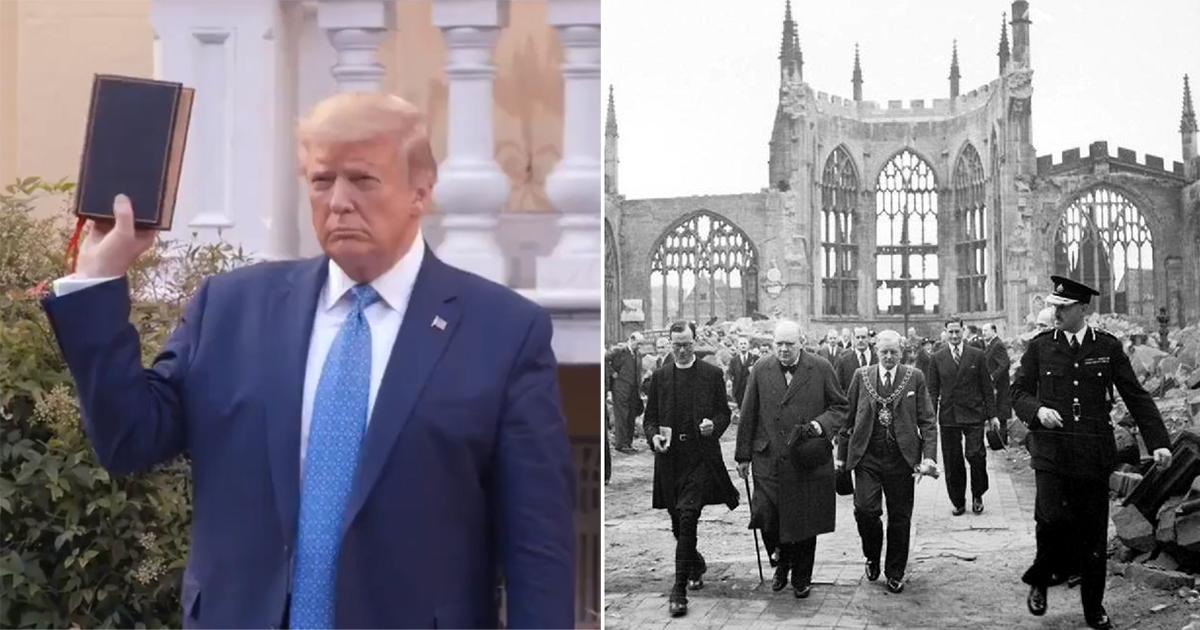 Trump's press secretary compares his bible photo to Winston Churchill surveying Blitz damage
By Mark Pygas

Jun. 4 2020, Updated 9:39 a.m. ET
White House press secretary Kayleigh McEnany has compared President Donald Trump leaving the White House to have photos taken of him holding a bible in front of a church to famous photographs of British Prime Minister Winston Churchill surveying bombing damage during World War II.
Article continues below advertisement
Protesters were removed from Lafayette Square with projectiles and smoke grenades so that President Donald Trump could have his photo taken at the vandalized St John's Episcopal Church, though many at the scene reported their eyes being irritated.
According to the Washington Post and CNN, Attorney General William Barr gave the order to clear the park.
President Trump then took a short walk from the White House and posed with a bible in front of St John's Episcopal Church.
CNN claims that the impromptu photo-op was organized because President Trump was angry about coverage of Trump and his family being rushed to the White House bunker as protests outside the White House raged on Monday.
Article continues below advertisement
President Trump's administration has faced criticism over the photo-op, including from the church's Reverend and Bishop.
"I am outraged. The President did not pray when he came to St. John's, nor as you just articulated, did he acknowledge the agony of our country right now," Bishop Mariann Edgar Budde told CNN's Anderson Cooper.
Now, the Trump administration is doubling down on the moment, comparing it to Prime Minister Winston Churchill surveying bomb damage during World War II.
Press Secretary Kayleigh McEnany was asked: "Why did the President feel it was important to go and walk over there, through the park, and to the church?"
Article continues below advertisement
McEnany responded: "It was extremely important. Look, the President wanted to send a very powerful message that we will not be overcome by looting, by rioting, by burning. This is not what defines America. And going and standing by St John's Church was a very important moment."
Article continues below advertisement
"And I would note that, through all of time, we've seen Presidents and leaders across the world who have had leadership moments and very powerful symbols that were important for our nation to see at any given time, to show a message of resilience and determination."
"Like Churchill, we saw him inspecting the bombing damage; it sent a powerful message of leadership to the British people. And George W. Bush throwing out the ceremonial first pitch after 9/11. And Jimmy Carter, putting on a sweater to encourage energy savings. And George H.W. Bush signing the Americans with Disabilities Act, flanked by two disabled Americans."
Article continues below advertisement
"And for this President, it was powerful and important to send a message that the rioters, the looters, the anarchists, they will not prevail; that burning churches are not what America is about. And that moment, holding the Bible up, is something that has been widely hailed by Franklin Graham and others. And it was a very important symbol for the American people to see that we will get through this, through unity and through faith."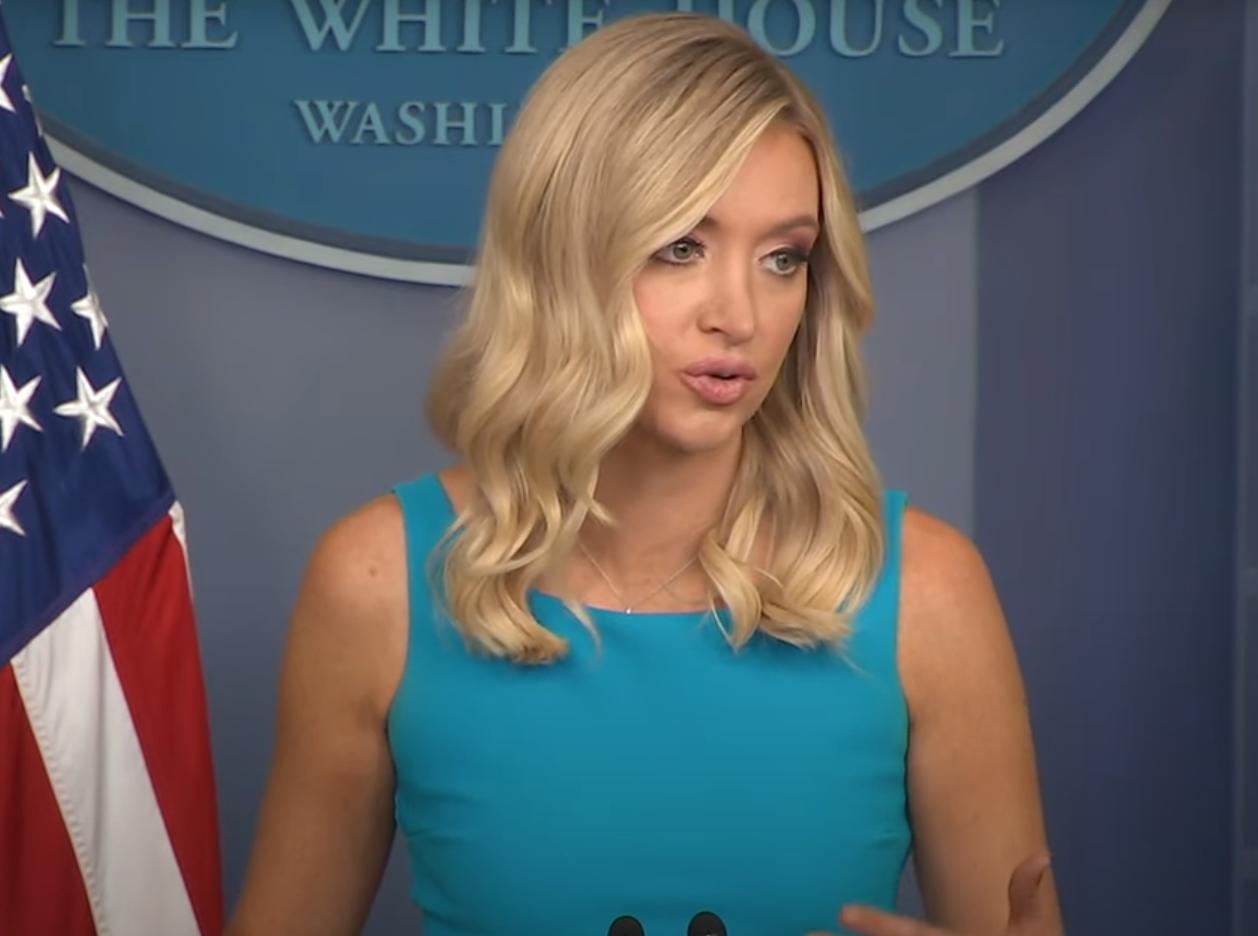 Article continues below advertisement
McEnany also addressed why protesters were moved stating: "So let me first address: No tear gas was used and no rubber bullets were used," avoid repeated questions about whether other chemical agents were used.
"First, I would note that these protests that were going on — in the morning, AG Barr had determined that we needed to expand the perimeter by one block on each side. He was surprised — AG Barr — when he arrived at the White House to see that that perimeter had not been moved. So he said that we needed to get going with moving that perimeter. He told the officers that out there. That was late afternoon. So that decision was made in the morning, first of all."
"The protesters were told three times over loudspeaker that they needed to move. And what happened was it grew increasingly unruly. There were projectiles being thrown at officers. Frozen water bottles were being thrown at officers. Various other projectiles. And the officers had no other choice than, in that moment, to act and make sure that they were safe and that the perimeter was pushed back, because as we all know, a church was burning in that very area the night before."
Article continues below advertisement
Asked whether she agreed that most protesters were peaceful, the press secretary added:
"And I would say that it is uncalled for to throw bricks at officers, uncalled for to throw frozen water bottles at officers. And they also had received intelligence that there were calls for violence against police officers, and they found caches of glass bottles, baseball bats, and metal poles hidden along the streets. When an officer is at risk, they have the right to defend themselves. They did so peaceably. No one had — there were no fatalities, no severe injuries."
When asked about a crew of Australian journalists who were attacked by police when they pushed our protesters, McEnany added: "I think the U.S. Park Services, when having bricks thrown at them and frozen water bottles, had the right to act. They acted with the appropriate level of force to protect themselves and to protect the average citizenry and to protect the peaceful protesters who were among them as well."
Article continues below advertisement
Two police officers have been placed on administrative leave after a journalist and a photojournalist were struck by a truncheon and shield.
"As is consistent with our established practices and procedures, two US Park Police officers have been assigned to administrative duties, while an investigation takes place regarding the incident with the Australian Press," Park Police acting Chief Gregory Monahan said on Wednesday.