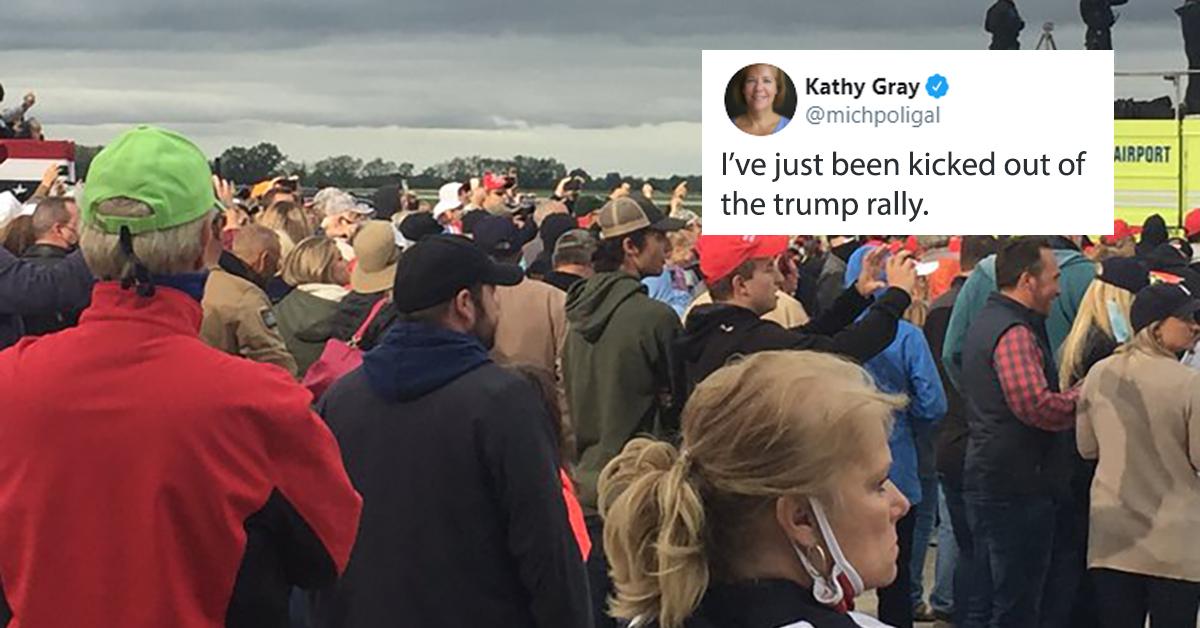 Reporter says she was kicked out of Trump rally for tweeting photo of maskless crowd
By Mark Pygas

Sep. 11 2020, Updated 9:30 a.m. ET
A New York Times reporter said she was kicked out of President Donald Trump's rally in Michigan after she tweeted a photo of a maskless crowd.
Article continues below advertisement
"Trump rally in Freeland attracts thousands," Gray wrote as she began her coverage of the event. "Maybe 10% have masks."
She then shared a photograph, writing: "Crammed in crowd in the rain for trump rally in Michigan. Not many masks."
Article continues below advertisement
Later, Gray said that she had been kicked out of the rally. "I've just been kicked out of the Trump rally," Gray wrote. "Trump campaign tracked me down from pics I tweeted and escorted me out."
Article continues below advertisement
President Donald Trump has a mixed record on masks. In the spring, Trump said that he would not be wearing a mask and left it up to states to mandate mask wearing. the President has since encouraged people to wear a mask, and has been seen wearing one himself in public. However, many have argued that masks would be more effective if the entire country wore them.
Article continues below advertisement
CDC Director Robert Redfield recently called for "universal masking" in the United States in an attempt to control the spread of coronavirus. Redfield added that if everyone in the United States wore a mask, the pandemic could be brought under control in a matter of months.
In an editorial published in the journal JAMA, Redfield called for universal masking because "there is ample evidence" that asymptomatic people are the ones keeping the pandemic thriving.
Someone who is asymptomatic has the coronavirus but will show very minor or no symptoms, often leading them to believe that they don't have the virus.
"The data is clearly there that masking works," Redfield said. "If we can get everybody to wear a mask right now, I really do think in the next four, six, eight weeks ... we can get this epidemic under control."
Article continues below advertisement
Redfield pointed to several studies showing the usefulness of masks, including one from the largest healthcare system in Massachusetts. Universal masking of workers and patients in this setting helped to reverse the spread of the coronavirus among employees.
He also highlighted the case of a pair of Missouri hairstylists, who were infected with coronavirus, but did not infect any of their 139 clients because of proper use of masks.
The CDC used this particular case in a study released this week, stating that "broader implementation of masking policies could mitigate the spread of infection in the general population."
A new model by the University of Washington projected more than 200,000 coronavirus deaths in the United States by November but also found that universal masking could bring that number down by 45,000.
"As we all have come to recognize, wearing masks can substantially reduce transmission of the virus," Dr. Christopher Murray told Market Watch. "Mask mandates delay the need for re-imposing closures of businesses and have huge economic benefits. Moreover, those who refuse masks are putting their lives, their families, their friends, and their communities at risk."