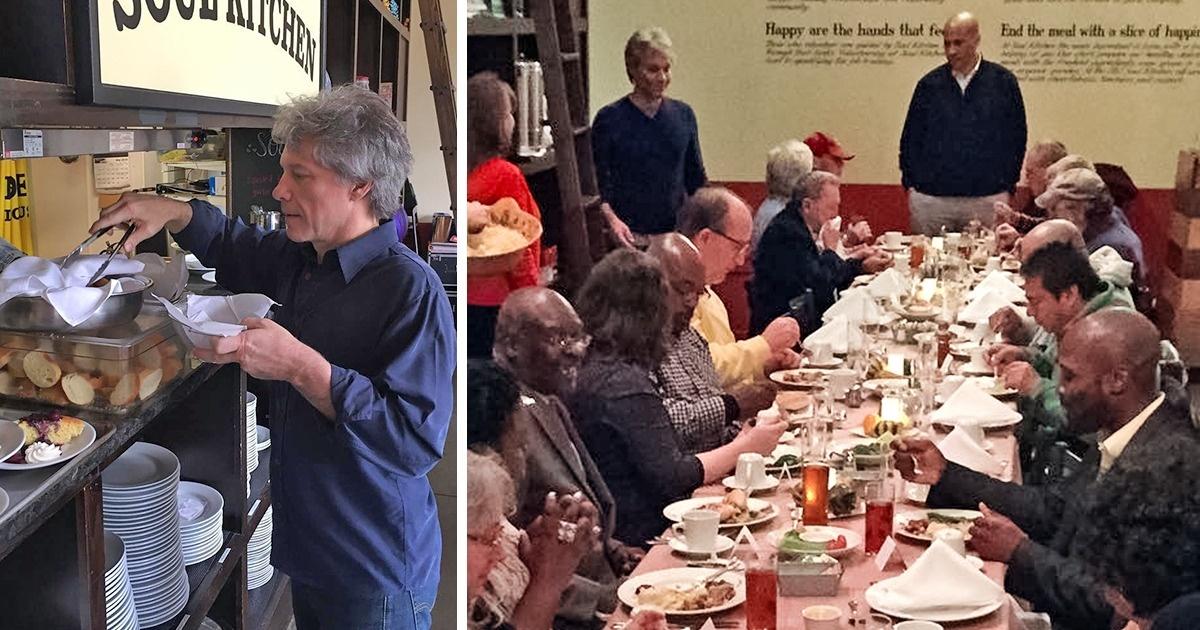 Jon Bon Jovi opens JBJ Soul Kitchen at Rutgers University to help feed hungry students
By Mark Pygas

Jan. 27 2020, Updated 8:32 a.m. ET
Jon Bon Jovi wears a lot of hats. He's one of the best-known rock stars in the world, he's appeared on TV shows including Sex and the City, and he's even stared in films like Moonlight and Valentino. But you might not have heard about his philanthropy efforts.
Article continues below advertisement
Bon Jovi is the founder of the JBJ Soul Foundation, which has helped to provide over 600 units of supportive and affordable housing for thousands of youth and veterans. The foundation also runs Soul Kitchen, two restaurants where the menu doesn't have price tags and you can leave without paying.
And last week, Bon Jovi opened a third location at Rutgers University-Newark to help out students who otherwise couldn't afford a meal out.
At Soul Kitchen, students and faculty can settle their bill with either a $12 donation or by offering to volunteer at a later date.
Article continues below advertisement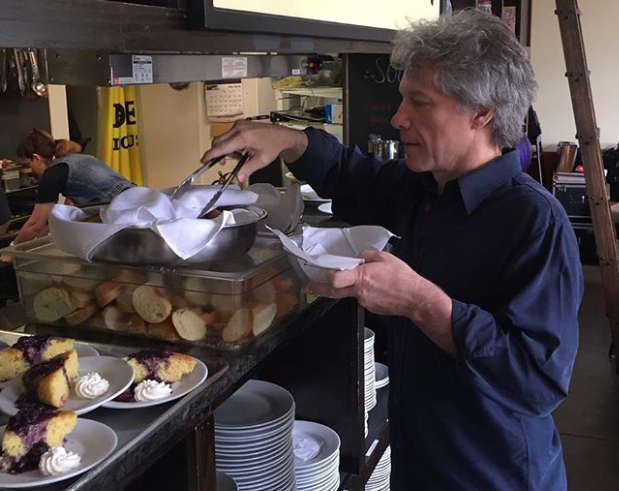 And according to JBJ Soul Kitchen, college kids really need the help. They quote figures that suggest one in three college students attending a four-year course struggle to obtain food consistently. At Rutgers University–Newarkm more than 50% of students have exceptional financial need.
Article continues below advertisement
Bon Jovi, along with his wife, Dorothea, opened the location last week. Dorothea said: "Recognizing that food insecurity is a critical issue facing many college students, and one that hits home right here at Rutgers, when Gourmet Dining came to us over a year ago with the idea to open a Soul Kitchen, we jumped at the chance to make an impact. Students have enough to worry about. Worrying about where their next meal will come from should not be on the list."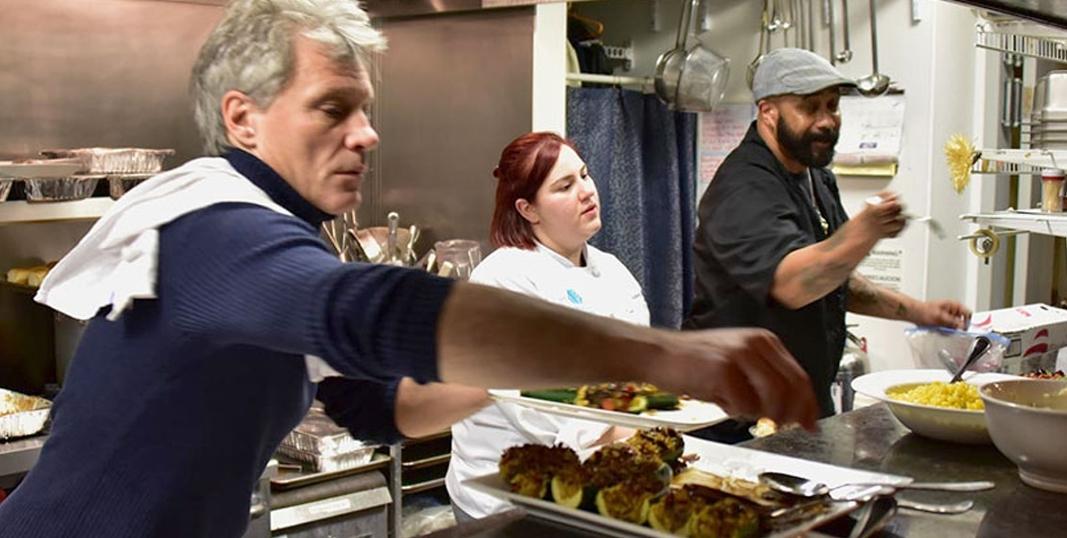 Article continues below advertisement
"Food insecurity is one of the most critical issues college students face today," Bon Jovi added. "We applaud Gourmet Dining and Rutgers University-Newark who have made tackling this issue a priority so that students always have a place to go for a great-tasting, healthy meal."
"We couldn't have found a better place to open our third JBJ Soul Kitchen location and truly believe that when students are supported with basic needs and backed by their community, they can and will go on to do amazing things," he said.
Gov. Phil Murphy, also at the event, added: "We have a wealth of talent in this state -- there is no question about that. A fact which makes itself evident through the tremendous achievements of our Rutgers University students. But many of these same talented, hard-working students are struggling to make ends meet and that means they may be going hungry."
Article continues below advertisement
Dorothea assured students who are unable to pay that "dignity, respect are always on the menu regardless of socioeconomic status."
The first Soul Kitchen location opened in the Red Bank area of New Jersey where Bon Jovi grew up in 2011 according to Brightside. The second location opened near Toms River in 2016.
"Our mission has always been to affect positive change and address the issues of hunger and homelessness," Bon Jovi told Billboard. "There are no prices on our menu. So if you are in need, you participate. And that means bussing the table, washing a dish, working in our gardens."
Article continues below advertisement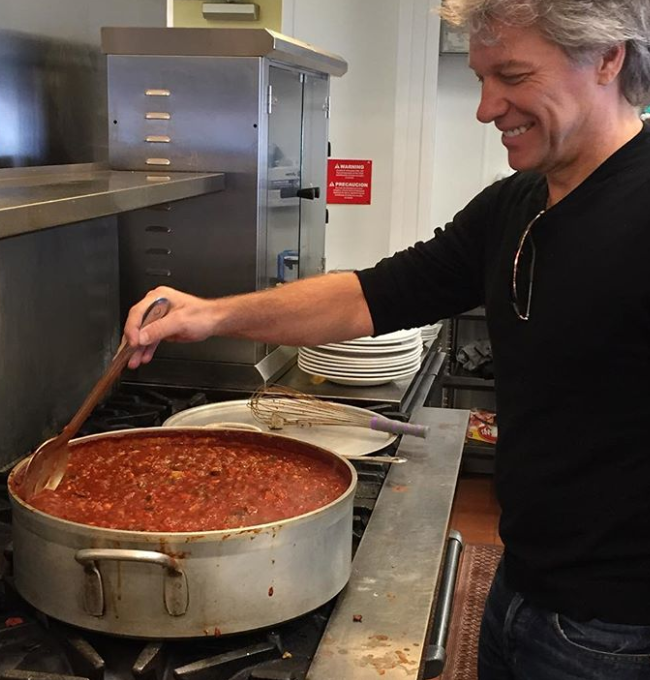 Bon Jovi opened the second location after Superstorm Sandy devastated the area.
"Super Storm Sandy brought a lot of focus here in Ocean County to people who are already in need. These are the hardworking blue collar... people who go to work every day but they need to make ends meet," Bon Jovi said. "The food insecurity was already here, but this just exacerbated it."
The food doesn't sound half bad either, with the website stating: "JBJ Soul Kitchen serves a 3-course meal based on American Regional cuisine, beginning with the option of a soup or salad. Each guest also has the choice of an entrée such as a fish, meat, or vegetarian selection. The meal is finished with a freshly made dessert. Our chefs prepare many of the dishes with natural, locally sourced ingredients from our garden or the JBJ Soul Kitchen Farm."
If you're unable to make it to the restaurant, you can also donate directly here.