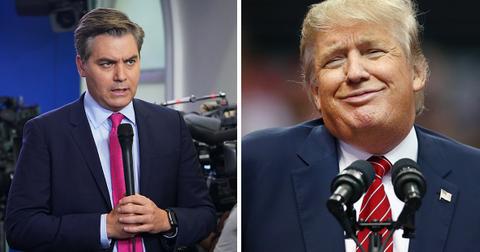 Jim Acosta shut down Trump after he lied about CNN apologizing
By Mark Pygas
CNN White House correspondent Jim Acosta and President Donald Trump faced off again at a press conference in New Delhi as Trump visits India. The two have a long history, with the White House briefly suspending Acosta's press credentials in 2018, following an incident that ended with a White House intern trying to grab a microphone from him.
This time, Acosta and Trump spared verbally as the reporter asked whether Trump would reject foreign help in his reelection and how he justifies appointing an acting director of national intelligence with no experience in the field.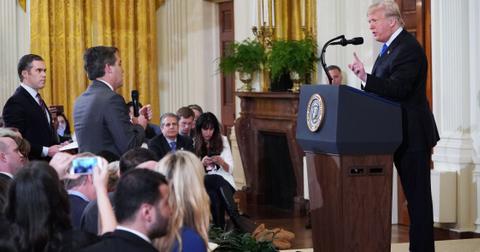 Acosta asked:
"Can you pledge to the American people that you will not accept any foreign assistance in the upcoming election, and on this idea of a purge in your administration, there was recently the departure of your acting DNI, Joseph Maguire. You replaced him with your ambassador to Germany Rick Grenell."
"Some of your critics have pointed out that Ambassador Grenell has no intelligence experience. How can you justify to the American people having an acting DNI with no intelligence experience?"
President Trump replied:
"First of all, I want no help from any country, and I haven't been given help from any country."
He then took a shot at CNN, saying:
"And if you see what CNN, your wonderful network, said, I guess they apologized in a way for - didn't they apologize for the fact that they said certain things that weren't true? Tell me, what was their apology yesterday? What did they say?"
To which Acosta replied with this zinger:
"Mr. President, I think our record on delivering the truth is a lot better than yours sometimes."
As the Daily Mail points out, CNN never apologized on Monday. President Trump appeared to be referring to a CNN story that suggested an intelligence officer who briefed the House on Russia's attempts to help Trump get a second term had overstated the strength of the intelligence community's findings.
The exchange continued, with Trump replying: "Let me tell you about your record, your record is so bad you ought to be ashamed of yourself. You have the worst record in the history of broadcasting."
While Acosta added: "I'm not ashamed of anything and our organization is not ashamed."
You can watch the full exchange below.
The Washington Post recently reported that President Trump had made more than 16,200 false or misleading claims in his first three years in office.
The Post reports: "In 2017, Trump made 1,999 false or misleading claims. In 2018, he added 5,689 more, for a total of 7,688. And in 2019, he made 8,155 suspect claims."