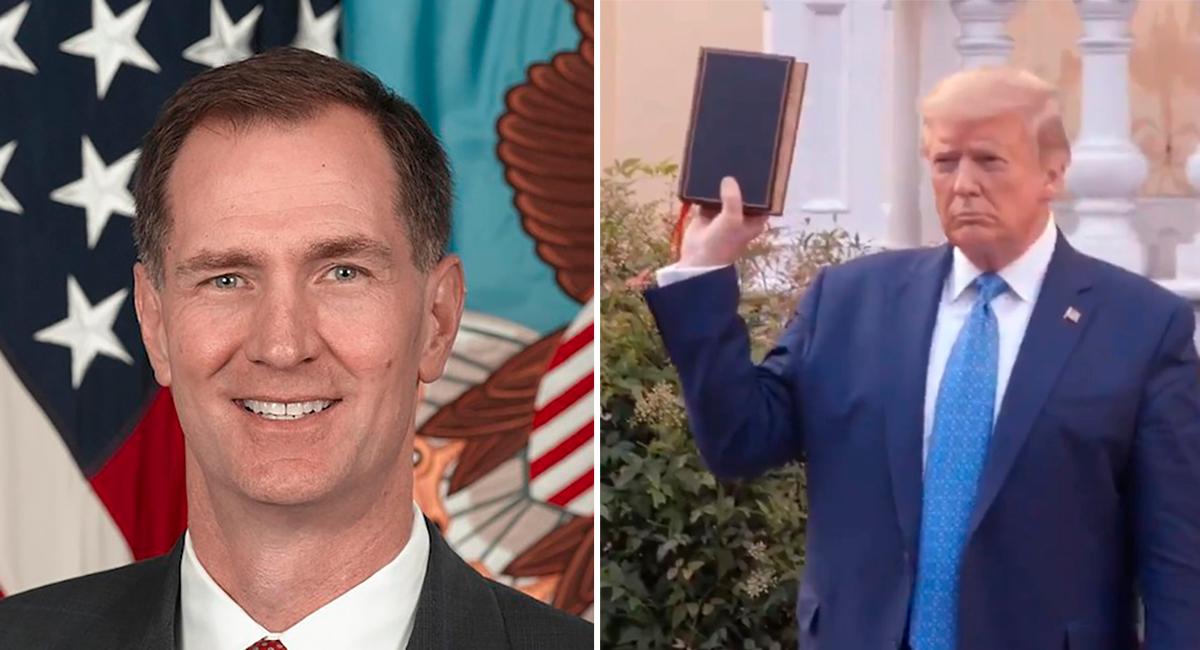 Military adviser resigns after peaceful protesters were cleared for Trump photo-op
By Mark Pygas

Jun. 3 2020, Updated 3:13 p.m. ET
James Miller, a former top official at the Pentagon, has resigned over what he said was Secretary of Defense Mark Esper's support of clearing peaceful protesters from Lafayette Square in Washington D.C. Protesters were removed with projectiles and smoke grenades so that President Donald Trump could have his photo taken at the vandalized St John's Episcopal Church, though many at the scene reported their eyes being irritated.
Article continues below advertisement
On Monday, protesters were cleared from the park so that President Trump could make the short walk to the church. According to the Washington Post and CNN, Attorney General William Barr gave the order to clear the park.
President Trump then posed with a bible in front of St John's Episcopal Church.
Article continues below advertisement
CNN claims that the impromptu photo-op was organized because President Trump was angry about coverage of Trump and his family being rushed to the White House bunker as protests outside the White House raged on Monday.
James Miller, a member of the Defense Advisory Board, has now decided to resign over the incident.
"When I joined the Board in early 2014, after leaving government service as Under Secretary of Defense for Policy, I again swore an oath of office, one familiar to you, that includes the commitment to 'support and defend the Constitution of the United States . . . and to bear true faith and allegiance to the same,'" Miller wrote in a resignation letter to Secretary of Defense Mark Esper.
Article continues below advertisement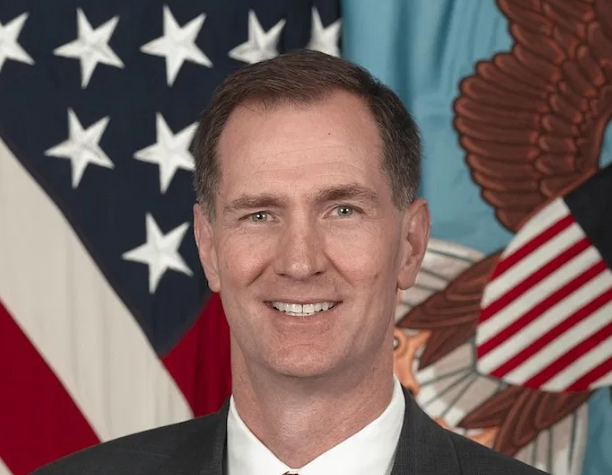 "You recited that same oath on July 23, 2019, when you were sworn in as Secretary of Defense. On Monday, June 1, 2020, I believe that you violated that oath. You may not have been able to stop President Trump from directing this appalling use of force, but you could have chosen to oppose it. Instead, you visibly supported it."
Esper visited the church with President Trump, though he told NBC on Tuesday that he thought they were going "to see some damage and to talk to the troops."
Article continues below advertisement
"I didn't know where I was going," Esper said. "I wanted to see how much damage actually happened."
In a memo to Department of Defense staff on Tuesday, Esper wrote: "I, like you, am steadfast in my belief that Americans who are frustrated, angry, and seeking to be heard must be ensured that opportunity."
Bishop Mariann Edgar Budde, who oversees the church, condemned the photo opportunity in comments to the media.
"I am outraged. The President did not pray when he came to St. John's, nor as you just articulated, did he acknowledge the agony of our country right now," Budde told CNN's Anderson Cooper.
Article continues below advertisement
"And in particular, that of the people of color in our nation, who wonder if anyone ever -- anyone in public power will ever acknowledge their sacred words. And who are rightfully demanding an end to 400 years of systemic racism and white supremacy in our country. And I just want the world to know, that we in the diocese of Washington, following Jesus and his way of love ... we distance ourselves from the incendiary language of this President. We follow someone who lived a life of nonviolence and sacrificial love."
"We align ourselves with those seeking justice for the death of George Floyd and countless others," she continued. "And I just can't believe what my eyes have seen."
Asked whether President Trump is a regular at the church, where many presidents have prayed, Budde said that he was not and that she did not know of any other church that President Trump visited.
Article continues below advertisement
Rev. Gini Gerbasi, the rector at St. John's Episcopal Church, was among the crowds of peaceful protesters who were pushed back for the photo opportunity.
"We cannot have been driven off of that patio with tear gas and horses and concussion grenades, so that that man can have a photo op, in front of a church, holding a Bible," Gerbasi told WUSA. "I am so [expletive] offended that he would have the nerve to do that, no one knew about this stunt."
"I was coughing with tear gas in my clergy collar, and my gray hair, and my old lady reading glasses, so that that man could stand there and hold a Bible in his hand and look Christian," Gerbasi added. "And it would be far more Christian if he would behave according to the words in that book instead of just carrying it around with him as a prop."
Article continues below advertisement
In a post on Facebook, Gerbasi praised protesters and condemned President Trump for the stunt. The reverend said that all was peaceful until the push by police.
"At this point, Julia, one of our seminarians for next year (who is a trauma nurse) and I looked at each other in disbelief. I was coughing, her eyes were watering, and we were trying to help people as the police - in full riot gear - drove people toward us."
Article continues below advertisement
"The police in their riot gear were literally walking onto the St. John's, Lafayette Square patio with these metal shields, pushing people off the patio and driving them back. People were running at us as the police advanced toward us from the other side of the patio. We had to try to pick up what we could," Gerbasi explained, noting that she had been handing out snacks and water earlier in the day.
"I was so stunned I only got a few water bottles and my spray bottle of eyewash. We were literally DRIVEN OFF of the St. John's, Lafayette Square patio with tear gas and concussion grenades and police in full riot gear. We were pushed back 20 feet, and then eventually - with SO MANY concussion grenades - back to K street."
Article continues below advertisement
"I literally COULD NOT believe it. WE WERE DRIVEN OFF OF THE PATIO AT ST. JOHN'S - a place of peace and respite and medical care throughout the day - SO THAT MAN COULD HAVE A PHOTO OPPORTUNITY IN FRONT OF THE CHURCH!!! PEOPLE WERE HURT SO THAT HE COULD POSE IN FRONT OF THE CHURCH WITH A BIBLE! HE WOULD HAVE HAD TO STEP OVER THE MEDICAL SUPPLIES WE LEFT BEHIND BECAUSE WE WERE BEING TEAR GASSED!!!!"
"I am deeply shaken. I did not see any protestors throw anything until the tear gas, and concussion grenades started, and then it was mostly water bottles. I am shaken, not so much by the taste of tear gas and the bit of a cough I still have, but by the fact that that show of force was for a PHOTO OPPORTUNITY."
"The patio of St. John's, Lafayette square had been HOLY GROUND today. A place of respite and laughter and water and granola bars and fruit snacks. But that man turned it into a BATTLE GROUND first, and a cheap political stunt second. I am DEEPLY OFFENDED on behalf of every protestor, every Christian, the people of St. John's, Lafayette square, every decent person there, and the BLM medics who stayed with just a single box of supplies and a backpack, even when I got too scared and had to leave. I am ok. But I am now a force to be reckoned with."