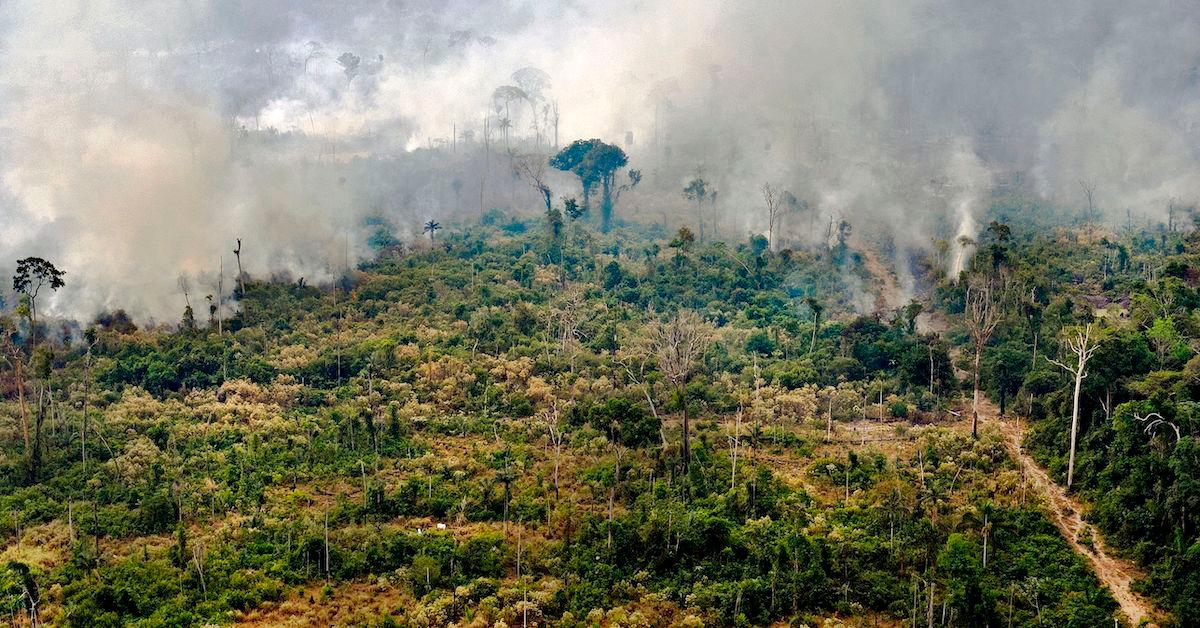 Brazil's Bolsonaro proposes bill to allow mining, agribusiness, and more on indigenous lands in the Amazon
By Sophie Hirsh

Feb. 13 2020, Updated 5:24 p.m. ET
While one might expect the president of the country home to most of the Amazon rainforest to want to protect it, Brazilian President Jair Bolsonaro continues to do the opposite. Instead of trying to preserve and safeguard the Amazon, he has made multiple efforts to allow expansion of agribusiness and mining in the area, all seemingly in pursuit of money.
Bolsonaro's most recent move? He is trying to open indigenous lands in the Amazon to a variety of commercial projects, including mining and gas and oil exploration. 
Article continues below advertisement
As reported by Mongabay, this week, Bolsonaro sent a sent a bill to the Brazilian Congress that would open indigenous reserves in the Amazon to commercial mining, exploring for gas and oil, cattle ranching (raising cows for beef and dairy), other agribusiness, hydroelectric dam projects, tourism, and more. 
As Mongabay explained, Bolsonaro, the mining lobby, and the agribusiness industry of Brazil have been wanting to gain access to this land for decades. In fact, Article 231 of Brazil's Constitution of 1998 protects the areas in question from mining activity, unless the indigenous people who live on the land grant permission, according to Amazon Watch. But Bolsonaro is trying to lift those protections.
Article continues below advertisement
Many indigenous people live in these areas of the Amazon, and undoubtedly do not want developers, miners, and tourists invading their land — but Bolsonaro doesn't see things that way. "The Indian is a human being exactly like us," Bolsonaro said, in an attempt to justify this bill as beneficial for indigenous people, according to Mongabay. "They have hearts, feelings, a soul, desires, needs and they are just as Brazilian as we are," he continued, implying that the indigenous people will be supportive of economic exploitation where they live.
Article continues below advertisement
Sônia Guajajara, Executive Coordinator of the Association of Brazil's Indigenous Peoples (APIB), does not agree with the president. "Today, Bolsonaro signed a bill to permit mining and the construction of hydroelectric dams in indigenous territories," Sônia Guajajara said in a statement for Amazon Watch.
"In his speech, he states that this is a 'dream' for him and that an indigenous person 'is just as Brazilian as we [white people] are. Your 'dream', Bolsonaro, is our nightmare and our extermination because mining brings death, illness, and misery and it destroys the future of our children," Guajajara continued. "We know that this is your true dream, but we do not accept our institutionalized genocide, nor do we accept mining or hydroelectric dams in our territories. We will not retreat. The blood that runs in our bodies is formed through struggle and resistance, and we will not let our nightmare come true."
Article continues below advertisement
Not to mention, many indigenous people have already traveled from the Amazon to capital city to protest the bill, as per Amazon Frontlines.
Article continues below advertisement
When the Amazon rainforest fires became international news in August, Bolsonaro made it clear that he was not concerned by them, nor did he have any intention to prioritize putting them out. Ever since Bolsonaro took office on Jan. 1, 2019, he and his administration have actually made various efforts to loosen regulations that are in place to protect on the Amazon rainforest.
"[The Bolsonaro administration] is not enforcing [environmental laws]. They're slashing budgets, they're working to change the laws right now in the Brazilian Congress," Andrew Miller, Advocacy Director for Amazon Watch, told Green Matters in August 2019. "It's a big fight, right now, literally this week, the same time the fires are going on, the Brazilian government is proposing to weaken environmental rules." Today, six months after the fires were at their peak, Bolsonaro is still hard at work to change the laws in the Brazilian Congress.
Article continues below advertisement
Not to mention, before he even became president, Bolsonaro made his stance as a climate science denier and anti-environmentalist clear, and he had even expressed his intention to develop the Amazon while campaigning. "[Bolsonaro's] economic project is to destroy the Amazon, to transform the Amazon into commodities for export," Felipe Milanez, professor of humanities at the Universidade Federal de Bahia, told National Geographic shortly after Bolsonaro was elected. 
With more than 400 indigenous groups living across the Amazon, should this bill pass, it could be seriously detrimental to the Amazon's indigenous population. In fact, Amazon Watch believes it could cause environmental destruction on 30 percent of indigenous land in Brazil. The leader of any country should have the safety of all its citizens as a first priority, but sadly, Bolsonaro seems to prioritize wealth above all else.