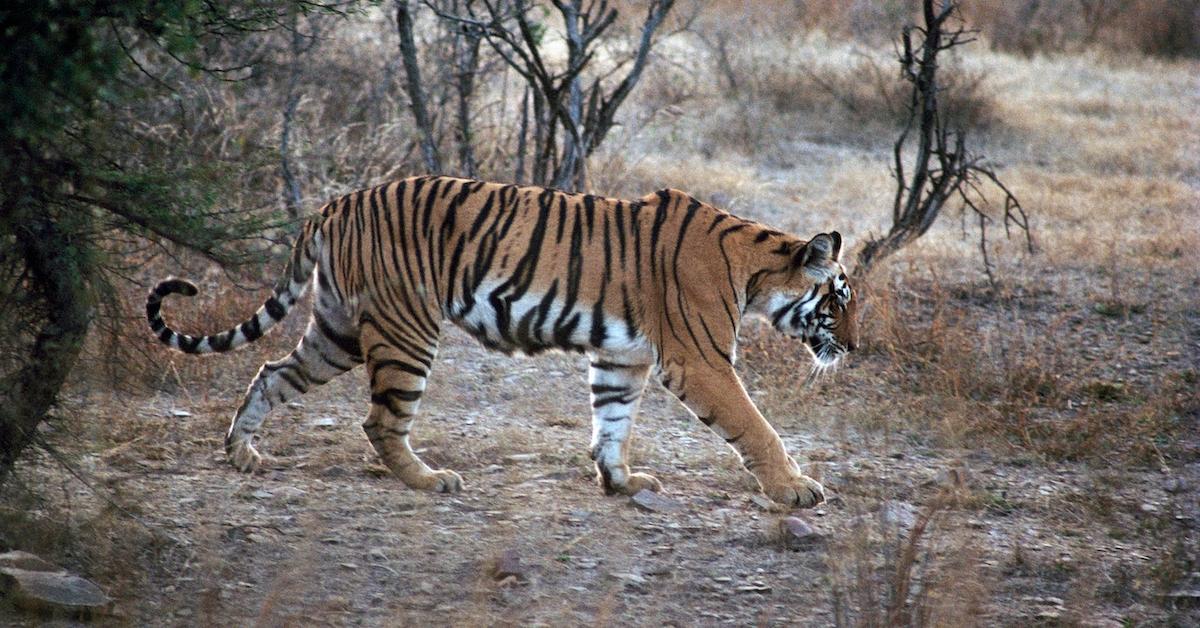 This couple bought 40 acres of forest near an Indian tiger reserve to preserve wildlife
By Sophie Hirsh

Feb. 18 2020, Updated 12:28 p.m. ET
Over the past two decades, Aditya Singh, a wildlife photographer, and Poonam Singh, an artist, have purchased more than 40 acres of land in India, worth more than $140,000 in total. But instead of developing the land or selling it, the couple has left the land alone and let it grow back into a forest, all the while encouraging tigers and other wild animals to make themselves at home on the land.
Article continues below advertisement
As detailed in a profile by Mongabay-India, in 1998, the Singhs moved from Delhi to Sawai Madhopur city in Rajasthan, a state in northern India. The married couple made the move after visiting the area on vacation, where they witnessed the tigers from Ranthambore Tiger Reserve and fell in love with the whole experience.
"My first sighting was a tigress with three cubs on a hill. It was magical," Poonam recalled to Mongabay-India. "At the end of the trip, I just asked [my husband] if we can move to Ranthambore. He wanted it too and within months we moved. As far as this land is concerned, it was a dream that we both saw an achieved together to have our own area of wilderness."
Article continues below advertisement
So, Aditya quit his job, they purchased a house right near Ranthambore Tiger Reserve, and slowly began buying more and more land nearby. As of today, they own 35 acres of land directly surrounding the reserve, a separate set of five acres of land down the road, and a pathway of land connecting the two areas together. To maintain the land, they basically just removed invasive species, and let the grass and shrubbery grow freely; additionally, Aditya built a few watering holes to entice animals into their forest.
Article continues below advertisement
As the couple explained to Mongabay-India, it was easy to buy land surrounding the reserve from the various farmers who owned it — because tigers, wild boar, nilgai, and deer would often wander onto the land looking for prey, farmers were hesitant to plant too many crops, so many put their land up for sale.
To support themselves in their new town, Poonam opened a tourist resort on their new land. She ran the resort — with help from her husband — for about 20 years, and they closed the doors in 2019, as per Mongabay-India.
Article continues below advertisement
Ranthambore Tiger Reserve is a famous wildlife sanctuary, ranked as the No. 1 thing to see in Ranthambore National Park on Yelp. Many tourists visit the park and specifically the reserve in hopes of spotting wild tigers and other animals. As Aditya said in a video interview with Mongabay-India, he lets other wildlife photographers come onto his land, and they have spotted up to five tigers at a time in recent years.
"I just bought this and did nothing to it except removing the invasive species," Aditya told Mongabay-India. "We allowed the land to recover and now after 20 years it has become a lush green patch of forest which is frequently visited by all kind of animals, including tigers, leopards and wild boars, throughout the year."
Article continues below advertisement
"Ultimately, if you ask me why am I doing it, there's no logic to it. Maybe just satisfaction, fun. The fact that you got your own forest," Aditya said in the video interview. And even though the land is now worth around $140,000, the couple would never dream of selling it. 
Article continues below advertisement
"Money was never the consideration," he added. "It is just about my love for nature and wildlife. Instead, these days I am getting queries from people across India who want to replicate a similar model in their state."
Not only is the Singhs' project a positive thing for local wildlife and biodiversity, but it's also good for the planet. The vast amounts of trees absorb CO2 from the atmosphere — had someone else bought those 40-plus acres of land and developed them into factories, buildings, or anything that required electricity, there would have instead been CO2 entering the atmosphere. Hopefully the Singhs' story will inspire other people with the financial resources to buy land and let it grow into forests.