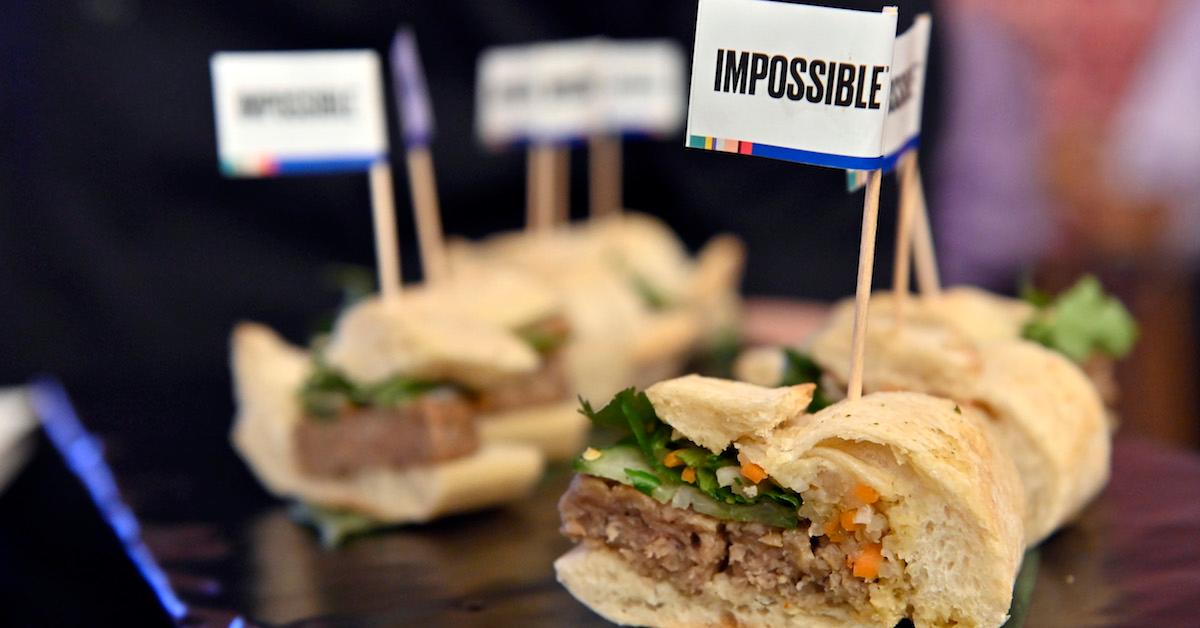 Impossible Foods unveils pig-free pork: here's what early taste-testers think
By Sophie Hirsh

Jan. 7 2020, Updated 10:52 a.m. ET
The annual Consumer Electronics Show (CES) in Las Vegas is where many technology companies debut exciting new products, from cars to laptops to smart watches — but this year, all the tech nerds (and I say nerds with the utmost respect) were treated to a very different kind of technology. Impossible Foods used the event to unveil its plant-based Impossible Pork on Monday, Jan. 7, and CES attendees got to try the company's newest delicacy.
Article continues below advertisement
Impossible Pork is a plant-based ground meat-style product designed to taste exactly like animal-based pork, while sharing a similar texture and formula with Impossible Beef. As reported by Forbes, both products actually use the same ingredients (including heme), but the company made some key tweaks to the quantities to make Impossible Pork taste more like a pig than a cow. Impossible Pork is completely free of cholesterol and gluten, and it is formulated to get both kosher and halal certification (which no animal-based pork has), as per CNET.
Luckily for those of us who did not get invitations to CES, a few early reviews are in from reporters who attended the trade show. Forbes reporter Pete Pachal wrote that he can "confirm that Impossible Pork tastes like pork" and that it was "delicious." Longtime vegetarian and The Verge reporter Elizabeth Lopatto thought it was "fine," while her colleague Becca Farsace said "the texture was not quite right but the taste was basically accurate." Taylor Soper of GeekWire thought it was "pretty damn good" and "juicy and tender ... like real meat."
Article continues below advertisement
Impossible Pork is the second completely new product Impossible Foods has ever rolled out — the first and only Impossible product currently on the market is Impossible Beef, most commonly used to make plant-based beef burgers that taste and bleed just like animal-based beef burgers. In a video Impossible Foods shared on its website, founder and CEO Pat Brown explained why he chose pork as Impossible's followup to beef.
Article continues below advertisement
"Beef is popular around the world, but in many cultures, the most popular and familiar and common dishes use pork as the main source of meat. So for us to have an impact in those markets, pork was a necessity," Brown explained in the video.
"Our mission is to completely replace animals in the food system by 2035, and expanding our impact globally is a critical part of that," he continued. "It's also an amazingly delicious product that consumers around the world who love dishes that are traditionally made with pork will finally be able to serve to their families without the catastrophic environmental impact."
Article continues below advertisement
Brown further explained his motivation behind Impossible Pork when speaking at CES. "Nobody loves the fact that meat is made from the cadaver of an animal. They don't love the technology, they just love the product," he told the crowd, as reported by Forbes. "So if we could just come up with a better technology to produce foods that deliver everything that consumers want, we can solve the two biggest threats that humanity is facing today: catastrophic climate change, and a catastrophic meltdown [of] biodiversity."
Article continues below advertisement
So while Brown's words may seem extreme, the statistics and studies show that he is completely right about the ways animal agriculture is affecting our planet. Completely shifting the global food system away from using animals in 15 years is going to take a lot of work, but it's clear that Impossible is up for the challenge.