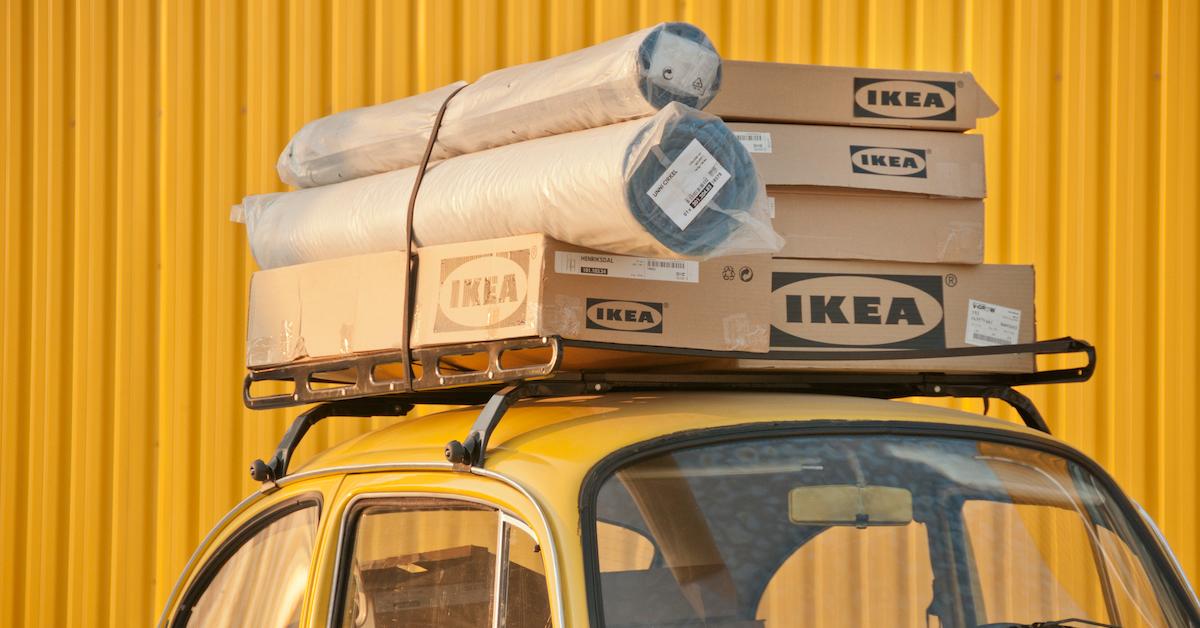 IKEA to invest $222 million in becoming a "climate positive business"
By Sophie Hirsh

Updated
With all that time they save from not having to build furniture, the team at IKEA has come up with a new plan to become a more sustainable company.
As announced in a recent press release, IKEA's holding group Inter IKEA Group will be investing $200 million euros (about $222.9 million USD) "to speed up the transformation to become a climate positive business." The brand has two goals as part of the new investment. The first is to transition the IKEA supply chain to be powered by 100 percent renewable energy by 2030. The second goal is to sequester carbon from the atmosphere. Since IKEA uses a lot of wood to make its furniture, the brand plans to do this via reforestation, restoration of degraded land, and responsible forest management practices.
"Our ambition is to reduce more greenhouse gas emissions in absolute terms by 2030 than the entire IKEA value chain emits, while growing the IKEA business," Torbjörn Lööf, CEO at Inter IKEA Group, said in a statement. "To reach this goal, we will continue to invest in areas that create impact. This investment will speed up the transition to using renewable energy across our supply chain and remove carbon from the atmosphere through reforestation and better forest management practices." 
Ambition "to reduce more GHG emissions in absolute terms by 2030 than the entire IKEA value chain emits—speed up the transition to using renewable energy across our supply chain—remove atmospheric carbon through reforestation & forest management practices" https://t.co/4mseisxhRW

— Sara Laughter (@GreenAwakening) December 11, 2019
"We can make a positive difference through our integrated supply chain, our global presence and our forest and climate expertise," added Lena Pripp-Kovac, Inter IKEA Group's Chief Sustainability Officer.
Additionally, IKEA locations in Japan, Scotland, and Spain have launched used furniture exchange systems to help support a circular economy. As part of the program, customers can trade used IKEA pieces for a store credit, and other customers can then buy the used furniture at a discount. And in Switzerland, IKEA launched a furniture rental program — this program is a great option for people in short-term housing, because they will save money and help keep their used IKEA furniture out of landfills.
That said, IKEA has actually become less sustainable overall over the past several years. As reported by CNBC, IKEA's 2018 fiscal year report (released in March) noted a 2.8 percent increase in carbon dioxide equivalent emissions from the 2016 fiscal year. In the report, IKEA said that it expected emissions to "increase for a few years before decreasing," as per CNBC. It's disappointing that the company is not progressing in terms of climate action on paper — but by 2030, it seems likely that those statistics will turn around.
Lööf also added that IKEA has the "long-term perspective and the financial strength" to make these investments and achieve these goals. There are plenty of other corporations that are in similar (if not even stronger) financial positions, and hopefully some of those companies will be inspired by IKEA to start seriously considering the climate in their business plans.