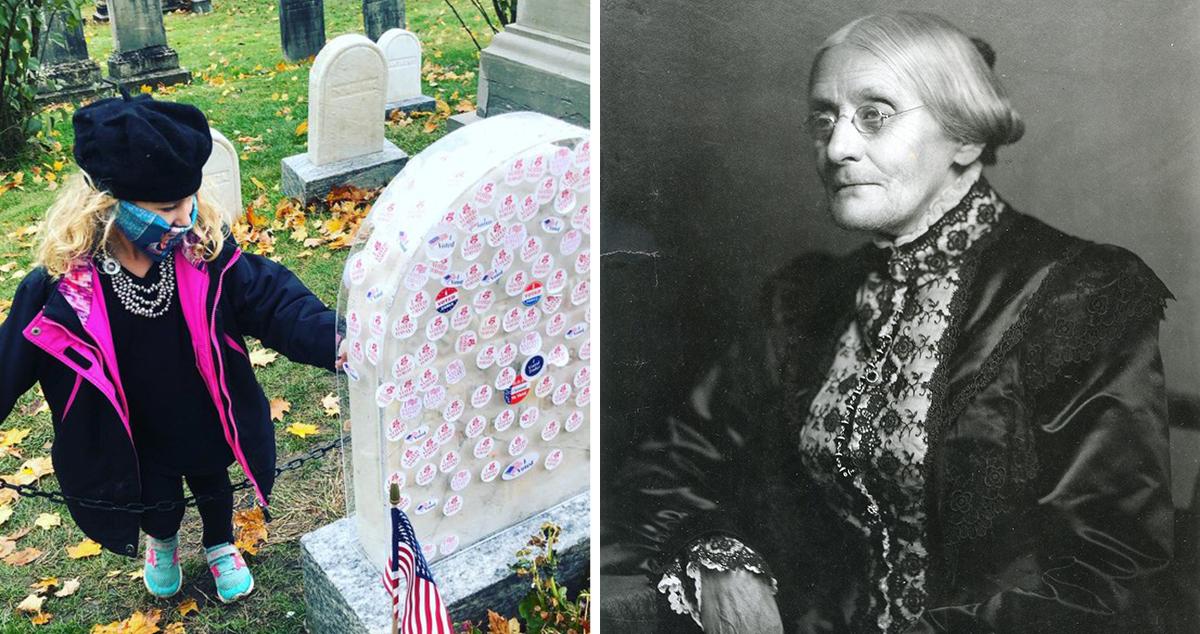 Women are leaving their 'I voted' stickers on Susan B. Anthony's gravestone
By Mark Pygas

Nov. 20 2020, Updated 11:29 a.m. ET
This election is likely to be one of the important for decades to come. Not only are voters casting their ballots amid the largest pandemic in a century, but they are also choosing between two vastly different candidates. It will also be among the most contentious, with President Donald Trump railing against absentee ballots and suggesting that he may not accept the election result.
Article continues below advertisement
But despite what is set to be a crazy day, many voters are still taking part in a sacred tradition to honor Susan B. Anthony. Hundreds of voters are visiting Mt Hope Cemetery in Rochester, New York, to place their "I voted" stickers on the gravestone of the suffragette.
Article continues below advertisement
This year marks Anthony's 200th birthday and the 100th anniversary of the passage of the 19th Amendment, which gave women the right to vote. Susan B. Anthony and the suffragette movement were pivotal in securing women the vote. In recent elections, voters have decorated Anthony's gravestone with their stickers to honor her sacrifice.
Article continues below advertisement
Because of the coronavirus pandemic, there will be increased restrictions for those wishing to visit the gravestone. "You know with COVID and all we wanted to still ensure that people feel comfortable coming out and celebrating this moment we share together as Rochestarians," Rochester's Special Events Manager Kara Osipovitch said.
"If you come to the gravesite on Election Day it really is a cross-section of people young, old, all different walks of life and people that are from Rochester and not from Rochester. This is a big deal that she is buried here and we're very proud that this is where she called home. So it's a big day for us."
Article continues below advertisement
Here are all the rules you need to know if you want to visit, summarized by WHEC.
Limiting visiting hours to 8 a.m. to 9 p.m.
Visitors who are still inside the cemetery at 9 p.m. will be allowed to stay in line, but no new visitors will be allowed to enter.
After 4 p.m., visitors should park on Robinson Drive and walk across Mt. Hope Avenue to the cemetery entrance.
All visitors will be required to wear masks and hand sanitizing stations will be in place. City staff will be there to enforce social distancing.
Article continues below advertisement
This year, Susan B. Anthony's gravestone is also covered in plastic to protect it from damage.