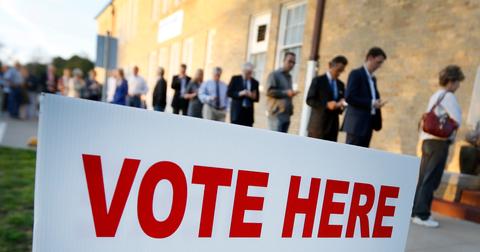 Texas man waited 6 hours to vote on Super Tuesday, prompting calls for electoral reform
By Mark Pygas
There have been calls for electoral reform after it emerged that a Super Tuesday voter in Texas waited over six hours to cast his vote in the Democratic primary. Hervis Rogers was the last person to vote at a Texas Southern University polling place and left at 1 a.m. on Wednesday.
Rogers, who works two jobs, arrived at TSU just before 7 p.m. after visiting two other packed locations nearby. He would end up waiting over six hours to cast his ballot, but that wasn't going to stop him.
"It is insane, but it's worth it," Rogers told Texas Public Radio. "I mean, I wouldn't feel right if I didn't vote. I feel like it's — I voice my opinion, but it don't feel right if I don't vote. So I said, 'I'm going to take a stand and vote. It might make a difference.'"
Rogers did consider giving up at a few points throughout his wait, which is understandable considering that he had to work at 6 a.m. on Wednesday.
"I might be here about another hour," he said at one point. "It might be another two hours because that line is long right there. So I know it's another hour. Let's say 12, I know it might be 1 or 2 o'clock."
"But it wouldn't make no sense for me to walk away now. I'm already here. It's, go with the flow, and get it done, you know."
Unfortunately, Rogers wasn't the only one with a long wait. According to the civil rights group The Leadership Conference Education Fund, 750 polling locations have closed throughout Texas since 2012.
McLennan county, home to Waco, Texas, closed 44% of their polling locations from 2012 to 2018, despite the population growing by more than 15,000 people in the same period.
Arizona has also closed 320 locations, while Georgia has shut 214. This has led many to accuse the Republican leadership of the states of voter suppression.
Rogers' long wait has prompted a conversation on the issue, with Hillary Clinton weighing in on Twitter.
"A seven-hour wait to vote is a poll tax," Clinton wrote. "We need to restore the Voting Rights Act and stop Republican elected officials from shutting down polling sites."
Democratic Congressional Campaign Committee communications director Cole Leiter added: "This is wrong, it is not an accident, and it is a quiet form of voter suppression that is rotting our democracy from the inside out. Hervis Rogers deserves better than this."
And in a statement on Twitter, the National Association for the Advancement of Colored People wrote: "Texas closed hundreds of polling places and we didn't have the Voting Rights Act to stop it. No one should have to wait this long to participate in democracy! Thank you Hervis Rogers for your commitment to being counted!"