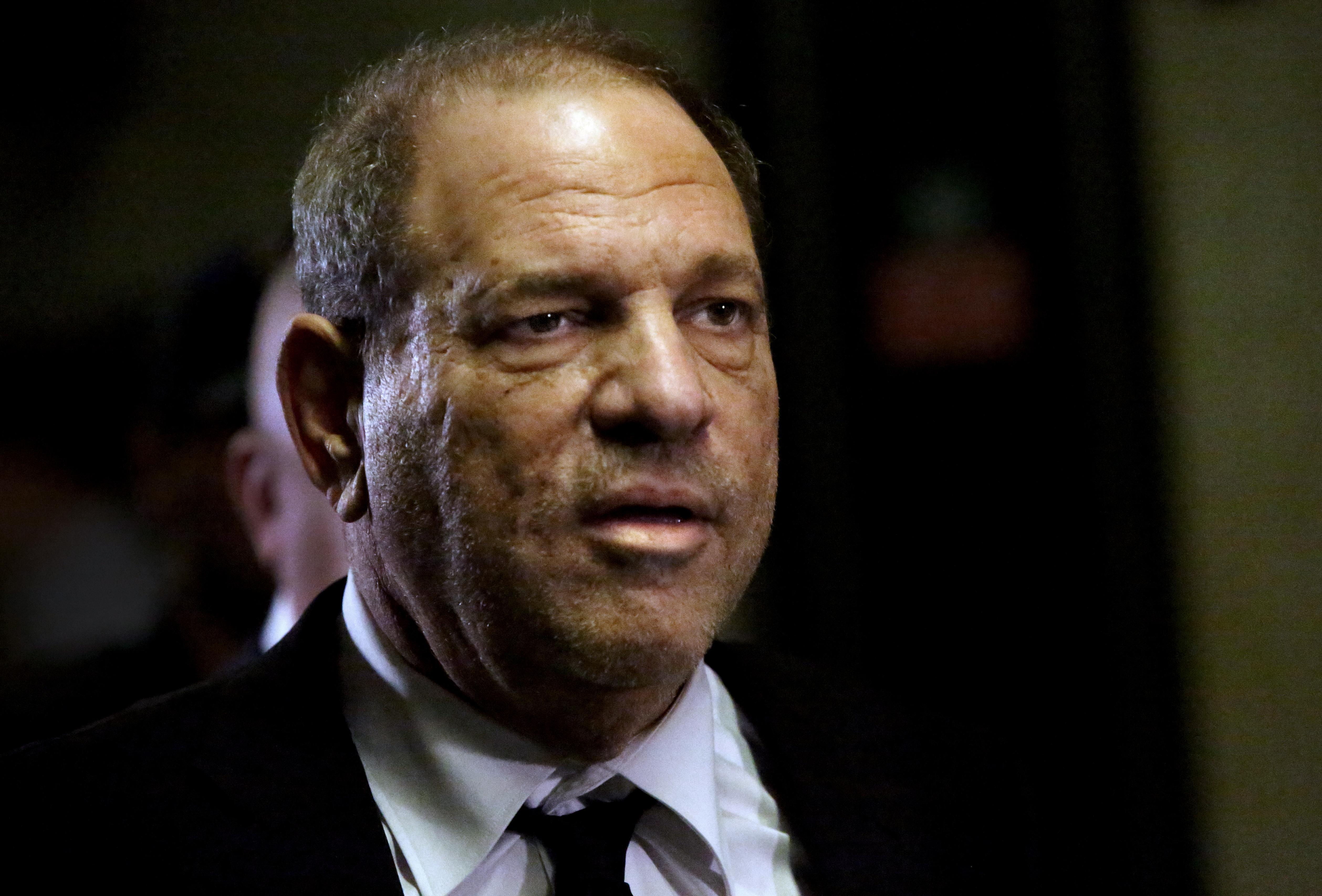 Harvey Weinstein confronted after showing his face at NYC bar show for emerging actors and performers
By Robin Zlotnick

Oct. 25 2019, Updated 11:53 a.m. ET
Disgraced movie producer Harvey Weinstein has been accused of raping or assaulting nearly 80 women. That should be enough to disqualify him from a comfortable public life. Many of the women Weinstein assaulted were actors whose careers were irreparably stunted. Yet when Weinstein decided to attend a bar show called Actors Hour held at New York's Downtime Bar, which is designed to be a safe space for emerging actors and other performers to share their work, he expected his presence to be quietly accepted.
Article continues below advertisement
And for a time, it was. But then, one woman spoke up in her comedy set and an actor in the audience yelled and screamed until they were kicked out... instead of the serial rapist. It's an incident that's making headlines not only because of these brave people who decided to speak up but also because of the ones who didn't. Other performers and even the event's organizers chillingly defended Weinstein over their own community.
Article continues below advertisement
Zoe Stuckless, the person who was eventually kicked out for confronting Weinstein, said in an interview with Vulture that at first, no one believed it was really him in the audience. It was a small show with an audience of around 50 people, so he was noticed right away, especially since he was flanked by several young women and a bodyguard. Still, audience members couldn't believe that it was actually Harvey Weinstein. "There's no way he'd be here at this event specifically for the community that he terrorized for so long," Zoe told Vulture. But then comedian Kelly Bachman stood up for her set and immediately — and bravely — addressed the "elephant in the room."
Zoe said that the "boos" you hear when Kelly mentions Weinstein are coming from the crowd, the event organizers, and the bartenders alike. And they weren't "boos" for Weinstein. After Kelly finished her set, more performers came up and went through the motions, everyone now knowing that Weinstein was just sitting there, able to enjoy his night out.
Article continues below advertisement
One male comedian even went up and, Zoe said, starting his set the same way Kelly did. "We gotta talk about the elephant in the room," he said. Zoe thought this guy was going to say something, to make a stink, to actually address the elephant in the room. But then he said, "Yeah, who's the elephant that produced Good Will Hunting? Cause that s*** was amazing!"
Nobody did or said anything to extract the alleged rapist of actors from the show for emerging actors. So it was during the intermission that Zoe couldn't take it anymore and decided to confront him. They walked up to his table and repeatedly asked him his name. He said, "That's none of your business, you don't have a right to ask that question. Go away." That's when Zoe got loud.
Article continues below advertisement
In the video, you can hear Zoe getting increasingly emotional. "Nobody's going to say anything!" they repeat in utter, visceral frustration while pointing at Weinstein until they are escorted out of the bar. "I was kicked out of the bar tonight," Zoe wrote in a Facebook statement. "His bodyguards herded me out. The event organizers were happy to see me go."
Article continues below advertisement
Another person, a friend of Kelly Bachman's named Amber Crollo, also confronted Weinstein after Zoe was kicked out, and she was also "gently guided" out of the bar. "Let me explain that one more time," Amber wrote in a Twitter thread, "an event that was supposed to support actors and artists invited a serial rapist who has ruined at least 87 actors' lives and supported that monster over an actor in the room. They supported HIM over all the actors in the room."
In a now-deleted Instagram post, the Actors Hour organizers, including the show's creator Alexandra Laliberte, stated that Weinstein was "NOT invited by the organizer" or anyone else in the organization. They claimed to "believe the people who spoke out were brave and justified" and they apologized for the way the situation was handled. Nearly every commenter believed the statement was false posturing. Someone even said they'd seen Weinstein at other Actors Hour shows in the past.
Article continues below advertisement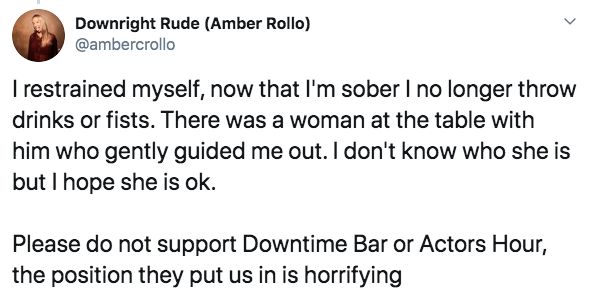 A spokesperson for Harvey Weinstein provided TMZ with this statement: "Harvey Weinstein was out with friends enjoying the music and trying to find some solace in his life that has been turned upside down. This scene was uncalled for, downright rude, and an example of how due process today is being squashed by the public, trying to take it away in the courtroom too."
Article continues below advertisement

"It was so surreal," Zoe told Vulture. "I was so certain that, especially in this community, of course somebody with power has got to stand up. Somebody must. And then nobody did. It's stunning that it's so easy and so quick to slip back into that same culture of silence that allowed him to do all of those horrendous things."
"But this time it was different," they wrote on Twitter. "Because of Kelly who raised her voice before me. Because of the people who walked out with me. Because of my friends who supported me. We are defined by our communities. Power doesn't exist unless we agree it does. So thanks for raising your voices with me and with us."