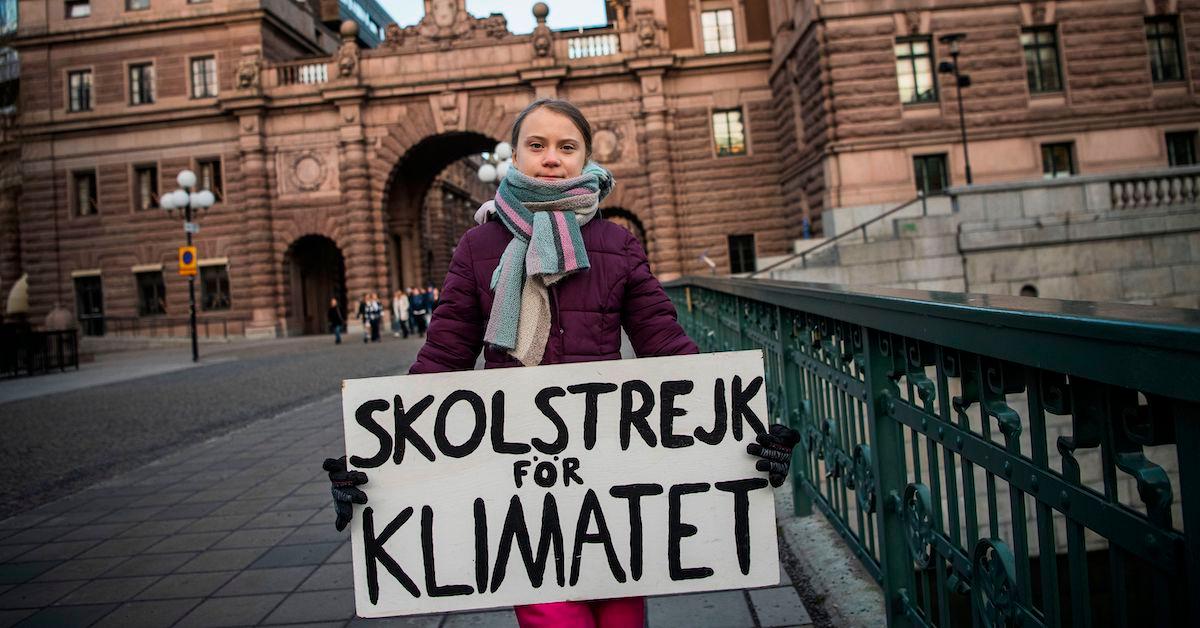 Greta Thunberg inspires punny name for salt truck
By Sophie Hirsh

Jan. 14 2020, Updated 11:21 a.m. ET
For some reason, people on the Internet love when salt trucks are named after celebrities — and it looks like we've finally transcended from actors and musicians to famous activists. Manchester, England's City Council recently held a public poll to name its newest gritters, and one of the top choices was to name one after 17-year-old climate advocate Greta Thunberg. The punny title that was crowned the winner? Gritter Thunberg.
Article continues below advertisement
In a blog post, Manchester City Council shared that more than 2,000 people left suggestions of names for the salt trucks. Those names were then whittled down to 24 of the punniest chocies, which people could then vote on in a Twitter poll. The names of the new fleet of eight gritters are: Gritter Thunberg, Basil Salty, Grit Astley, Slushay Away, Snowbi-Gone Kenobi, Snowel Gallagher, Spreaddie Flintoff, and Spreaddie Mercury.
"Introducing Manchester's new gritters! These vehicles will help keep the city's roads, cycleways and footways clear of ice in winter," Manchester City Council tweeted, alongside a photo of two of the gritters (Gritter Thunberg is not pictured, unfortunately). "Thanks to everyone who voted in our polls to choose the eight winning names."
Article continues below advertisement
The trucks will be used to spread salt on roads across Manchester this winter, and they'll be supplemented with "track my gritter software," which will allow residents to track which gritter has been spreading salt in their area. Amazon Eco owners will even be able to ask Alexa to check if their area has been gritted. Now all they need to do is upgrade the new salt trucks to electric vehicles, and Greta will be fully on board with Gritter Thunberg.
Article continues below advertisement
As the Huffington Post pointed out, this is actually not the first council to name a salt truck Gritter Thunberg. Last month, South Lanarkshire, Scotland's Council bestowed the same name upon a gritter after schoolchildren voted for the title.
"Our school kids choose the name and I think that is a reflection on all the good work she has been going," a South Lanarkshire Council spokesperson said, as The Scottish Sun reported. "It really struck a cord with our children so that's why they picked the name. There was a few to vote from but Gritter Thunberg was the most popular."
Article continues below advertisement
Even though these city councils naming their trucks after Greta may just seem like a funny bit of wordplay, it's actually pretty significant. The fact that a climate activist has gotten so popular that she has won multiple votes in local contests shows how much influence Greta has grown to have — and how people are slowly becoming more aware of the climate crisis thanks to her.
After all, the teenager was just named TIME's 2019 Person of the Year, she has captured the adoration of politicians from French President Emmanuel Macron to former Vice President Al Gore, and she has inspired millions of people to strike from school to help protect the Earth. Hopefully residents of Manchester and South Lanarkshire will see their local Gritter Thunberg chugging down the street, chuckle, and feel a bit more inspired to do their part for the planet.