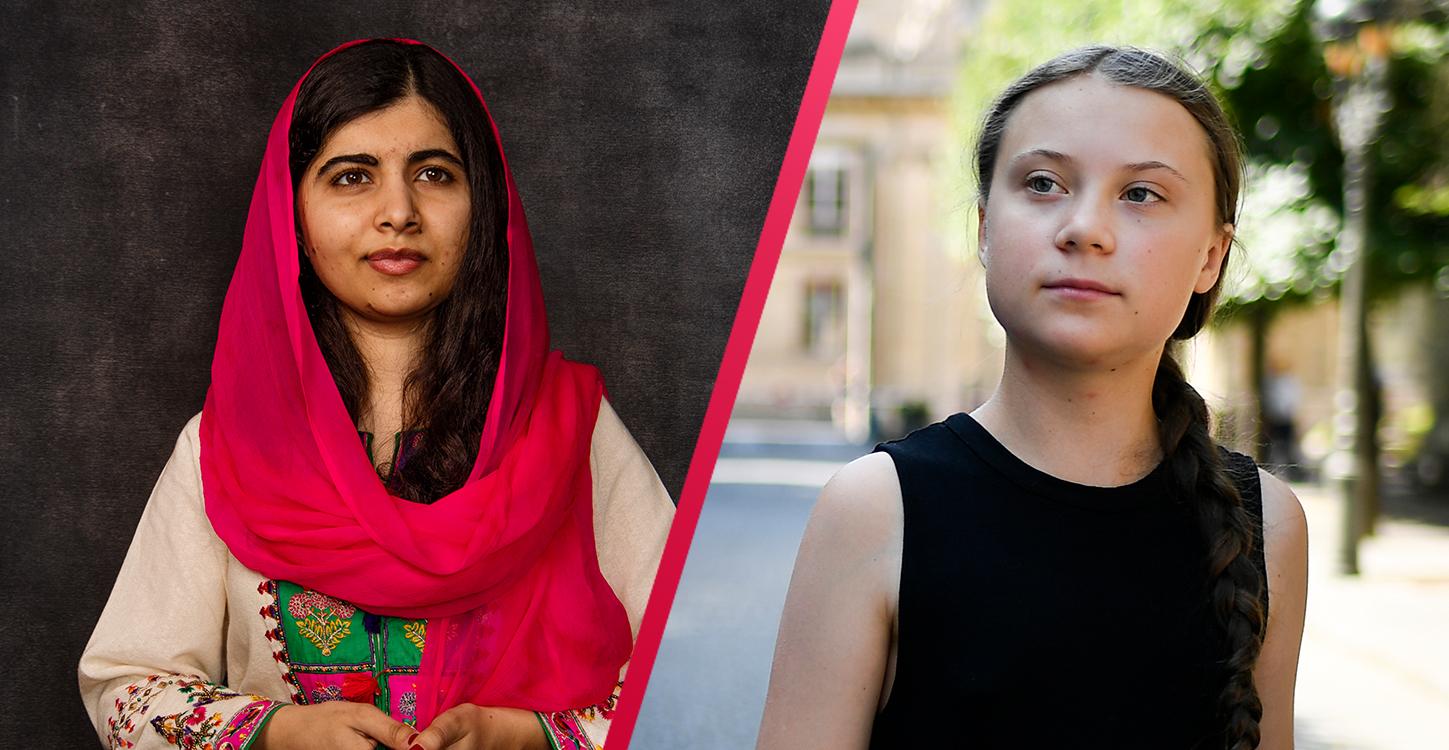 Greta Thunberg Meets Her "Role Model" Malala Yousafzai
By Sophie Hirsh

Feb. 25 2020, Updated 5:31 p.m. ET
Young activists all over the globe look up to Greta Thunberg as their role model — but today, Greta got the chance to meet one of her role models. On Tuesday, Feb. 25, the 17-year-old climate activist posted a photo of herself meeting Malala Yousafzai, the world-famous Pakistani humanitarian.
Article continues below advertisement
"So... today I met my role model. What else can I say? @Malala," Greta wrote on social media, alongside two photos. In one, she and Malala, 22, stand next to each other, looking like the boss leaders they both are. The second shot is a bit more candid — the two young women are sitting side by side on a bench, with their arms around each other. Malala commented on Greta's Instagram post with a few hearts and the message, "I hope you liked Oxford."
Article continues below advertisement
Malala also shared the photo of them both on the bench to social media. "Thank you, @gretathunberg," she captioned the shot on Instagram, followed by a heart. Greta commented. "Thank you!" followed by a few heart emojis. Lots of love here.
And on Twitter, Malala wrote: "She's the only friend I'd skip school for."
Article continues below advertisement
As reported by The Guardian, Greta and Malala met at the University of Oxford, where Malala is in her third year of college. It's unclear exactly what the nature of their meeting was — whether it was for business, pleasure, or school strike-related — but either way, they both seem honored to have met each other.
Greta is in the U.K. for the week — a few days ago, she announced on Instagram that she was heading to the U.K., with plans to join the school strike in Bristol on Friday, Feb. 28.
Article continues below advertisement
Like Greta, Malala became internationally famous as a teenager for social justice activism, so it's no surprise that Greta looks up to Malala as a role model. As explained on the Nobel Prize's website, Malala was just 10 years old in 2007 when the Taliban banned girls from attending school in the Swat Valley province of Pakistan, where Malala grew up. She fought back and publicly criticized the Taliban for taking away her right to education, appearing in TV interviews and writing blog posts for the BBC about it.
Article continues below advertisement
Malala continued to be a voice for girls in her country, fighting for their right to education over the next few years. But in 2012, at 15, Malala was shot in the head and neck by members of the Taliban while she rode the bus home from school. There was a worldwide uproar about the assassination attempt, and she became more famous than ever during her recovery.
After multiple surgeries, treatments, and therapies, Malala made a full recovery and was able to return to school and activism. In 2014, she earned a Nobel Peace Prize at 17, and she is the youngest Nobel laureate in history.
Greta has only been in the public eye for about a year and a half, and she has already been nominated for Nobel Peace Prizes on two occasions. In March 2019, three members of parliament from the Norwegian Socialist Left party nominated Greta for the Nobel Prize — had she won, she would have beat Malala for the title of youngest Nobel laureate at just 16 years old. Then in January 2020, two Swedish Left Party Parliamentarians named Jens Holms and Hakan Svenneling nominated her for another Nobel Prize.