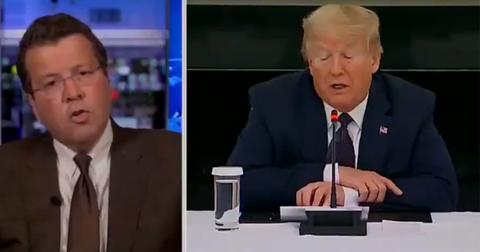 Fox News host warns vulnerable people that hydroxychloroquine 'will kill you' after Trump says he's taking it
By Mark Pygas

Updated
On Monday, President Donald Trump said that he had been taking hydroxychloroquine for weeks to prevent a coronavirus infection. President Trump has long promoted the drug as a potential treatment for the disease, even though several studies have suggested that it could be dangerous.
"I happen to be taking it," Trump told members of the media according to CNBC. "A lot of good things have come out. You'd be surprised at how many people are taking it, especially the front-line workers. Before you catch it. The front-line workers, many, many are taking it."
He added: "I'm taking it, hydroxychloroquine. Right now, yeah. Couple of weeks ago, I started taking it. Cause I think it's good, I've heard a lot of good stories."
He went on to state that if the drug wasn't good he'd "tell you."
"I'm not gonna get hurt by it. It's been around for 40 years," he said. "For malaria, for lupus, for other things. I take it. Front-line workers take it. A lot of doctors take it — excuse me, a lot of doctors take it. I take it."
"I don't want them feeling sick. And there's a very good chance that this has an impact, especially early on," he said.
When asked for evidence that the drug works as a preventative, Trump said that he has received positive phone calls about the drug.
President Trump's statement comes despite a warning from the Food and Drug Administration that they are aware of reports of "serious heart rhythm problems" in patients with the virus who were treated with the drug.
"The FDA is aware of reports of serious heart rhythm problems in patients with COVID-19 treated with hydroxychloroquine or chloroquine, often in combination with azithromycin and other QT prolonging medicines," the agency said in a release. "We are also aware of increased use of these medicines through outpatient prescriptions. Therefore, we would like to remind health care professionals and patients of the known risks associated with both hydroxychloroquine and chloroquine."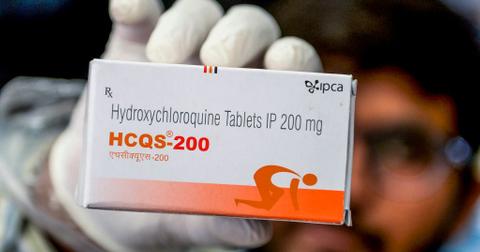 A study of hundreds of patients at US Veterans Health Administration (VA) medical centers found that patients who were treated with the drug "were no less likely to need mechanical ventilation and had higher death rates compared to those who did not take the drug," according to CNN.
In the study of 368 patients, 97 patients who took hydroxychloroquine had a death rate of 27.8%. Patients who did not receive the drug, of whom there were 158, had an 11.4% death rate. Despite these findings, the VA is still using the drug, according to a report by the Associated Press.
Two large observational studies from New York, each involving around 1,400 patients, also found that hydroxychloroquine provided no benefit. Researchers in France and China also came to the same conclusion.
Trump's statement prompted Fox News anchor Neil Cavuto to warn people in 'risky populations' not to take hydroxychloroquine.
Fox News's Neil Cavuto is stunned by Trump's announcement that he's taking hydroxychloroquine: "If you are in a risky population here, and you are taking this as a preventative treatment ... it will kill you. I cannot stress enough. This will kill you." pic.twitter.com/e6D5alfAgc

— Aaron Rupar (@atrupar) May 18, 2020
Citing the results of the study from the VA and the two studies out of New York, Cavuto warned: "If you are in a risky population here, and you are taking this as a preventative treatment... it will kill you. I cannot stress enough. This will kill you."
He went on to add: "So again, whatever benefits the president says this had had, and it certainly has for those suffering from malaria and dealing with lupus, this is a leap that should not be taken casually by those watching from home or assuming 'well, the President of The United States says it's OK.'"
Saying that the drug should only be used in a controlled environment such as a trial, Cavuto stressed that he was not "making a political point but a life and death point."
The best way to prevent contracting or spreading coronavirus is with thorough hand washing and social distancing. If you feel you may be experiencing symptoms of coronavirus, which include persistent cough (usually dry), fever, shortness of breath, and fatigue, please call your doctor before going to get tested. For comprehensive resources and updates, visit the CDC website. If you are experiencing anxiety about the virus, seek out mental health support from your provider or visit NAMI.org.