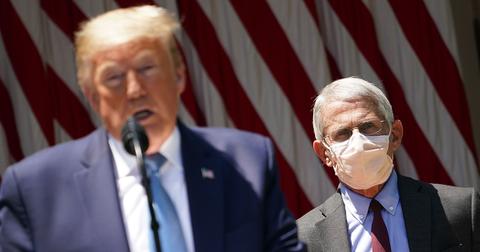 Dr. Fauci says he wears mask to be 'symbol' of what everyone 'should be doing'
By Mark Pygas

Updated
Dr. Anthony Fauci told CNN on Wednesday that he wears a face mask to serve as a "symbol" of what "you should be doing" amid the coronavirus pandemic. He also took the opportunity to encourage Americans to follow his lead, a statement in sharp contrast to President Donald Trump's refusal to wear a mask.
"I want to protect myself and protect others, and also because I want to make it be a symbol for people to see that that's the kind of thing you should be doing," Fauci told CNN. "When I walk around the street in the neighborhood I live in Washington, DC, which still has a considerable number of infections, it's very clear that many people are doing that."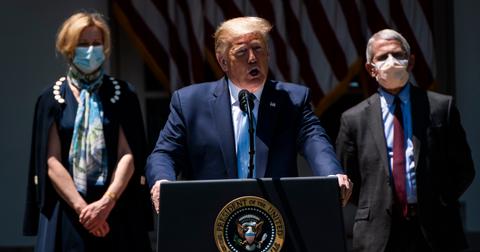 Fauci added that while masks are "not 100% effective" at preventing infection, they play a far more important role in preventing you from spreading the virus.
"It's sort of respect for another person and have that other person respect you," Fauci said. "You wear a mask, they wear a mask, you protect each other."
Fauci's comment on masks is at odds with the actions of President Donald Trump, who has not been spotted wearing a mask in public.
According to reports by the Associated Press, President Donald Trump does not want to be seen wearing a mask in public because it "sends the wrong message." The publication spoke to sources who also claimed that he is afraid that he would look "ridiculous" and that the images would be used in negative campaign ads.
On Monday, President Trump seemed to confirm the above reports when he retweeted a post from Fox News' Brit Hume, which mocked former Vice President Biden for wearing a mask to an event.
"This might help explain why Trump doesn't like to wear a mask in public. Biden today," Hume wrote in the tweet that President Trump shared.
And on Tuesday, President Donald Trump told a news reporter that they were being "politically correct" for wearing a face mask during a press conference at the Rose Garden.
Later in the CNN interview, Fauci went on to call instances of people ignoring social distancing guidelines as "very troubling because that's inviting there to be an issue."
"I mean we are going to see upticks of cases even under the best of circumstances when you reopen," he said. "... What we need to do is have the capability of responding in an effective way of doing the kind of identification, isolation, and contact tracing."
"But when you have situations in which you see that type of crowding with no masks and people interacting, that's not prudent and that's inviting a situation that could get out of control. Understand you're going to gradually do this, but don't start leapfrogging over some of the recommendations and the guidelines because that's really tempting fate and asking for trouble."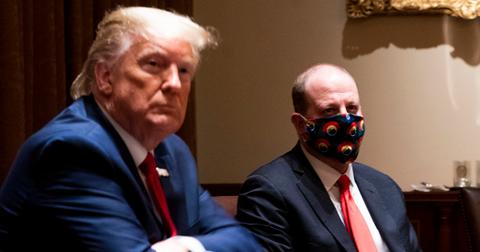 Fauci has also asked about hydroxychloroquine, which President Donald Trump says he's been taking to prevent coronavirus infection.
Fauci says that while he is "not so sure [hydroxychloroquine] should be banned" as a treatment for coronavirus, "but clearly the scientific data is really quite evident now about the lack of efficacy."
"I happen to be taking it," Trump said of the drug earlier this month. "A lot of good things have come out. You'd be surprised at how many people are taking it, especially the front-line workers. Before you catch it. The front-line workers, many, many are taking it."
A study of hundreds of patients at US Veterans Health Administration (VA) medical centers found that patients who were treated with the drug "were no less likely to need mechanical ventilation and had higher death rates compared to those who did not take the drug," according to CNN.
In the study of 368 patients, 97 patients who took hydroxychloroquine had a death rate of 27.8%. Patients who did not receive the drug, of whom there were 158, had an 11.4% death rate. Despite these findings, the VA is still using the drug, according to a report by the Associated Press.
Two large observational studies from New York, each involving around 1,400 patients, also found that hydroxychloroquine provided no benefit. Researchers in France and China also came to the same conclusion.