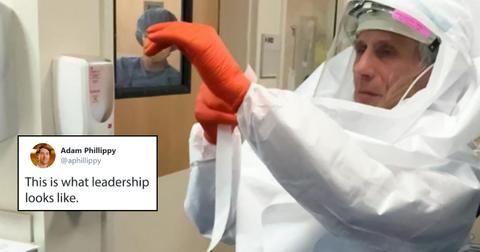 Dr. Fauci once treated Ebola patients because he wouldn't ask staff to 'do anything he wouldn't do himself'
By Mark Pygas

Updated
Dr. Anthony Fauci has faced criticism from the Trump administration in recent days over his stark remarks about the state of the coronavirus pandemic in the United States. As cases continue to hit new highs, Dr. Fauci blamed states rushing to reopen.
"There are some times when despite the guidelines and the recommendations to open up carefully and prudently, some states skipped over those and just opened up too quickly," Fauci told FiveThirtyEight.
"Certainly Florida I know, you know, I think jumped over a couple of checkpoints," Fauci added.
In response, some members of the Trump administration were openly critical of Dr. Fauci. Earlier this week, Dan Scavino, the White House deputy chief of staff for communications, shared a comic mocking Dr. Fauci.
White House Deputy Chief of Staff for Communications and Director of Social Media posts cartoon and message on FB attacking the nation's leading infectious disease expert for telling the truth about this deadly pandemic. https://t.co/lqwUFHTCYP pic.twitter.com/gR3oHoV1eH

— Jake Tapper (@jaketapper) July 14, 2020
Peter Navarro, Trump's trade adviser, also joined in on the criticism. In an op-ed for USA Today, he claimed that Dr. Fauci "has been wrong about everything I have interacted with him on."
And over the weekend, Trump aides sent journalists a list of statements that Dr. Fauci made in the early days of the outbreak that they say are inaccurate.
As an example, White House officials pointed to a February 29 interview in which Dr. Facui stated that "at this moment, there is no need to change anything that you're doing on a day-by-day basis."
"Right now the risk is still low, but this could change," he said in the NBC News interview. "When you start to see community spread, this could change and force you to become much more attentive to doing things that would protect you from spread."
However, Dr. Fauci did go on to stress that the situation could become "a major outbreak."
Dr. Fauci responded by calling the criticism "bizarre."
"Ultimately, it hurts the president to do that," Dr. Fauci told The Atlantic. "When the staff lets out something like that and the entire scientific and press community push back on it, it ultimately hurts the president."
Dr. Fauci stated that the attacks were "nonsense" and "completely wrong." He also said that Navarro "is in a world by himself."
Since the criticism began, social media users have been coming out in support of Dr. Fauci. One tweet, in particular, has attracted a lot of attention.
Adam Phillippy, a senior investigator at the National Institutes of Health (NIH) shared a story about Fauci from way back in 2015. At the time, the Ebola outbreak raged in West Africa, and fear grew that the disease could spread to the United States.
Dr. Fauci, then head of NIAID under President Barack Obama, helped to treat two Ebola patients himself because he "wanted to show his staff that he wouldn't ask them to do anything he wouldn't do himself."
Throwback to 5 years ago when Tony Fauci, at 74 yo, was suiting up to treat an Ebola patient himself because he "wanted to show his staff that he wouldn't ask them to do anything he wouldn't do himself". This is what leadership looks like. https://t.co/QctW672ykC pic.twitter.com/71j5qNWOsP

— Adam Phillippy (@aphillippy) July 15, 2020
"I now have a much, much more profound respect for the seriousness of this illness in some patients," Dr. Fauci told Science at the time. "Even when you have optimum facilities for replenishment of fluids and things like that, the disease itself is truly devastating."
"I do believe that one gets unique insights into disease when you actually physically interact with patients," Dr. Fauci stated after treating an American healthcare worker who was infected while treating patients in Sierra Leone.
"Fauci says he also wanted to show his staff that he wouldn't ask them to do anything he wouldn't do himself," the publication explains.
According to Science, Dr. Fauci reserved two hours of every day to don full protective gear and treat the very ill patient, who was not named at the time.
He also helped to treat Dallas nurse Nina Pham, who was in hospital for 8 days after being infected with Ebola.
"The first few days, we didn't leave; the whole team was essentially there the whole night," Dr. Fauci said