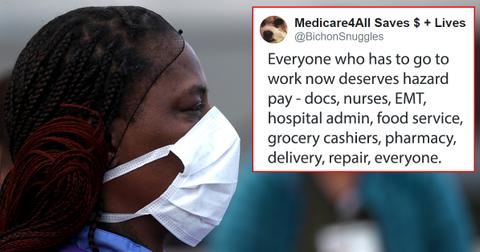 Essential workers could get up to $25,000 in hazard pay under Senate proposal
By Mark Pygas

Updated
While the vast majority of us are sat at home in an attempt to defeat coronavirus, millions of essential workers across America are still getting up every morning and putting their lives on the line. Whether it's truckers, grocery store workers, or doctors, these people are essential to keep America going during the lockdown.
Over 100 doctors and nurses have died combating coronavirus across the world, and that number is unfortunately likely to keep rising. But now, these workers could get as much as $25,000 in hazard pay as part of the phase four coronavirus relief bill.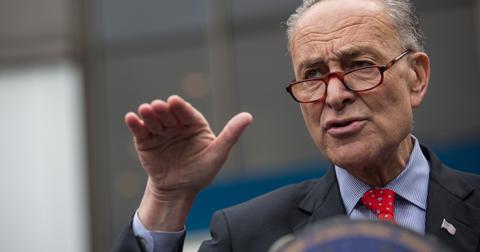 Senate Minority Leader Chuck Schumer and other Senate Democrats are proposing the payment, which would amount to a $13-per-hour raise to workers on the front line. Most of the money would go to lower-paid workers, with a $25,000 bonus cap for those earning less than $200,000 a year. Those earning over $200,000 a year could receive a total bonus of $5,000.
"As the COVID pandemic has reached alarming new levels, our health care system is strained to the max, our economy is strained to the max. Doctors and nurses, medical personnel of all types are putting their lives on the line every single day to fight this disease and save others," Schumer said in a conference call.
"And so are people not in the medical profession but in essential services: grocery store workers, truck drivers, drug store workers and pharmacists," Schumer said. "For these Americans, working from home is not an option. Social distancing is not an option.
Schumer later added: "We're calling it a 'Heroes Fund' because that's who it's for, our heroes."
While another phase of stimulus is likely weeks away, Schumer clarified that the bonus would apply retroactively "to those already working on the front lines." The Heroes Fund would distribute the money to employers, who would then send payments based on hours worked.
Along with the Heroes Fund, Schumer also proposed an incentive payment of $15,000 to get more people into medical jobs. Doctors and nurses are currently working long hours in tough conditions, with many of their colleagues being infected by coronavirus.
"We need to retain and recruit the workforce needed for the long months to come," Schumer said.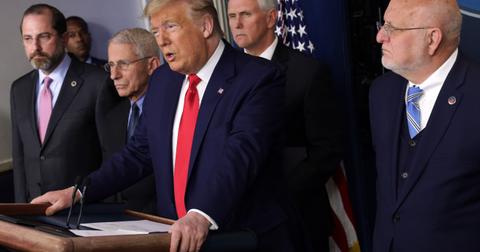 The idea of hazard pay for essential workers seems to have bipartisan support. Last week, President Trump said he was "looking into" the idea. "It's something we're discussing in terms of bonus or bonus pay," Trump said during a White House briefing. "They're like warriors, they're like soldiers."
Hazard pay also seems to have popular support. One user wrote: "Don't forget about us educators. We're still here supporting your children through all of this. Essential worker. Hazard pay me please."
Don't forget about us educators. We're still here supporting your children through all of this. Essential worker. Hazard pay me please.

— Alexys (@LexSwygertMSED) April 8, 2020
While another added: "Everyone who has to go to work now deserves hazard pay - docs, nurses, EMT, hospital admin, food service, grocery cashiers, pharmacy, delivery, repair, everyone."
Under the existing $2 trillion coronavirus relief bill, individuals who earn less than $75,000 a year are set to receive a $1,200 stimulus check. Couples who earn under $150,000 would receive a check of $2,400. Parents are also set to receive $500 for every child they have. Individuals who earn between $75,000 and $99,000 a year will receive a reduced payment.
The best way to prevent contracting or spreading coronavirus is with thorough hand washing and social distancing. If you feel you may be experiencing symptoms of coronavirus, which include persistent cough (usually dry), fever, shortness of breath, and fatigue, please call your doctor before going to get tested. For comprehensive resources and updates, visit the CDC website. If you are experiencing anxiety about the virus, seek out mental health support from your provider or visit NAMI.org.