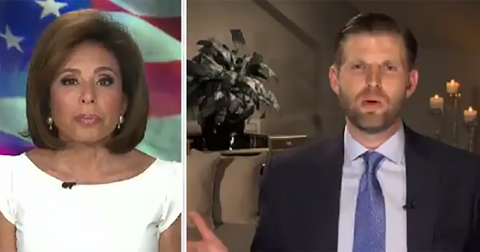 Eric Trump says Democrats are using lockdown to stop father's rallies, fears will disappear after election
By Mark Pygas

Updated
Eric Trump, executive vice president of the Trump Organization, told Fox News on Saturday that Democrats are "trying to milk" the coronavirus outbreak to stop his father holding rallies, and went on to claim that fears over the outbreak will disappear after the election.
Trump claimed that presumptive Democratic presidential nominee, former Vice President Joe Biden, "loves" the pandemic because it lets him avoid the campaign trail.
"Biden can't go on stage without making some horrible blunder. I mean, even from his basement, he's making awful gaffes every single day. So, his campaign is thrilled that he's not going out there," he said.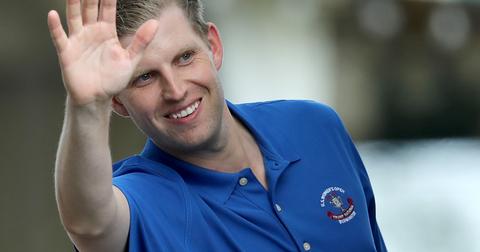 Trump went on to accuse Biden and the Democrats of using the virus as a reason to stop his father from holding rallies.
"They think they are taking away Donald Trump's greatest tool, which is being able to go into an arena and fill it with 50,000 people every single time," Eric Trump said. "Joe Biden can't get 10 people in a room. My father is getting 50,000 in a room. And they want to do everything they can to stop it."
"You watch, they'll milk it every single day between now and Nov. 3. And guess what, after Nov. 3, coronavirus will magically all of a sudden go away and disappear and everybody will be able to reopen," he added.
Back in February, President Trump referred to the fear surrounding coronavirus as "[the Democrats] new hoax."
Eric Trump went on to attack the media, accusing them of "stoking fear" and being "essentially a propaganda arm for the Democrats."
"They're doing a massive disservice," he said. "But they're doing it for one reason: they want to hurt Trump. They tried to do with the Russia thing, they tried to do it with the Ukraine scandal, they tried to do it with impeachment. Now, they're trying to do it with coronavirus."
"This is a very cognizant strategy that they're trying to employ," he added. "It's no different than the mail-in voting that they want to do all these places. It's no different than wanting illegal immigrants to vote in our country. It is a cognizant strategy. And it's sad. And, again, it's not going to be allowed to happen and we're going to win in November."
Executive Vice President of the Trump Organization and the son of the president @EricTrump Trump joins "JUSTICE" tonight to react to my opening monologue and much more. Take a look. pic.twitter.com/bnn6QF2y4j

— Jeanine Pirro (@JudgeJeanine) May 17, 2020
Health and Human Services Secretary Alex Azar responded to the comments on Sunday by saying: "I think hyperbolic rhetoric on any side is not appropriate."
"I just think we need to have balanced, accurate information out there. That's all I and our public health leaders are trying to do, is to present the fact that we're now in a position where we can be reopening," he told CNN's State of the Union.
Azar added that President Trump had "laid out very balanced criteria and approaches that he suggests states follow" as the reopening begins.
"These aren't partisan issues," Azar said of the "health and economic welfare" of Americans.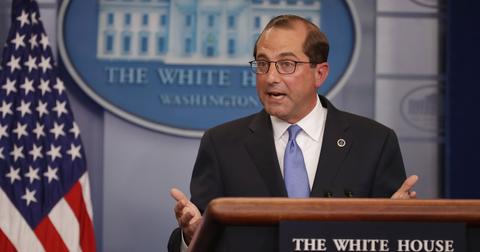 The Biden campaign slammed Eric Trump's comments in a statement.
"We're in the middle of the biggest public health emergency in a century, with almost 90,000 Americans dead, 1.5 million infected, and 36 million workers newly jobless. So for Eric Trump to claim that the coronavirus is a political hoax that will 'magically' disappear is absolutely stunning and unbelievably reckless."
The statement added that Eric Trump "ignored the threat of the coronavirus for months and has mishandled the response at every step since – destroying the strong economy he inherited from the Obama-Biden administrations and leading to countless unnecessary death."
"They're desperate to do whatever they can to throw up a smokescreen to try to conceal his historic mismanagement of this crisis," Kate Bedingfield, communications director for Biden's campaign, added.
The best way to prevent contracting or spreading coronavirus is with thorough hand washing and social distancing. If you feel you may be experiencing symptoms of coronavirus, which include persistent cough (usually dry), fever, shortness of breath, and fatigue, please call your doctor before going to get tested. For comprehensive resources and updates, visit the CDC website. If you are experiencing anxiety about the virus, seek out mental health support from your provider or visit NAMI.org.