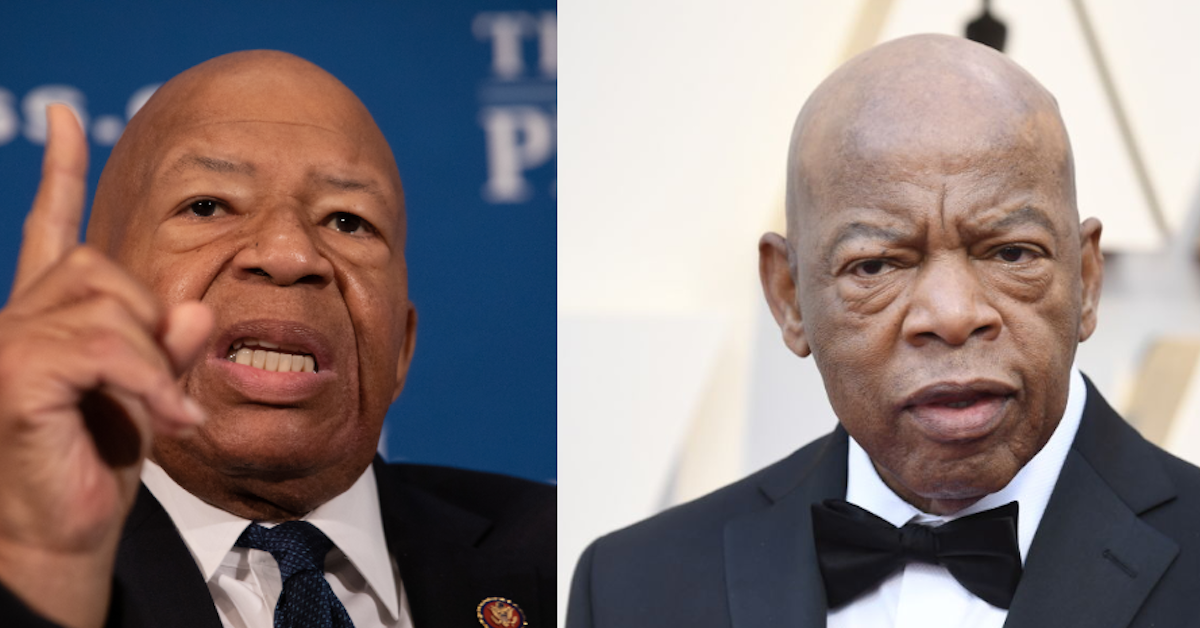 Condolences are flooding in for John Lewis instead of Elijah Cummings on Twitter
By Robin Zlotnick

Oct. 17 2019, Updated 11:21 a.m. ET
Longtime Baltimore Congressman Elijah Cummings died on October 17 at the age of 68. He was a Democratic stronghold in the House and a fierce opponent of Donald Trump. According to his office's statement, the cause of death was "complications concerning long-standing health challenges."
Article continues below advertisement
People flocked to Twitter to share their condolences and rightfully celebrate the incredible impact of this dogged fighter for the people. There was just one small problem. Many have been mixing up Congressman Elijah Cummings, who passed away, and Congressman John Lewis, who kind of maybe sort of maybe kind of looks a little bit like Cummings, and is alive and well.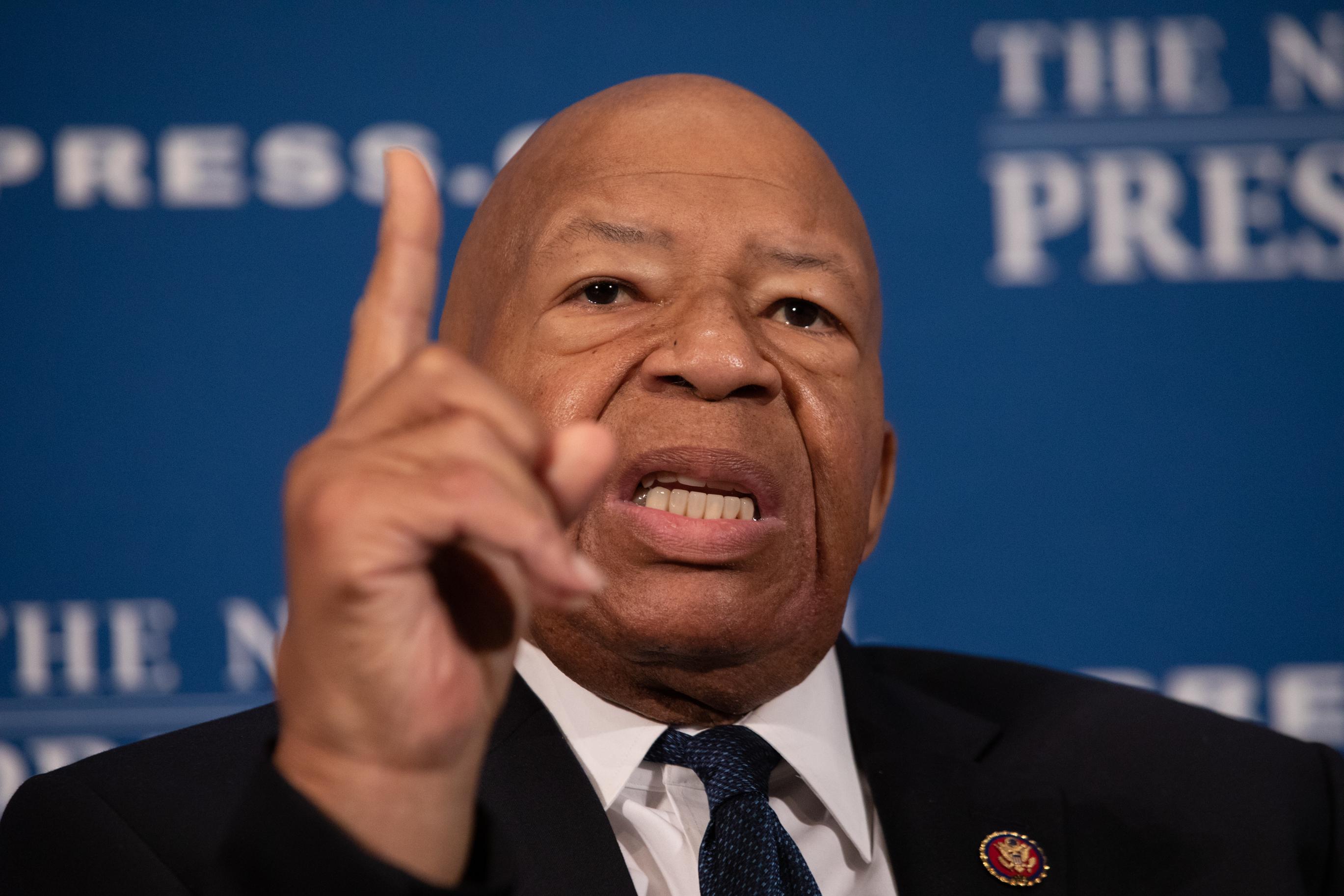 Article continues below advertisement
The above photo is Elijah Cummings. He was chairman of the House Oversight and Reform Committee and was one of the leaders of the impeachment inquiry into Donald Trump. Until this week, he was working tirelessly for his country and for Baltimore.
The photo below, that's John Lewis. Democratic Congressman John Lewis is the 79-year-old of Atlanta, Georgia who has fought hard for civil rights since the 1960s. He's also still alive.
Article continues below advertisement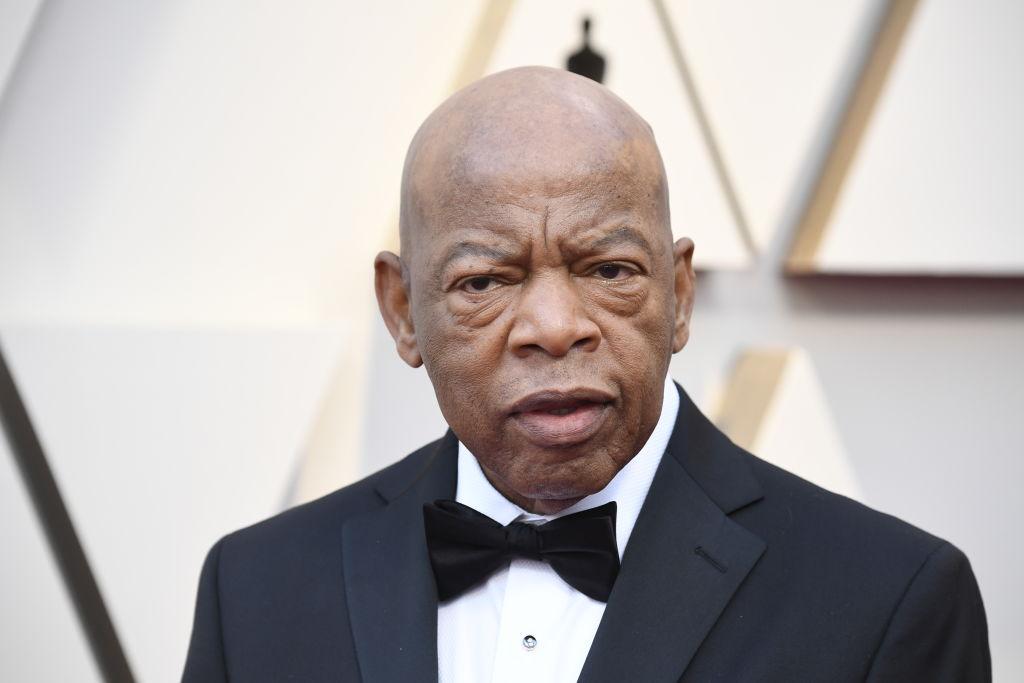 There is a history of John Lewis and Elijah Cummings being mistaken for each other. Earlier this year, Lewis stated that he should grow a beard to quell the confusion. So you would think that people and news outlets would be extra careful in the case of Elijah Cummings' death to use the correct photos and honor the right man.
Article continues below advertisement
Unfortunately, that's not what happened. Perhaps unsurprisingly, Fox News had to issue an apology after airing a clip that featured John Lewis in their segment about Elijah Cummings. "A few moments ago we had a technical snafu," anchor Eric Shawn lied. "We aired a clip of John Lewis of Georgia and mistakenly labeled him as Oversight Committee Chairman Elijah Cummings. Of course, we regret that error and apologize."
The Daily Beast points out that John Lewis' nameplate was "in full view during the clip." Appalling.
Article continues below advertisement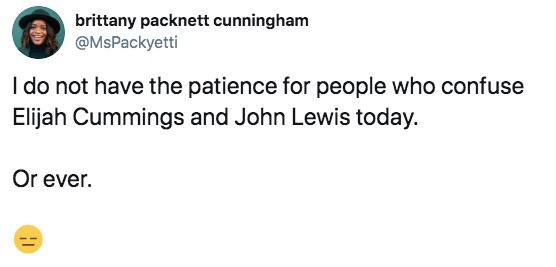 "Let me be clear," activist Brittany Packnett continues on Twitter, "if a media outlet told you that Elijah Cummings was, in fact, John Lewis, that's not your fault. That's the fault of the outlets who have entire research teams and should know better. But you'd be wise to double-check."
Article continues below advertisement
It can be tempting to take news outlets at their word, but news outlets are still just groups of people, which means they're fallible, so individuals need to do their due diligence to make sure they are sharing accurate information, not just about which congressman died, but in general as well.
Fox News, unfortunately, wasn't the only offender. If there was any time to be even more careful about which Congressman you are eulogizing, today would be the day. "RIP Elijah Cummings," one Twitter user wrote. "I always admired and respected him. Please respect the man and his legacy by not confusing him with John Lewis."
Article continues below advertisement
But people can't seem to put in that little bit of effort. I wonder why.

Article continues below advertisement
It would be disingenuous to not name race as a factor here. Female Fox News correspondents are, by and large, white and blonde, and most people can tell them apart, yet Fox News aired an entire segment memorializing the wrong black congressman. That's not OK.
At the very least, many are not putting in the work and giving Elijah Cummings even the basest level of respect to make sure they are sharing his actual photos and clips at the time of his death.
Elijah Cummings was a force in Congress, an example for his peers on both sides of the aisle, and he will be very missed.