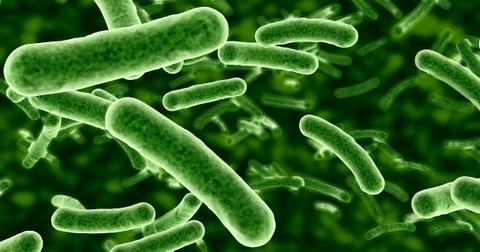 Scientists engineer E. coli bacteria to absorb CO2
By Sophie Hirsh

Updated
While most people know E. coli as a bacteria that can cause intestinal distress, the bacteria also has potential for a variety of positive applications — including absorbing CO2 from the atmosphere. In pursuit of doing just that, scientists have engineered a new strain of E. coli that can eat CO2. If successful, this discovery could reduce CO2 concentrations in the atmosphere, which would help curb the global temperature rise.
Article continues below advertisement
The study, led by Ron Milo, a systems biologist at the Weizmann Institute of Science in Israel, was recently published in the journal Cell after about 10 years of work put in by Milo and his team. As reported by Nature, Milo and the team utilized both laboratory evolution and genetic engineering to develop a new strain of E. Coli — they engineered the bacteria's genes to convert CO2 into organic carbon, so that the E. Coli can get all the carbon it needs from CO2.
Article continues below advertisement
As explained by The Weather Channel, E. coli bacteria typically consumes sugar and releases CO2 — but the scientists have engineered the bacteria to use CO2 from the environment as fuel to produce the sugar they need to build their bodies. It took the team about a decade to get the E. Coli to successfully wean the bacteria off of a diet of sugar and evolve to eat CO2 instead. The bacteria still prefers to eat sugar when sugar is available (can you blame them?) — but in certain conditions and when CO2 is the only fuel available, the bacteria can use CO2 as fuel. 
This is a significant breakthrough, but there is still a long way to go in terms of putting the E. Coli bacteria to use. As reported by Discover Magazine, the process actually produces more CO2 than it takes in at the moment. The researchers hope to continue evolving the bacteria to grow faster and more efficiently, according to Nature.
Article continues below advertisement
Tobias Erb, a biochemist and synthetic biologist at the Max Planck Institute for Terrestrial Microbiology, believes that in a few years, the process could be put into practice. "This is a proof-of-concept paper," Erb told Nature after reading the study. "It will take a couple years until we see this organism applied."
Article continues below advertisement
And in conjunction with the Greenhouse Gas Bulletin, the UN Environment Programme (UNEP) published its annual Emissions Gap Report. The report found that between 2010 and now, CO2 emissions have increased by 11 percent — meaning the planet is not on schedule to achieve the Paris Agreement's goal of keeping the global temperature rise below 1.5°C by 2030.
With CO2 levels at an all time high, it's exciting that scientists are thinking out of the box to find innovative ways to remove carbon from the atmosphere. So even though Milo and his team have more work to do, their project could eventually be revolutionary.