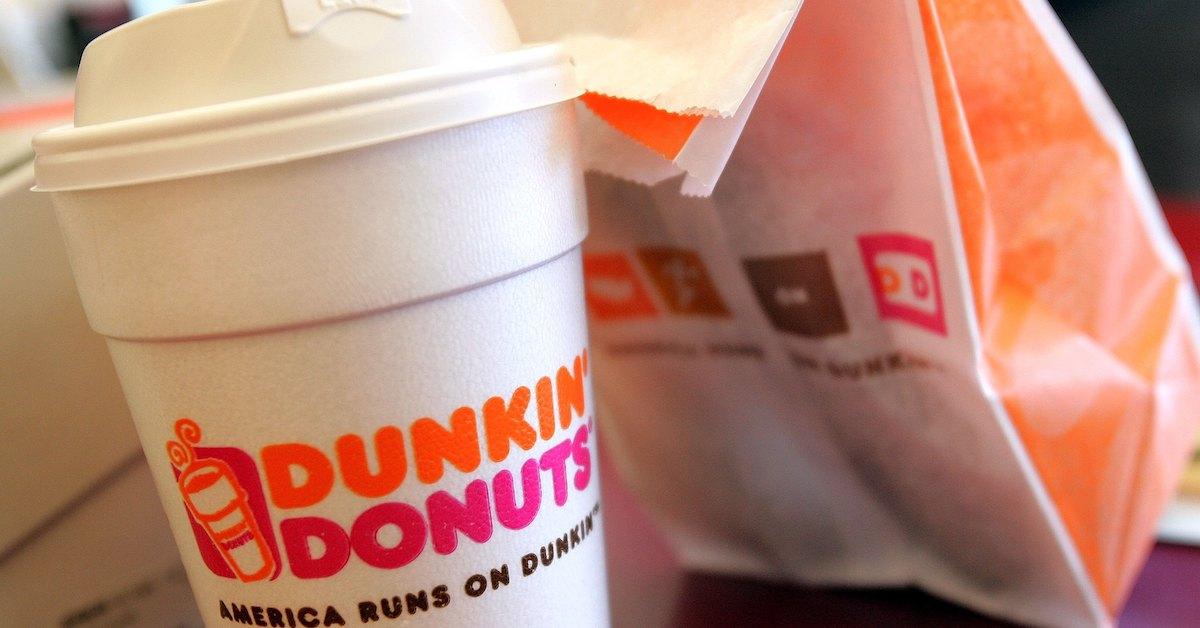 Dunkin' is officially dumping styrofoam cups in a "conscious un-cup-ling"
By Sophie Hirsh

Updated
Last year, Dunkin' Donuts announced plans to ban styrofoam coffee cups globally by 2020. Suddenly, 2020 is just a few weeks away, and Dunkin' has finally phased out the landfill-clogging cups from nearly all of its stores. By Dec. 1, 2019, all Dunkin' restaurants in New England will be 100 percent transitioned to paper cups, according to a Dunkin' press release; by April 2020, the transition will be complete worldwide, as per CNN.
Article continues below advertisement
Due to the double-cupping trend that many Dunkin' customers are fans of, this will not only take styrofoam out of Dunkin's supply chain, but also reduce the number of cups being used by half, in what Dunkin' is calling a "conscious un-cup-ling." Baristas will wear "The Double Cup is Breaking Up" pins this week to celebrate the new single status of Dunkin' cups.
Article continues below advertisement
This all began in February 2018, when Dunkin' set out to ban styrofoam by 2020. Over the past two years, Dunkin' has been introducing double-walled paper cups across the globe as a replacement. Unfortunately, the paper cups cannot be easily recycled due to their plastic lining, so most of them are still landfill-bound. Dunkin' aims to use have 80 percent of its paper-based consumer-facing packaging certified by the Sustainable Forestry Initiative Standard. 
Article continues below advertisement
The most notable part of this move is that double-cupping rates are expected to go way down. Dunkin's polystyrene cups are pretty ineffective at containing heat, so customers typically insulate their hot drinks with a second cup to prevent their hands from burning. According to Dunkin', the paper cups are well-insulated and do not require sleeves. 
However, customers drinking cold beverages could still swipe paper cups to insulate their iced coffees. In even more double-cupping nonsense, customers who order iced beverages at Dunkin' are known to double-cup their chilly plastic cup with a styrofoam one on the outside, to keep their hands from getting cold or damp. So by finally getting rid of styrofoam coffee cups, cup use effectively gets cut in half at Dunkin' locations.
Article continues below advertisement
All that being said, this move is still a bit of greenwashing — overall, Dunkin' is basically replacing one environmentally-damaging product with a slightly-less environmentally-damaging one. Dunkin' is saying that these cups are sustainable, which makes customers feel good about their choice to buy a disposable product. But in fact, these cups are still disposable and will end up in the landfill.
Article continues below advertisement
Luckily, there's a pretty easy way to avoid the waste from disposable coffee cups: BYO. The policy differs from location to location at each Dunkin' franchise, but many will pour a drink directly into your cup — and some locations will even offer a discount for bringing your own cup. To keep this as low-waste as possible, upcycle a Mason jar (for hot drinks, insulate the jar with a drink koozie or rubber bands) or buy a secondhand reusable to-go cup. You can also buy a sustainable option from companies like Stojo, Yeti, and KeepCup — after a few months, the cup could pay for itself thanks to discounts some coffee shops offer.
If you ever stray from Dunkin', Starbucks offers 10 cents off for bringing your own cup. Additionally, many Starbucks stores and small cafes offer reusable mugs (if you don't see any, ask if there are any hidden behind the counter), which are a great option if you have time to enjoy your coffee in-store.