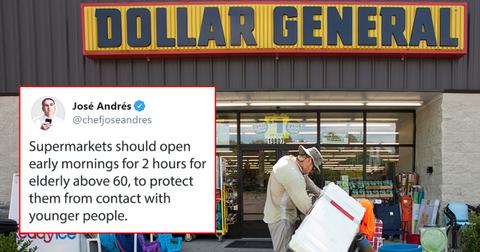 Dollar General stores will dedicate first hour of opening to senior citizens amid coronavirus pandemic
By Mark Pygas
Dollar General stores across the United States are set to dedicate their first hour of every shopping day to senior citizens amid the coronavirus pandemic. From Tuesday, non-senior customers are being asked to avoid stores for the first hour of opening.
The move comes as seniors have been advised to avoid all but necessary contact with others in a bid to protect the vulnerable group from coronavirus.
In a statement, Todd Vasos, Dollar General's CEO, said that the move would protect vulnerable people and also help to ensure that they can buy goods that are currently in high demand, such as toilet paper.
"In keeping with our mission and our ongoing commitment to serve our communities, we are dedicating the first hour of each day to seniors. We appreciate our customers' understanding of our decision and request they visit our stores later in the morning to allow at-risk populations the ability to purchase the items they need at affordable prices," Vasos said.
"During these unprecedented times, Dollar General is diligently working to meet the ongoing needs of our customers and communities. We are proud to live our mission and provide customers with everyday low prices on the household essentials that are used and replenished most often."
Stores are also set to close one hour earlier than usual so that employees can clean and re-stock store shelves.
Dollar General isn't the first one to offer an hour exclusively to seniors and other vulnerable groups.
The Australian grocery chain Woolworths are opening their stores an hour early to ensure that the elderly and those with disabilities can safely get what they need.
"The move has been prompted by the unprecedented demand in supermarkets over the past week, which has seen many elderly and vulnerable people in the community missing out on vital items they may need when they shop," the company said in a statement.
Coles in Australia and a single Iceland Foods location in Northern Ireland have also announced a special hour for these groups.
In a tweet, celebrity chef José Andrés urged more chains in the United States to follow suit.
"Supermarkets should open early mornings for 2 hours for elderly above 60, to protect them from contact with younger people," he wrote. "Also volunteer system for shopping and delivery should be implemented."
H-E-B, which has 400 stores in Texas and Mexico, told CNN that they would not be implementing the idea.
"Our leadership team studied this option thoroughly and due to recommendations from health officials we have determined this is not the best and safest option for our customers," the company said. "H-E-B takes care of Texas and we feel asking a group to congregate at our stores in a certain timeframe is not a safe idea."
The best way to prevent contracting or spreading coronavirus is with thorough hand washing and social distancing. If you feel you may be experiencing symptoms of coronavirus, which include persistent cough (usually dry), fever, shortness of breath, and fatigue, please call your doctor before going to get tested. For comprehensive resources and updates, visit the CDC website. If you are experiencing anxiety about the virus, seek out mental health support from your provider or visit NAMI.org.