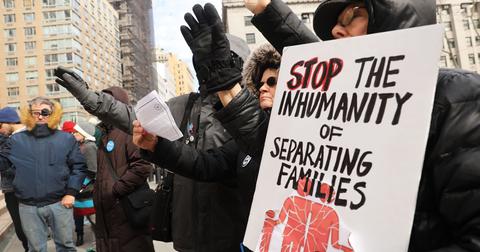 Doctors arrested at border facility for demanding migrants receive flu vaccines
By Mark Pygas

Updated
Federal authorities arrested a group of doctors and other protesters outside U.S. Border Patrol's San Diego Sector headquarters in Chula Vista as they attempted to pressure U.S. Customs and Border Protection (CBP) into administering flu vaccines to detained migrant children. 
At least three children have died in immigration custody from complications caused by the flu since December 2018. They were aged 2, 6, and 16.
Activists, doctors, and the Centers for Disease Control and Prevention (CDC) have recommended that CBP should administer flu vaccines to migrants, CBP has so far rejected the idea. 
Six protesters, including at least two doctors, were arrested for blocking an entrance to the facility in San Diego. According to the San Diego Union-Tribune the group had been demanding that CBP allow licensed medical doctors to vaccinate detained migrant children. 
Federal Protective Service officers have the group a six-minute warning, telling the protesters to stop blocking the road. Federal officers then handcuffed and arrested the group. 
They were later released with a citation "for failure to comply with the lawful directions of a federal police officer." They all have a court summons. 
Marie DeLuca, an emergency medicine research fellow from New York City, was among those arrested.
"They did not want to engage with the conversation," DeLuca told the San Diego Union-Tribune. "I personally am proud of all the people who have been fighting for this."
"I am proud of the people I'm standing here with because I think this is the kind of action we need to take when we see children are dying and people are suffering because Border Patrol is detaining people in unsafe conditions." 
Dr. Mario Mendoza, a retired clinical anesthesiologist, who came to the United States as an undocumented child when he was 7, was also detained. 
"Even though, I'm not calm about any of this, I have to be fearless because people are dying at this point," Mendoza said. "This is a consequence I'm willing to accept. I can't live without doing this. I can't sleep at night." 
Dr. Hannah Janeway, another doctor with the group, told The Guardian:
"More people will die without the vaccine. There's no doubt. They are being locked in cages in cold weather together, without any vaccination, in a year that is supposed to bring a horrible flu epidemic." 
In a statement on Twitter, the DHS's press secretary commented on the arrests saying: "Of course Border Patrol isn't going to let a random group of radical political activists show up and start injecting people with drugs." 
CBP officials responded to an earlier request by a group of doctors by saying: 
"It has never been a CBP practice to administer vaccines and this not a new policy. Individuals in CBP custody should generally not be held for longer than 72 hours in either CBP hold rooms or holding facilities. As a law enforcement agency, and due to the short-term nature of CBP holding and other logistical challenges, operating a vaccine program is not feasible."
The organization is resisting changing its policy on vaccination despite a recommendation from the CDC that they should administer the flu vaccine to migrants. 
Rep. Rosa L. DeLauro (D-Conn.), chair of the House committee that oversees funding for the Department of Health and Human Services, learned of the CDC's recommendation to CBP in a letter from the CDC. 
DeLauro told the Washington Post that the CBP's refusal to administer the flu vaccine was "unconscionable" when many detention facilities are overcrowded following a crackdown on illegal migration. 
"CDC's recommendations are clear: flu vaccines should be administered to people as soon as possible to prevent the spread of this deadly disease," she said. "Worse still, administration policies that kept families locked in cages for extended periods of time greatly increased their risk of illness."
While CBP does not provide flu vaccines, Immigration and Customs Enforcement and the Office of Refugee Resettlement do provide the vaccines as they hold migrants for longer times. 
CBP may have refused to vaccinate migrants, but they have implemented several CDC recommendations following an inspection by the organization. CBP has expanded the medical staff at detention facilities and increased flu surveillance. 
DeLauro continues to encourage CBP to introduce flu vaccinations at their facilities, saying:  
"CDC recommends that priority should be given to the screening and isolation of ill migrants, early antiviral treatment, and flu vaccinations for all staff."
"CDC further recommends influenza vaccination at the earliest feasible point of entry for all persons at least six months of age, which is in concurrence with our general influenza vaccine recommendations."