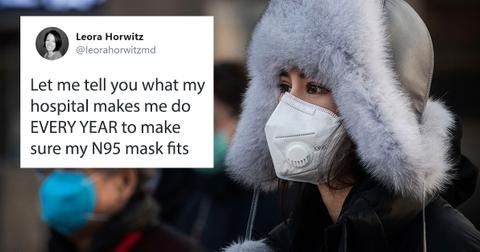 Doctor explains why masks are useless for most people and buying them could help spread coronavirus
By Mark Pygas

Updated
The World Health Organization and governments around the world have been telling people not to buy masks amid the coronavirus outbreak. But people still seem to be hoarding them, with the surgeon general warning that panic buying could lead to a shortage of masks for people who need them.
Leora Horwitz, a doctor and director of the Center for Healthcare Innovation and Delivery Science at NYU Lagone, recently took to Twitter to explain why people should stop buying masks. In a lengthy post, Horwitz explained the equally lengthy process she goes through every year to make sure her masks fit correctly.
"Non-medical friends, let's have a chat about masks," Horwitz writes. "Let's have a chat about masks. So, you've bought yourself a box of N95 masks and you think you're good for COVID-19. Let me tell you what my hospital makes me do EVERY YEAR to make sure my N95 mask fits."
Horwitz goes on to detail the lengthy process she goes through every year to ensure that her medical masks will function as intended.
"I have to put the right size mask on and have a big plastic hood put over my head," she writes. "Aspartame is sprayed into the hood. If I can taste it, I fail the test."
Basically, if she tastes aspartame then she fails.
And it doesn't end with the aspartame. Horwitz then has to demonstrate that she can take off the mask without contaminating herself.
She adds: "This, my friends, is much harder than it sounds."
And even after all that, there's more aspartame.
Horwitz explains why this process means that masks are useless for most people:
"I guarantee you that a) your mask doesn't fit properly b) you have no idea how to put it on and take it off safely and c) you are probably putting yourself at more risk by messing with it."
She then explains that people who buy masks and don't know how to use them are taking them away from healthcare workers who do.
"Every hospital is facing shortages," Horwitz adds. "I suspect most are rationing already."
"Regular surgical masks are great for people who are sick. Stops them spreading disease by coughing far," Horwitz goes on to explain. She then encourages people to stop buying regular surgical masks so that they can be saved for people with the virus.
Horwitz ends by explaining: "N95s keep healthcare workers safe who are in prolonged close proximity to people who are definitely sick and who are putting large amounts of virus in the air right next to them. They are also good for stopping us from getting you sick if we have caught it. That's it."
In short, stop buying masks if you don't need them.