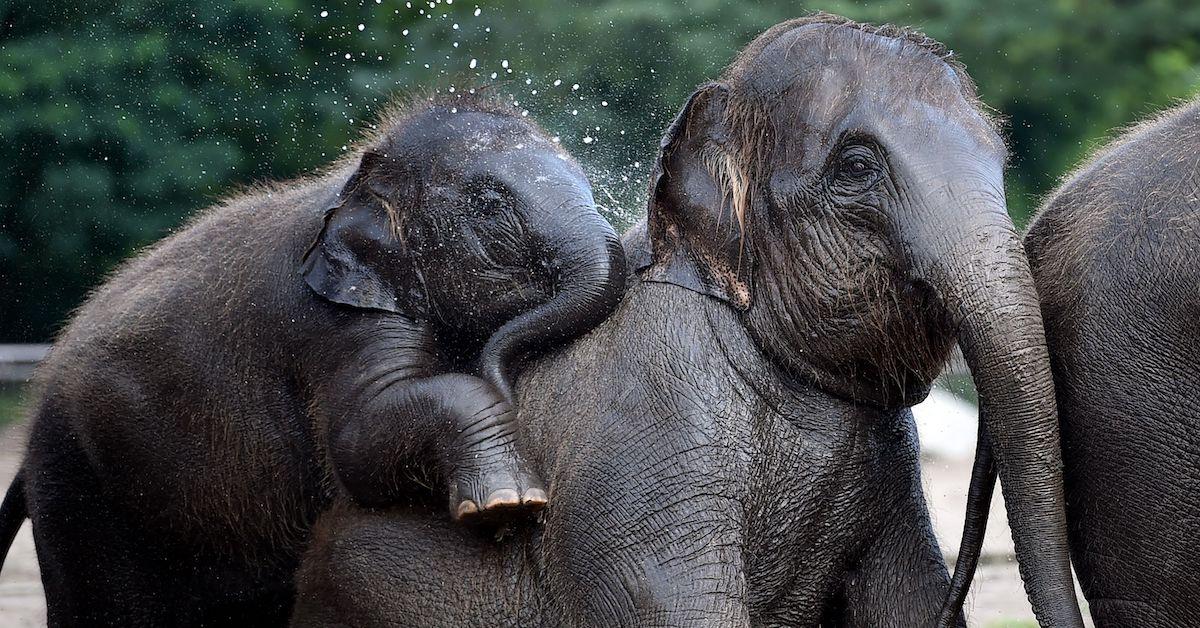 Denmark just spent $1.6 million to let its last four circus elephants retire
By Sophie Hirsh
When animals are liberated from circuses — whether it's due to animal protection laws changing, the circus going out of business, or the animals needing to retire — there's always the question of what will happen to them. Sometimes, they have a pretty grim fate once their time on stage is over (more on that below), but four circus elephants in Denmark are facing a much brighter future thanks to the country's government, which is spending over a million dollars on the elephants' retirement.
According to Denmark's Food and Fisheries Minister Mogens Jensen, the Danish government is moving towards a ban on using all wild animals in circuses across the country, as reported by PBS. So in anticipation of that, the government is spending 11 million kroner ($1.6 million) to buy the country's remaining circus elephants, and ensure that they are set for retirement.
Three of the elephants came from a circus called Circus Arena, and the other elephant came from one called Circus Trapez. Minister Jensen is assuring citizens that he is prioritizing the welfare of the elephants, who are named Ramboline, Lara, Djunga, and Jenny.
As Jensen wrote in a Facebook post, the country is working on determining where exactly to send the elephants for their retirement so they "can quickly be sure that the elephants can go where they can get the best animal welfare possible," via Google Translate. He also wrote that the "retired circus prisoners" will soon be able to "get away from the stable and out where they can move. That's why the state bought the elephants."
Right now, Jensen says the elephants are currently being looked after by "Dyrenes Beskyttelse" aka Animal Protection, which Jensen says is "making sure the elephants get exercise and best possible animal welfare until they can get somewhere new." According to Animal Protection's Facebook page, the agency helps "animals in need, stop animal abuse and fight for a respectful and sustainable relationship between animals, people and nature."
Interestingly, The Jakarta Post reported that the elephants will all be placed at a zoo to retire. While it's amazing that the elephants will no longer be forced to perform at the circus, the sad reality is, zoos aren't necessarily better than circuses in terms of animal welfare. At a zoo, the elephants will not be in their natural habitat; they will not have the amount of space they would have in the wild; they could be subject to developing zoochosis; and they may still be forced to perform tricks for guests like they were in the circus.
That said, once animals have been freed from captivity, returning them to the wild is not an option, as it would be too hard for them to assimilate to their natural surroundings. The best solution for retired captive animals is to let them live out their lives at an animal sanctuary, which some retired circus animals do get to do; but sadly, sanctuaries just don't generate as much revenue or have as much money as zoos.
Hopefully, the Danish government will reconsider putting Ramboline, Lara, Djunga, and Jenny in a zoo, and will instead find a sanctuary for them. But if they do wind up in a zoo, hopefully the zookeepers will not force them to perform tricks, and instead, they will be allowed to live in peace. And even though a zoo is not the ideal retirement spot for these animals, it is definitely better than the fate they might have had otherwise. According to Action for Animals, retired circus animals are sometimes euthanized or sold to hunting ranches; other times, they are sent to unregulated roadside zoos.
The only animals that can are currently legal to use in Danish circuses are elephants, sea lions, and zebras, according to The Jakarta Post. But as Jensen stated, the country is working towards a ban on using all wild animals in circuses — hopefully, other countries will follow suit and instead on producing animal-free circuses.
More From Megaphone
.

News

Hungarian Prime Minister Viktor Orbán announced that 10 trees will be planted for every baby born.

.

News

Baby boomers tend to be more environmentally friendly than Millennials and those in Generation Z, according to a new survey.