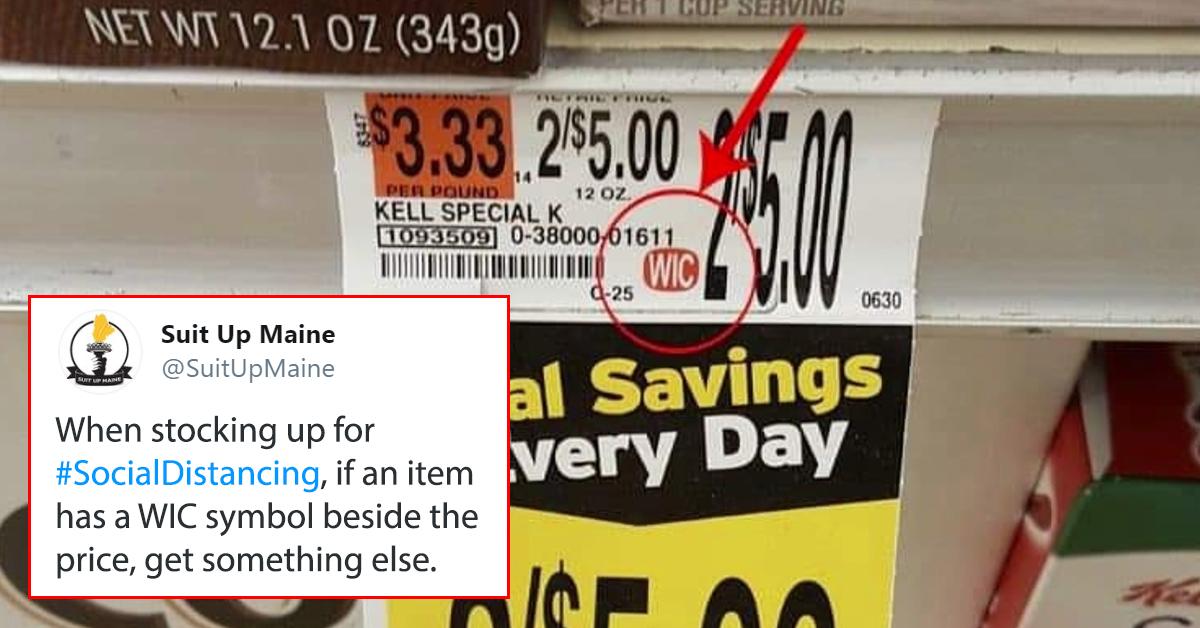 Don't buy items marked with 'WIC' while you stock up for the coronavirus quarantine
By Mark Pygas

Mar. 18 2020, Updated 8:49 a.m. ET
Much of the United States is facing a quarantine that could last for weeks or even months. As people face an extended stay inside, stores are facing shortages of staple goods including toilet paper and certain foods.
Article continues below advertisement
As we enter this new territory, shoppers are being encouraged to think of others as they grab items off the shelves. Suit Up Maine, an "all-volunteer progressive constituent action group," recently took to Twitter to encourage those who could to avoid buying goods marked with a "WIC" sticker.
The sticker denotes items that can be purchased through the Special Supplemental Nutrition Program for Women, Infants, and Children (WIC). And as Suit Up Maine explains: "People who use WIC to feed their kids can't switch to another brand or kind of food. If a store runs out of WIC-approved options, they will go home empty-handed."
Article continues below advertisement
Suit Up Maine went on to explain: "We are asking families who have a choice of items on a shelf to choose one that does not have the WIC label. You can choose a different item and leave with it. WIC recipients have no choice. If the approved items are gone, they leave the store and return to their kids w nothing."
Article continues below advertisement
They went on to stress: "Most national grocery chains have some sort of labeling system like this one, although the colors/font/style might be different."
Article continues below advertisement
The tweet has since gone viral, with some users suggesting other ways in which people who can afford to can help those in need. "People should consider buying five or ten items and donate them to food banks," one user wrote. "People in need can't just stock up or use a credit card."
Article continues below advertisement
While another added: "Thank you for sharing this important info! I will be more careful when I shop so I do not buy the products that would be available for people in the WIC program!"
Article continues below advertisement
While another added: "This is probably the most valuable piece of information I read today. Thank you so much for sharing it."
Article continues below advertisement
If you can afford not to, try to avoid purchasing items marked 'WIC' during the coronavirus quarantine.
The best way to prevent contracting or spreading coronavirus is with thorough hand washing and social distancing. If you feel you may be experiencing symptoms of coronavirus, which include persistent cough (usually dry), fever, shortness of breath, and fatigue, please call your doctor before going to get tested. For comprehensive resources and updates, visit the CDC website. If you are experiencing anxiety about the virus, seek out mental health support from your provider or visit NAMI.org.