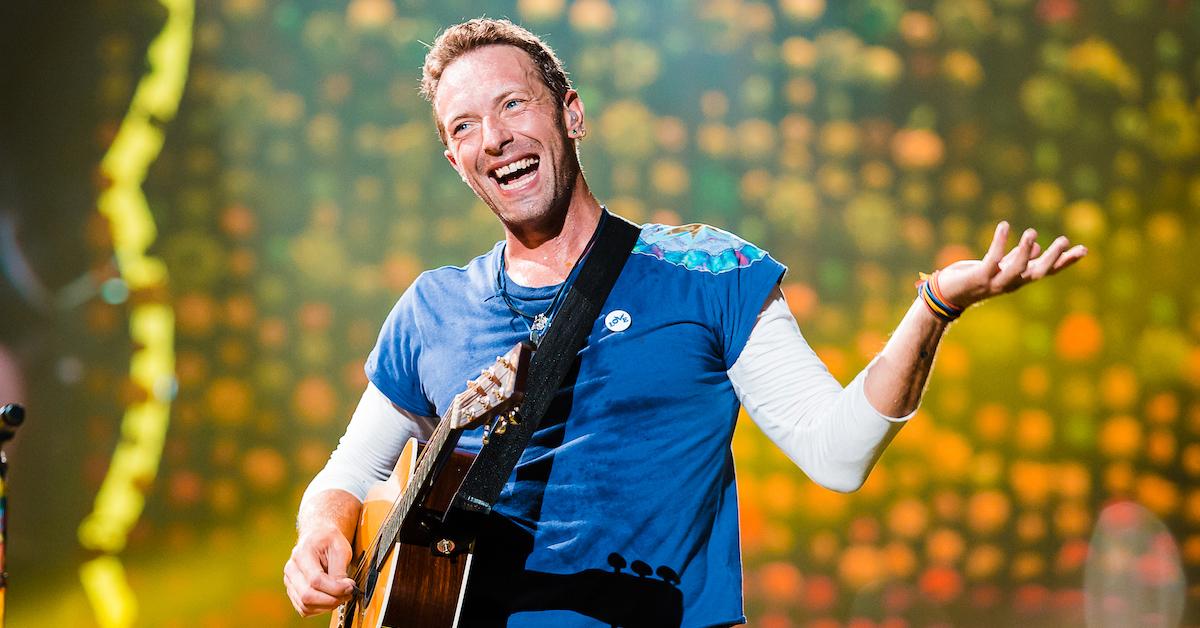 Coldplay puts off touring new album to plan carbon neutral tour with a "positive impact"
By Sophie Hirsh

Updated
Coldplay fans hoping to catch the band live will just have to hope they're still fans a few years from now.
Even though Coldplay is releasing a new album this Friday, Nov. 22 — titled Everyday Life — the band won't be taking the new tunes on tour just yet. Instead, Coldplay will be taking a year or two to plan a carbon-neutral tour that has a positive impact on the planet. Lead singer Chris Martin sat down with BBC News to explain the reasoning behind the decision this week.
Article continues below advertisement
"We're taking time over the next year or two, to work out how can not only our tour be sustainable, but how can it be actively beneficial?" he said in the video interview with BBC News. "How can we harness the resources that our tour creates and make it have a positive impact? ... We would be disappointed if it's not carbon neutral."
Article continues below advertisement
Martin explained that over the next year or two of planning, the hardest thing to sort out will be "the flying side of things," due to the high environmental impact of aviation. If Martin and fellow band members Jonny Buckland, Guy Berryman, and Will Champion previously flew private jets for their tours, they could lower their impact by flying in coach, riding public transportation such as trains and buses, or opting for electric and zero-emission vehicles such as the Tesla. But if Martin really wants Coldplay's tour to have a positive impact and make a statement while traveling overseas, the Britain-based band band could take a page out of Greta Thunberg's book and ride a zero-emission boat should they want to cross any ocean.
Martin also told BBC News that Coldplay's "dream is to have a show with no single-use plastic" and "to have it be largely solar powered." The annual Glastonbury Music Festival banned single-use plastic this year, instead providing hundreds of free water taps, encouraging festival goers to bring reusable water bottles, and only selling drinks in aluminum cans. Instituting similar policies at various stadiums could be a great starting place in making Coldplay's tours more sustainable. 
Article continues below advertisement
"It's a question of accepting that you have to do your best, not to be too overzealous in criticizing others because everyone will catch up, I think, if you prove that it's easy to do it the right way," Martin added. 
Article continues below advertisement
Even though Coldplay is putting off an Everyday Life tour, the band is premiering the double album in a series of live sunrise and sunset shows in Amman, Jordan this week. As reported by GQ Middle East, at 6 a.m. on Friday, Coldplay will perform the first side of the album, titled Sunrise; after a nap or two, the band will return to the stage at 6 p.m. to play the second side of the album, called Sunset. Both shows will be live streamed for fans on YouTube. Then, on Monday, Nov. 25, the band will play a standalone concert for fans at the Natural History Museum in their hometown of London.
But after the Amman and London shows, the sun will set on Coldplay's live concerts, and the band will get to work on planning a carbon neutral tour. It would be great to see other musical artists take inspiration from Coldplay and work to reduce the impact of their own future tours. Maybe the Coldplay team will put out a guide on everything they learn over the next few years so other bands can follow suit, for the sake of our planet.