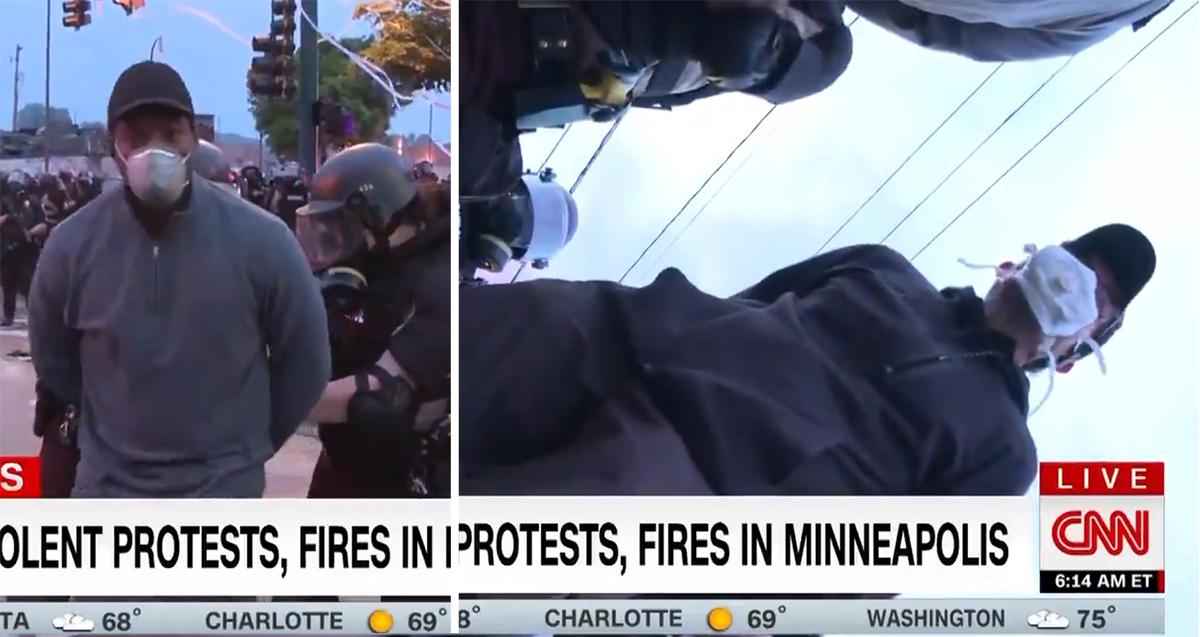 Black CNN reporter and camera crew arrested while live reporting on Minneapolis protests
By Mark Pygas

May 29 2020, Updated 9:48 a.m. ET
A CNN reporter, producer, and cameraman were arrested on live television while covering protests over the death of George Floyd in Minneapolis. In some areas of the city, the initially peaceful protests have given way to violence.
Article continues below advertisement
CNN correspondent Omar Jimenez, producer Bill Kirkos, and photojournalist Jeff Zucker were arrested at around 5 a.m. CT by state police. Jimenez was in the middle of a live report.
In the footage, officers approach the crew as they arrested a protester behind them. Jimenez showed the officers his CNN badge, telling the officers that the team would move wherever they wanted.
An officer then gripped Jimenez by the arm and put him in handcuffs.
"We can move back to where you like. We are live on the air here. ... Put us back where you want us. We are getting out of your way -- wherever you want us (we'll) get out of your way," Jimenez can be heard saying. "We were just getting out of your way when you were advancing through the intersection."
Article continues below advertisement
After Jimenez was led off, the producer and cameraman were also arrested. According to CNN, the crew was released about an hour later.
Jimenez said that they had been treated well while arrested. "We're doing OK now. There were a few uneasy moments there," he said during a live report later in the night.
Article continues below advertisement
"A CNN reporter and his production team were arrested this morning in Minneapolis for doing their jobs, despite identifying themselves -- a clear violation of their First Amendment rights. The authorities in Minnesota, including the Governor, must release the three CNN employees immediately," CNN said in a statement following the crew's arrest.
Shortly before his arrest, Jimenez had written on Twitter: "The images out of Minneapolis right now are unbelievable. Thousands in the streets, a police precinct on fire, fireworks being fired into those flames. All while we wait on whether charges will be filed against the officers involved in the death of George Floyd."
Article continues below advertisement
Minnesota Gov. Tim Walz apologized to CNN Worldwide President Jeff Zucker and said that he would work to get the crew released, saying that the crew had the right to be there and accepting full responsibility.
After the crews release, Minnesota State Patrol said in a statement: "In the course of clearing the streets and restoring order at Lake Street and Snelling Avenue, four people were arrested by State Patrol troopers, including three members of a CNN crew. The three were released once they were confirmed to be members of the media."
Article continues below advertisement
Following the arrest, CNN suggested that Omar Jimenez's race could have played a role in his arrest - Jimenez is black and Latino. They spoke to a nearby white reporter who said that he had no problems with the police.
Article continues below advertisement
Bakari Sellers, a former South Carolina House member, told CNN: "Law enforcement in Minneapolis had the audacity… to arrest a reporter of color while doing his job and following command, but the... officer who put his knee in the back of the neck of a man and choked him for 8 minutes is still free to walk around."
Article continues below advertisement
Unsurprisingly, the arrest resulted in condemnation online. "Unbelievable, CNN did nothing wrong, they even asked the police where they wanted them to stand, I hope CNN gets their lawyers involved quickly," one user wrote.
Article continues below advertisement
Another added: "Is it because Omar Jimenez is black? [He] was 100% compliant polite and didn't raise his voice. Said he would go wherever they want them to go. Do they not want witnesses to what they're going to do next?"
Article continues below advertisement
Hopefully, reporters will be able to continue their important work uninhibited in the future.