One California church is gaining attention for its nativity scene, which depicts Jesus, Mary, and Joseph in separate cages, as a family of refugees separated at the border. Claremont United Methodist Church in Claremont, CA went viral when the church's senior minister Karen Clark Ristine posted a photo on Facebook of the scene along with a theological statement explaining the church's position. 
"Stirred to tears by the Claremont UMC nativity," she wrote. "Inside the church, the Holy Family is reunited. The theological statement posted with the nativity: In a time in our country when refugee families seek asylum at our borders and are unwillingly separated from one another, we consider the most well-known refugee family in the world. Jesus, Mary, and Joseph, the Holy Family. Shortly after the birth of Jesus, Joseph and Mary were forced to flee with their young son from Nazareth to Egypt to escape King Herod, a tyrant. They feared persecution and death. What if this family sought refuge in our country today?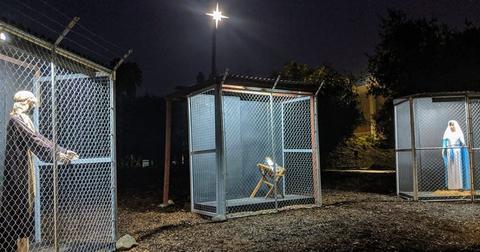 "Imagine Joseph and Mary separated at the border and Jesus no older than two taken from his mother and placed behind the fences of a Border Patrol detention center as more than 5,500 children have been the past three years," the statement reads. "Jesus grew up to teach us kindness and mercy and a radical welcome of all people... In the Claremont United Methodist Church nativity scene this Christmas, the Holy Family takes the place of the thousands of nameless families separated at our borders."
During a period of joy and celebration like the holiday season, it can be easy to overlook the atrocities committed by the current administration. The Claremont United Methodist Church has tied the story of Christmas to the crisis at the border in a powerful, unforgettable way. 
In an interview with Los Angeles Times, Rev. Karen Clark Ristine said, "We see this as, in some ways, the Holy Family standing in for the nameless families. We've heard of their plight; we've seen how these asylum seekers have been greeted and treated. We wanted the Holy Family to stand in for those nameless people because they also were refugees."
Ristine told LA Times that the church often tackles social and political issues with its Nativity scene. In years past, they've used it to bring awareness to Southern California's homelessness crisis. This year's choice has, as expected, garnered lots of varied opinions. 
Ristine's Facebook post has tends of thousands of reactions, shares, and impassioned comments.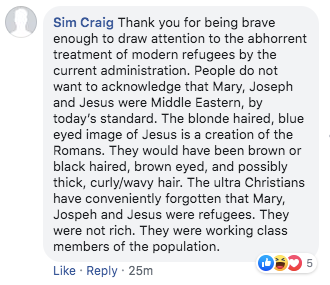 Many praised the church for being true to history and using such an iconic image and story to draw relatable parallels to today. "I'm getting responses from people I don't know," she told LA Times. "I am having people tell me that it moved them to tears. So if the Holy Family and the imagery of the Holy Family is something you hold dear, and you see them separated, then that's going to spark compassion in many people."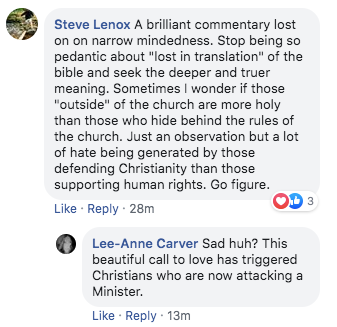 Still, others believe the scene to be inappropriate and inaccurate — and they had no trouble expressing their opinions in Facebook comments. "Inflicting personal political viewpoints and passing it off as religious statement all the while using Christmas to further your viewpoint is sacrilegious and a sin unto itself," one commenter wrote.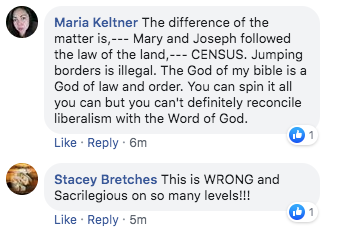 Many people fixated on the idea that the Holy Family weren't "refugees" by today's standards. But that reading seems to miss the point the church is trying to make. The Holy Family's story might not have been identical to those people fleeing to the United States today. For one, they weren't coming to the United States. 
But the church isn't trying to rewrite the Bible. They're depicting how Jesus, Mary, and Joseph would be treated if they were to enter the United States as refugees today. This nativity scene is a symbol, as Ristine said, that brings light to the institutional mistreatment of human beings in this country.
"We don't see it as political," Ristine told LA Times. "We see it as theological." Inside the church, the family is depicted again, this time reunited. In her Facebook post, Ristine wrote, "Inside the church, you will see this same family reunited, the Holy Family together, in a nativity that joins the angels in singing 'Glory to God in the highest and on earth peace and good will to all.' Luke 2:14."