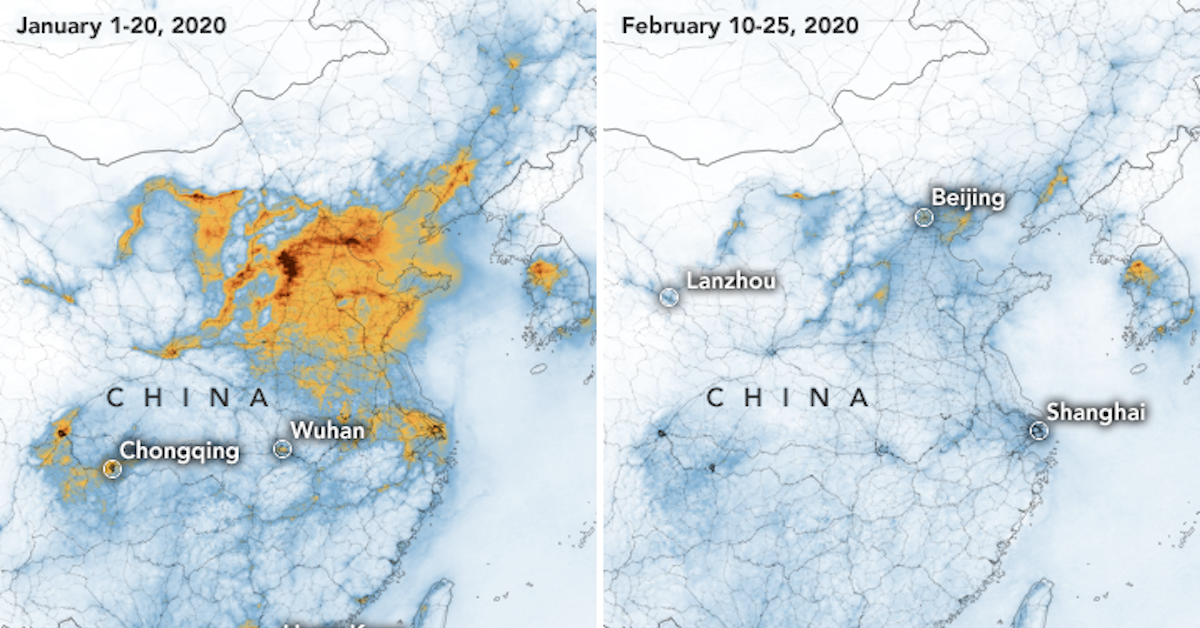 Coronavirus quarantine causes Chinese pollution levels to go down
By Sophie Hirsh

Mar. 2 2020, Updated 4:13 p.m. ET
China is the most polluting country on Earth. So the fact that China's nitrogen dioxide pollution levels have been lower than usual over the past two months is pretty noteworthy. Unfortunately, the reason for the reduced levels of nitrogen dioxide in the atmosphere is pretty bittersweet — scientists say it has to do with the coronavirus (COVID-19) outbreak.
Article continues below advertisement
NASA Earth Observatory shared the report this week, along with several maps showing the concentrations of nitrogen dioxide (NO2) in the atmosphere across China. NO2 is a gaseous air pollutant that forms when fossil fuels are burned for activities like driving cars, running plants, running factories, and more.
The map on the left shows China's NO2 concentrations for Jan. 1 through Jan. 20, 2020 — based on the key, it's clear that the mean tropospheric NO2 density in the air is high.
Article continues below advertisement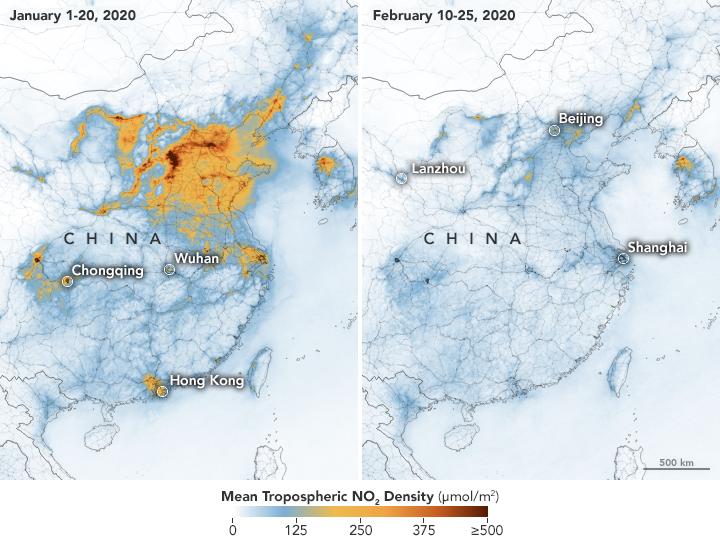 On Jan. 23, Chinese authorities put the city of Wuhan under quarantine, about a month after coronavirus first broke out. People were not let in or out of the city, many businesses were temporarily closed down, authorities banned private vehicles, and public transportation was suspended, the Australian Broadcasting Corporation reported. With less cars on the roads, NO2 levels began to go down.
Article continues below advertisement
The map on the right represents China's NO2 concentrations for Feb. 10 through Feb. 25, 2020 (which is when Wuhan was under quarantine). As you can see on the map, NO2 levels are virtually nonexistent in China during that time frame.
As NASA Earth Observatory explained, NASA scientists first observed NO2 levels decreasing near Wuhan, but then saw the reduction bleed across China. That's because Wuhan is not the only city with quarantines and travel restrictions. As reported by Business Insider, China put about 46 million people in quarantine across at least 16 cities, which is the biggest human quarantine in history.
Article continues below advertisement
"This is the first time I have seen such a dramatic drop-off over such a wide area for a specific event," Fei Liu, an air quality researcher at NASA's Goddard Space Flight Center, said in a statement.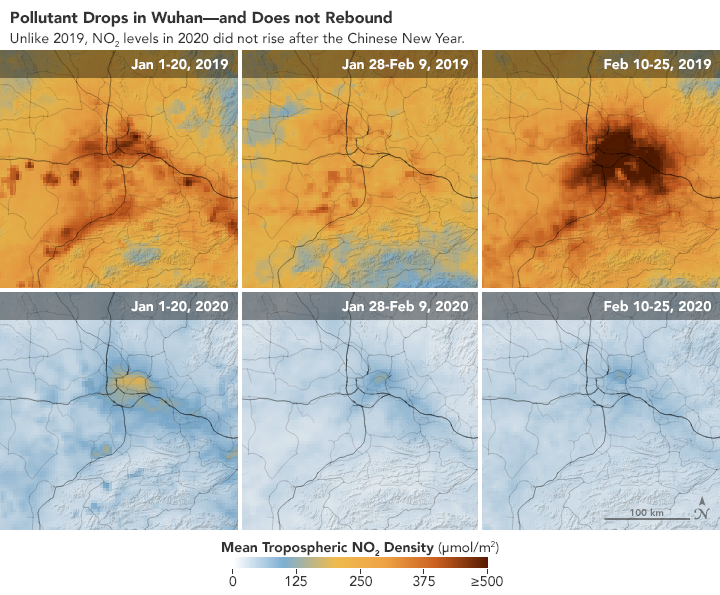 Article continues below advertisement
That said, there are other times the NO2 density has dropped in China, as reported by NASA Earth Observatory. The last significant NO2 drop in China was in 2008, during the economic recession as well as the Beijing Olympics that year (since the government restricted traffic and factory activity for two months). After the Olympics ended, NO2 levels rose again.
Additionally, this time of year, it's not uncommon for NO2 levels to reduce slightly due to businesses closing down for the Lunar new Year. "There is always this general slowdown around this time of the year," Barry Lefer, an air quality scientist at NASA.
Article continues below advertisement
But this year is the greatest reduction in NO2 levels in a long time. "This year, the reduction rate is more significant than in past years and it has lasted longer," Liu added said. "I am not surprised because many cities nationwide have taken measures to minimize spread of the virus."
That just goes to show how much of an impact burning fossil fuels has on the environment. The more gas-powered cars we take off the roads and the more factories that shut down, the greater reduction in air pollutants we could see.