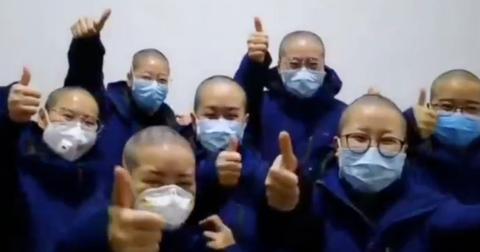 Chinese nurses are shaving their heads to treat coronavirus patients because long hair spreads the virus
By Mark Pygas

Updated
On Tuesday, confirmed coronavirus cases in China reached 42,000, with more than 1,000 deaths. On Monday, some 103 died in Hubei province alone, though the number of new infections dropped from Sunday, from 3,062 to 2,478. In reality, these numbers are likely higher as undiagnosed cases go undocumented.
And while the Chinese government faces backlash over their handling of the outbreak, as well as the death of whistleblower Dr. Li Wenliang and the disappearance of journalist Chen Qiushi, many in China are focusing on the efforts of healthcare workers.
As many as 1,000 medical workers are believed to have caught the virus while treating patients, with several of them passing away. Medical staff are being worshipped as heroes by many people on Chinese social media, and video of nurses having their heads shaved before heading into quarantined areas is only helping that image.
A video by the state-run People's Daily, China's largest newspaper, shows nurses having their heads shaved before they ship out to Wuhan, where the virus originated. According to China's Xinhua news agency, the practice helps to limit any ways that the virus can escape controlled environments. It also makes it easier to put on and take off hazmat suits.
Respect! A team of nurses in NW China's Shaanxi shaved their hair before coming in for duty amid coronavirus outbreak to avoid cross-infection. pic.twitter.com/XpseMgSsg9

— People's Daily, China (@PDChina) February 6, 2020
Xinhua News explains that over 20 nurses and doctors volunteered to have their hair shaved. And according to Business Insider, it's not even the most extreme method that some medical staff are taking to fight the virus. They explained that some are going as far as to wear adult diapers inside their hazmat gear to increase the amount of time they have to treat patients.
Business Insider also explains that many medical staff have had their skin bleached white from disinfectant and their faces marked by lines from tight masks.
"I think it is a strain for every doctor and every nurse in Wuhan, both physically and mentally," Dr. Candice Qin told The Washington Post. "We know that patients are worried, but we should bear in mind that doctors are just as human as well."