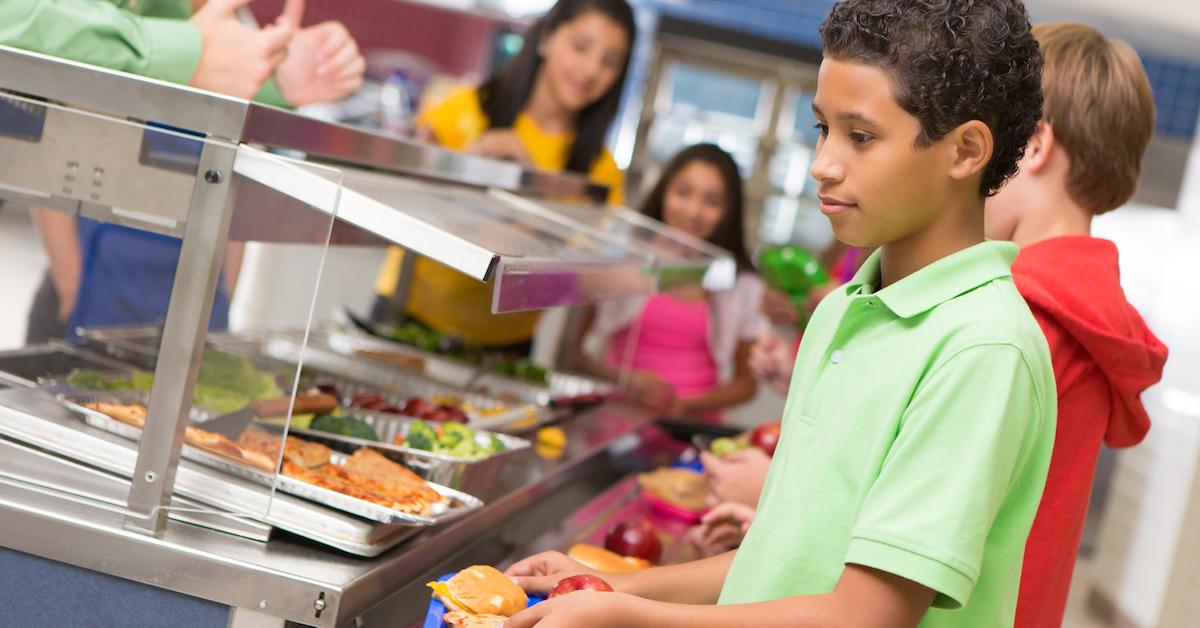 New Jersey school district rejects businessman's offer to pay school lunch debt so students can attend prom
By Amber Garrett

Oct. 23 2019, Updated 12:13 p.m. ET
There's no such thing as a free lunch, as the saying goes, and a school district in Cherry Hill, NJ is taking that adage quite literally. Their revised policy on lunch debt, which was approved unanimously earlier this month, ties outstanding balances on meals to an existing policy on outstanding library books and other school property. This would bar students owing debts of $75 or more from attending extracurricular events like prom or from purchasing yearbooks.
Article continues below advertisement
But it became clear the policy was not about deficits so much as penalizing students when the school district rejected an offer by a local businessman to bring students' accounts into the black.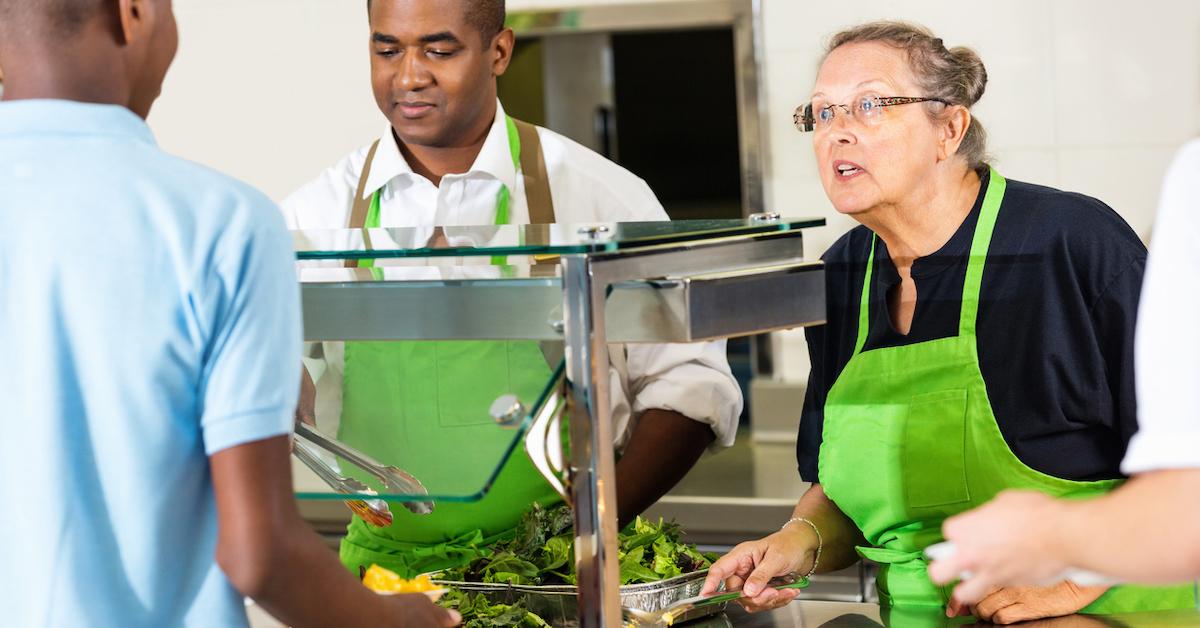 Article continues below advertisement
Steve Ravitz is a retired business man from Cherry Hill whose family owns Ravitz Family Markets, which operates several ShopRite grocery stores in the area. In September, he made an offer to Cherry Hill United School District to donate funds that would erase the debt, but says his offer was ignored. Then, last week, district officials made it clear his proposed donation was rejected.
"Simply erasing the debt does not address the many families with financial means who have just chosen not to pay what is owed," school Superintendent Joseph Meloche and Board President Eric Goodwin said in a statement. The board's position is that a one-time donation will not address the problem of families who have the money just not paying the fees they owe.
Article continues below advertisement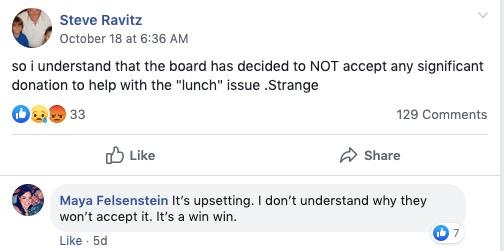 Some residents also argue that the district offers reduced and free lunches for families who qualify, but many immigrant parents are reluctant to apply for the assistance, worried it will affect their efforts to gain citizenship or maintain legal immigration status. This refers to a change in immigration policy announced in August by the Trump administration called "Inadmissibility on Public Charge Grounds" and hinders immigrants who use public assistance from obtaining a green card.
Article continues below advertisement
The cost of one lunch in the district is $3 for elementary and middle school students and $3.10 for high schoolers. Under the new policy, students with outstanding debts of $10 or less will still be given hot meals, and at $25, the parents are contacted to discuss settling the debt.
Once debts reach $75, the parents must attend a mandatory in-person meeting with school officials and, until the bill is paid, the student can be barred from participating in non-athletic extracurricular events.
Article continues below advertisement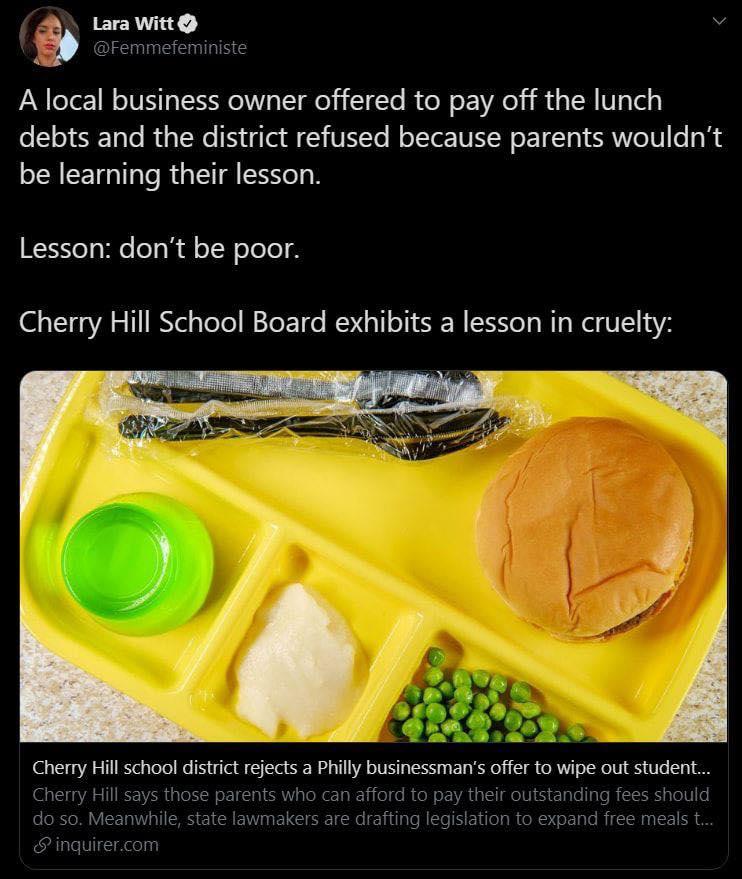 The policy also applies to students whose parents had an outstanding balance from the previous year. According to the Philadelphia Inquirer, district officials claim around 343 students owed $14,343 in meal debt last year.
Article continues below advertisement
Cherry Hill isn't the only New Jersey city where school districts are cracking down on school lunch debt with harsh, some would say draconian consequences. Washington Township School District in Gloucester County adopted a policy that states parents who don't pay their lunch bill can be reported to the Department of Children and Families, which handles cases of possible child neglect or abuse.
As districts in the region try to come up with solutions that satisfy their financial concerns and those of parents, some state lawmakers hope to enact legislation that would see the state pay for reduced-fare breakfasts and lunches for students from low-income households.
Article continues below advertisement
"It's critically important that children have access to regular and nutritious meals while at school, but … for many families the financial burden is too great," Assembly Speaker Craig Couglin (D., Middlesex) said in a statement.
Article continues below advertisement
Opinions on social media about the district's rejection of Ravitz's offer were mixed. Some thought the district was being foolish to reject the donation, others pointed out that this generosity would only solve the problem of existing debt and would not prevent future delinquent accounts.

Article continues below advertisement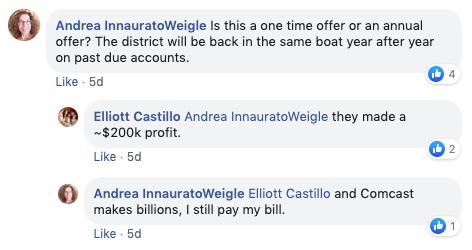 What do you think — is this policy wrong or the only way to ensure parents keep their accounts up to date?