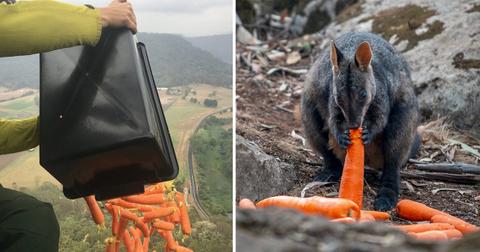 Carrots are being airdropped to help endangered wallabies after Australia bushfires
By Mark Pygas

Updated
Wildfires have been devastating much of Australia since September, with animals being among the hardest hit. Experts estimate that over 1 billion animals have perished in the flames, and while the flames are an initial threat to many, others are perishing well after the flames have subsided due to lack of food and water as a result of drought.
Article continues below advertisement
The endangered brush-tailed rock-wallaby population of New South Wales is among those facing food and water shortages, and the government has decided to intervene by arranging an airdrop of thousands of pounds of vegetables to fire-affected areas as part of 'Operation Rock Wallaby.'
State Environment Minister Matt Kean shared photographs of the operation on Twitter, explaining that it was a key part of helping struggling populations survive after the fires had ravaged their local areas.
Article continues below advertisement
"Initial fire assessments indicate the habitat of several important Brush-tailed Rock-wallaby populations was burnt in the recent bushfires. The wallabies typically survive the fire itself, but are then left stranded with limited natural food as the fire takes out the vegetation around their rocky habitat," Kean said.
Article continues below advertisement
"The wallabies were already under stress from the ongoing drought, making survival challenging for the wallabies without assistance."
The wallabies seem to be happy with their sky vegetables.
Article continues below advertisement
A government media release explained that 4,400 pounds of sweet potatoes and carrots were dropped to 11 different brush-tailed rock-wallaby colonies. These efforts will continue alongside predator control as the species recovers.
"At this stage, we expect to continue providing supplementary food to rock-wallaby populations until sufficient natural food resources and water become available again in the landscape, during post-fire recovery."
According to estimates by ecologist Chris Dickman from the University of Sydney, over 1 billion animals have been killed since fires began. That figure includes 800 million mammals, birds, and reptiles.
Among those killed are at least 8,000 koalas who are believed to have perished in New South Wales, a third of the state's pre-fire population. Nationwide, 25,000 koalas may have died.