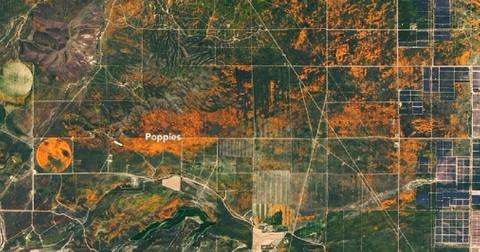 California's poppy bloom is so bright, it can be spotted by NASA's satellites
By Mark Pygas

Updated
Spring is in the air, and summer is fast approaching. But as the weather gets nicer, many of us will still be stuck at home, and many of the places we would want to visit will remain closed.
Thankfully, NASA has our backs. They recently decided to share photos taken by the Operational Land Imager (OLI) on the Landsat 8 satellite, which show the vast blooms of the Antelope Valley California Poppy Reserve. The images were taken when the poppy flowers in the valley were at their peak, creating some incredible images.
"The flowers bloomed after Southern California received significant rainfall in March and April 2020," NASA explained in a post. "This spring, Lancaster received around 10.5 inches (27 centimeters) of rain—almost 4 inches (10 centimeters) above normal. The extra rain may cause the poppies to stick around longer than usual and result in an above-average wildflower year. Park officials called this bloom an 'unexpected' surprise due to the late season rains."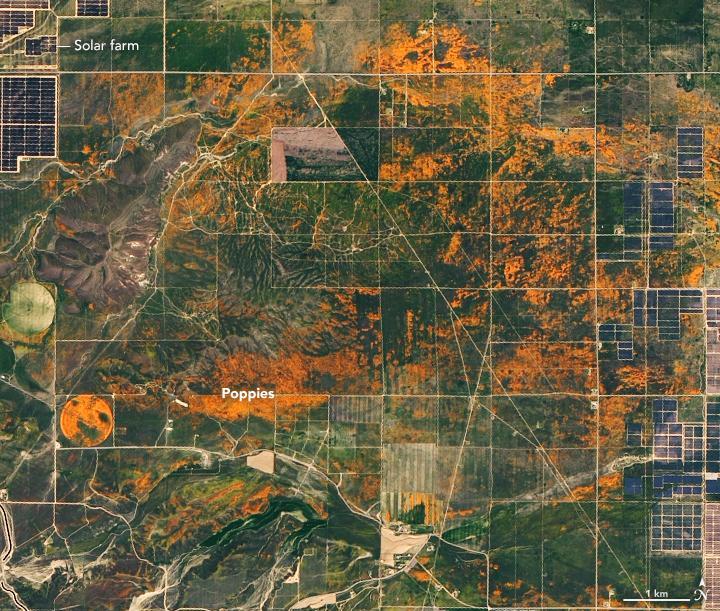 "Depending on the day or even hour, the orange patches may change in appearance," the post continued. "The poppies open their petals during sunny periods, appearing like a large blanket over the landscape. The flowers tend to close during windy, cold periods. While the orange poppies are easy to spot in satellite imagery, the fields also contain cream cups, forget-me-nots, purple bush lupines, and yellow goldfields (a relative of the sunflower)."
And just in case you want to check out the bloom for yourself, then the California Department of Parks and Recreation has a livestream up on their site. Though from the ground, it's not nearly as impressive.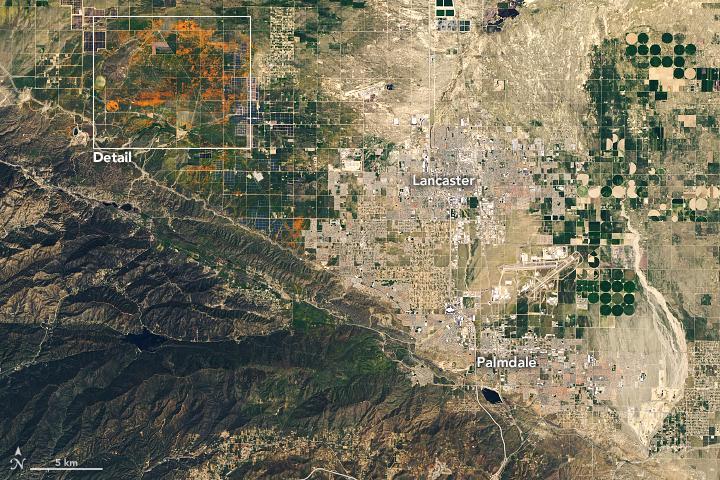 As Green Matters explains, national parks closed their doors during the coronavirus pandemic. They had originally been ordered to waive entry fees, to "[make] it a little easier for the American public to enjoy the outdoors in our incredible National Parks," but park-goers struggled to maintain social distancing and hygiene guidelines.
They're now starting to reopen, but not everyone seems to think it's the right time. Glen Canyon, Everglades, Smoky Mountains, Olympic, and Zion National Parks are already open, with several others planning to reopen in the next few weeks.
Utah's Zion National Park reopened last week, with 4,000 visitors in one day. But Springdale, Utah Mayor Stan Smith says that "the retired community is concerned about an influx of tourists bringing in the virus into town, while the business community says this is the time when we should be making money."
"We don't want the parks to become super spreaders," Timothy Whitehouse, executive director of Public Employees for Environmental Responsibility, told The Guardian. "These communities simply do not have the capacity or the medical infrastructure to deal with an outbreak."
On April 22, the president announced that he was starting to reopen National Parks and other public lands. Nearly a month later, parks are slowly beginning to reopen.