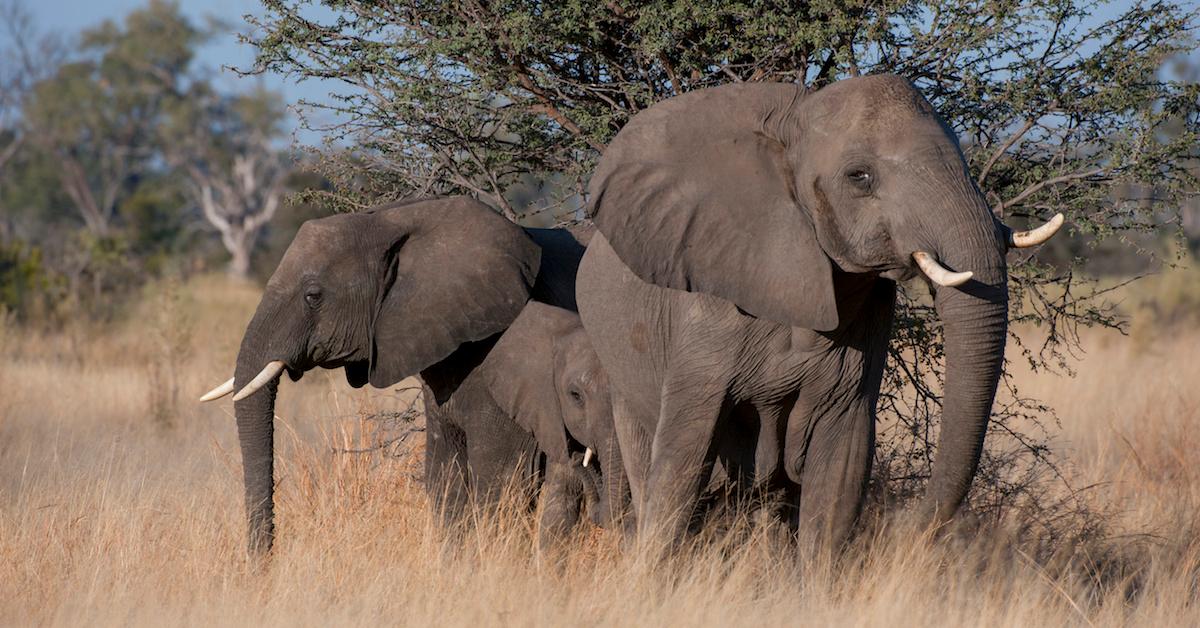 Botswana starts selling elephant-hunting licenses for the first time in five years
By Sophie Hirsh

Feb. 12 2020, Updated 11:33 a.m. ET
In May 2019, Botswana ended the ban on elephant hunting that had been in effect in the country for five years. Now, nine months later, Botswana has sold its first round of elephant-hunting licenses since the ban was lifted.
Article continues below advertisement
As reported by Reuters, on Friday, Feb. 7, Botswana auctioned off six hunting packages, meaning a total of 60 wild elephants will be killed. 
"Seven hunting packages, of 10 elephants each, were available for auction. Only one (package) was not sold as no bidders met the reserve price of 2 million pula ($181,000)," said Adrian Rass, managing director of Auctionit Botswana, according to Reuters. "The six (packages) were sold for a total price of 25.7 million pula." That is a total of more than $2.4 million USD.
Article continues below advertisement
When the Botswana government announced the re-legalization of elephant hunting on Twitter in May, the government tweeted that fewer than 400 licenses will be granted each year. If each license allows 10 elephants to be killed and is sold for the same amount as the ones sold last week, up to 4,000 elephants could be killed every year, and the Botswana government could make 800 million pula ($73.3 million USD) every year.
At those rates, it's no surprise that Botswana President Mokgweetsi Masisi lifted the elephant hunting ban. In most countries, all money made from hunting licenses goes to the government, and is used for conservation and restoration purposes.
Article continues below advertisement
According to Bloomberg, hunting packages like these are typically resold for a profit to trophy hunters, many of whom come from the U.S. Trophy hunting is a form of recreational hunting, usually done with the intention of mounting and displaying the animal's head as decor. 
Article continues below advertisement
Elephant hunting was previously legal in Botswana until 2014, when the country banned the practice in response to suffering elephant populations, which were primarily due to poaching and shrinking habitats. The hunting ban was effective, and Botswana's elephant population has significantly grown since 2014, according to CNN. In fact, in 2016, Botswana actually had the most elephants of any African country — a total of 130,451, according to the Great Elephant Census, via Conservation Action Trust.
Article continues below advertisement
Environmentalists have been criticizing the re-legalization of elephant hunting since it was announced last May, noting that it would have terrible effects on biodiversity and conservation.
"Trophy-hunting of elephants often brings a slow, painful death. With its population dwindling and increasingly scattered, the impact of trophy-hunting could be disastrous and possibly contribute to the extinction of the species," explorer Sir Ranulph Fiennes wrote in a letter to President Masisi when he was contemplating lifting the ban, as reported by The Independent. "This would be a major global conservation disaster – potentially the worst in living memory – and have tremendously damaging consequences for efforts to conserve endangered fauna and flora everywhere." 
There is no need for humans to recreationally kill elephants, and it's a shame that thousands more will be legally killed in Botswana this year. According to The Independent, some environmentalists worry that legalizing elephant hunting could cause more illegal elephant poaching — so who knows, perhaps five years from now, after making a few hundred million dollars, Botswana will institute another ban on hunting elephants.