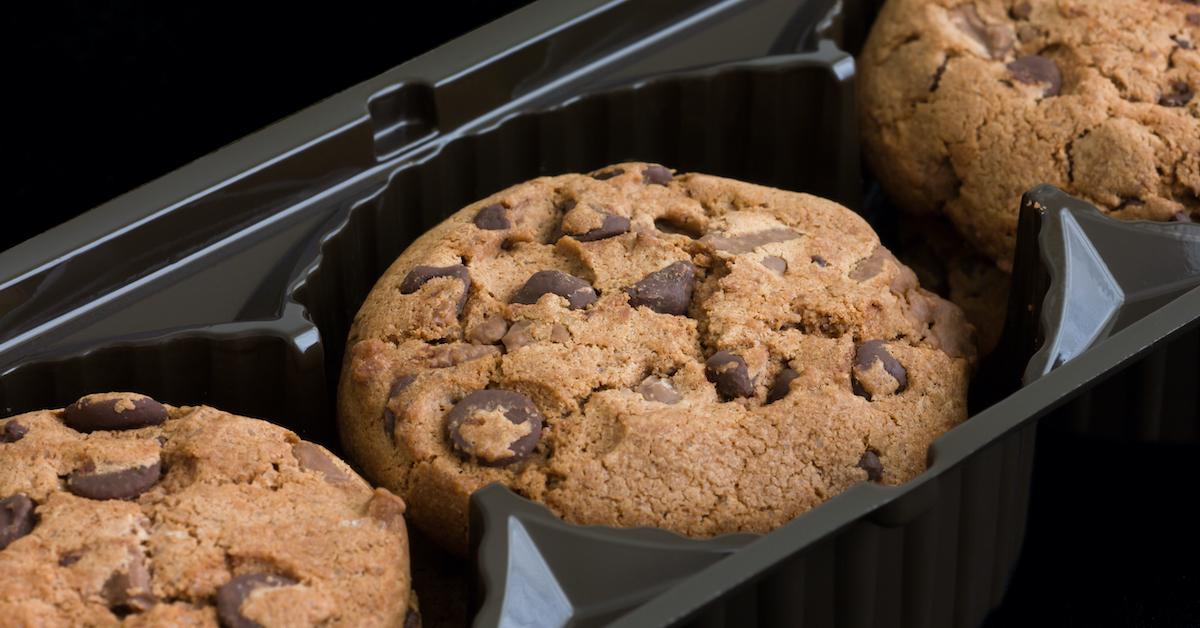 Major U.K. supermarkets ban hard-to-recycle black plastic
By Sophie Hirsh

Updated
You may have heard the statistic that only 9 percent of plastic that's been created has actually been recycled. There are numerous explanations as to why 91 percent of plastic winds up in landfills incinerators, and oceans — and one small part of that puzzle is hard-to-recycle plastic, such as black plastic. To combat that, a group of major U.K. supermarkets are banning black plastic.
Article continues below advertisement
As reported by The Grocer, last week, the grocery store Morrisons announced it would no longer be carrying products packaged in black plastic. Morrisons claims this move will remove nearly 4,000 tons of black plastic from the store's supply chain. This week, four other grocery stores — Asda, Sainsbury's, Tesco, and Waitrose — all followed suit, announcing their own bans on the material, according to Metro. 
Previously, two other grocery chains — Iceland and Aldi — announced plans to ban black plastic from their in-house products in the near future, but not necessarily on items made by outside brands, as per Metro. While Marks & Spencer, a popular U.K. department store, has not yet pledged to ban black plastic, the chain has tweeted that it has already phased out 2,700 tons of black plastic packaging from its products. It's interesting that black plastic is something U.K. consumers and stores seem to be well aware of, but in the U.S., the issue of undetectable black plastic is not as well-known.
Article continues below advertisement
Why is black plastic so hard to recycle?
As explained by U.K.-based sustainability organization WRAP, black packaging gets its dark hue from carbon black pigments. Those pigments make it difficult for plastics recycling technology (Near Infra-Red technology) to recognize the black plastic as recyclable; instead, the machines recognize it as residue, leaving it to be discarded to the landfill or incinerated.
Article continues below advertisement
WRAP is working with The UK Plastics Pact to change the way black plastic is produced across the U.K. According to WRAP, it is possible to use detectable black dye instead of carbon. So, the two organizations are aiming to make the majority of the black plastic produced in the U.K. to be produced using detectable black dye by the end of 2019.
We've already taken action to remove 1,000 tonnes from our business and have phased out 2,700 tonnes of black plastic packaging from our products. We're also rolling out a take-back scheme for any plastics that are hard to recycle in the home. 2/2 - Simon

— M&S (@marksandspencer) November 20, 2019
Article continues below advertisement
These bans on black plastic are certainly positive moves overall — however, most supermarkets will probably just replace black plastic with clear plastic, or just carry an alternative product that uses a clear plastic. Unfortunately, that means we're just replacing one kind of environmentally-unfriendly packaging with another. It also runs the risk of making consumers think that by buying plastic-packaged products in these stores, they are making a good choice. In reality, a lot of non-black plastic still will not get recycled, whether that's due to people putting it in the trash instead of the recycling bin, China banning recycling imports, or contaminated batches of recycling. 
So while this ban is certainly a move in the right direction — and it would be awesome to see supermarket chains in other countries follow suit — an even better move would be swapping out plastic packaging for a lower-impact packaging. For example, these supermarkets could package their store-brand products in easier-to-recycle material such as cardboard, metal, or glass; or, even better, they could offer a wider variety of food in bulk bins, with incentives for customers who bring their own containers or cloth bags for bulk shopping.