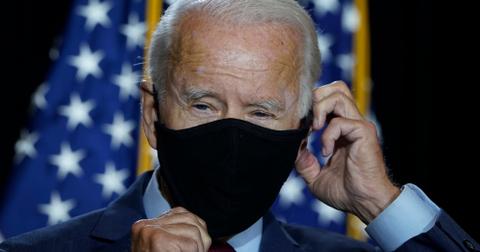 Biden calls for nationwide mask mandate 'immediately'
By Mark Pygas

Updated
In a press conference with his running mate, Senator Kamala Harris, former Vice President Joe Biden called for a nationwide mandatory mask mandate in an effort to slow the spread of coronavirus.
Article continues below advertisement
"Today I want to talk about one thing," Biden said. "Very straightforward. Doesn't have anything to do with Democrats, Republicans or independents. It has to do with a single simple proposition: every single American should be wearing a mask when they're outside for the next three months at a minimum. Every governor should mandate. Every governor should mandate mandatory mask wearing. The estimates by the experts are it will save over 40,000 lives in the next three months. 40,000 lives if people act responsibly."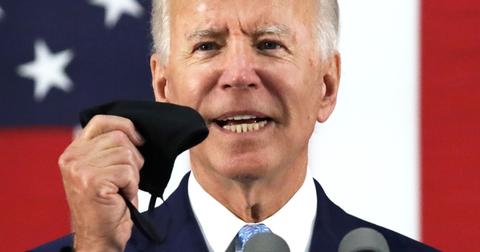 Article continues below advertisement
Biden went on to stress that wearing a mask is a "responsibility" for every American.
"And it's not about your rights, it's about your responsibilities as an American. The fact is that as Americans are lining up to give blood, Americans volunteer all their time for food banks and local charities, supporting their neighbors that are in need. Well, this is no different. Wearing a mask is less about you contracting the virus, although it does help depending on the mask, but it's about preventing other people from getting sick."
"Wearing a mask will give the life of a clerk or your local store or your letter carrier, your child's teacher, it will increase their prospects of not contracting the virus. Even though it's uncomfortable, we're not used to it, wearing a mask is going to get our kids back to school sooner and safer. Wearing a mask, every American wearing a mask outdoors, is going to get our businesses back and the full strength long-term, and we're going to get our country back on track."
Article continues below advertisement
The former Vice President stated that those who wear masks are "patriots."
"But again, when I get occasionally confronted with a person in the public about wearing a mask, I say, 'Look, this is America. Be a Patriot. Protect your fellow citizens. Protect your fellow citizens. Step up. Do the right thing. Do the right thing.' There's overwhelming evidence that the mask and depending on the type of mask you wear increases exponentially the prospect that you, if you are a carrier and you don't even know it, that you will not infect anyone when you cough, sneeze, sing, shout."
"A lot of people are dying. We're up over 160,000 people dead so far. And I'll end by saying that it goes back to the study some months ago by Columbia University saying that we didn't have to be this way. If the president had acted sooner, just one week earlier, it would have saved 30-some-thousand lives. Two weeks earlier, I think it was 51,000 or 57,000 lives. I hope we've learned a lesson. Hope the president has learned a lesson, but again, this is not about Democrat, Republican or independent. It's about saving America's lives, so let's Institute a mass mandate nationwide starting immediately, and we will save lives. The estimates are we'll save over 40,000 lives in the next three months if that is done."
Article continues below advertisement
President Donald Trump has a mixed record on masks. In the spring, Trump said that he would not be wearing a mask and left it up to states to mandate mask wearing. the President has since encouraged people to wear a mask, and has been seen wearing one himself in public. However, many have argued that masks would be more effective if the entire country wore them.
CDC Director Robert Redfield recently called for "universal masking" in the United States in an attempt to control the spread of coronavirus. Redfield added that if everyone in the United States wore a mask, the pandemic could be brought under control in a matter of months.
Article continues below advertisement
In an editorial published in the journal JAMA, Redfield called for universal masking because "there is ample evidence" that asymptomatic people are the ones keeping the pandemic thriving.
Someone who is asymptomatic has the coronavirus but will show very minor or no symptoms, often leading them to believe that they don't have the virus.
"The data is clearly there that masking works," Redfield said. "If we can get everybody to wear a mask right now, I really do think in the next four, six, eight weeks ... we can get this epidemic under control."
Redfield pointed to several studies showing the usefulness of masks, including one from the largest healthcare system in Massachusetts. Universal masking of workers and patients in this setting helped to reverse the spread of the coronavirus among employees.
Article continues below advertisement
He also highlighted the case of a pair of Missouri hairstylists, who were infected with coronavirus, but did not infect any of their 139 clients because of proper use of masks.
The CDC used this particular case in a study released this week, stating that "broader implementation of masking policies could mitigate the spread of infection in the general population."
A new model by the University of Washington projected more than 200,000 coronavirus deaths in the United States by November but also found that universal masking could bring that number down by 45,000.
"As we all have come to recognize, wearing masks can substantially reduce transmission of the virus," Dr. Christopher Murray told Market Watch. "Mask mandates delay the need for re-imposing closures of businesses and have huge economic benefits. Moreover, those who refuse masks are putting their lives, their families, their friends, and their communities at risk."