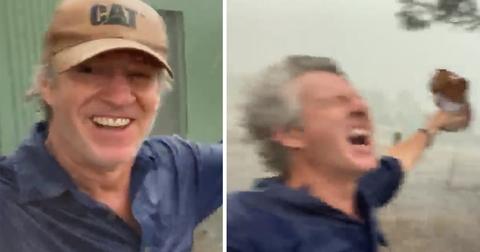 Australian farmer celebrates rain falling on farm for first time in months
By Mark Pygas

Updated
This week Australia is experiencing its first significant rainfall following months of drought and wildfires that have ravaged 17.9 million acres. Fires across the nation have destroyed more than 3,000 homes, killed at least 28 people, and over one billion animals since September.
Article continues below advertisement
New South Wales, which is one of the worst-hit states, is expected to receive another 30 to 80mm of rain over the next few days according to the Bureau of Meteorology. Firefighters are celebrating some respite from tackling bushfires, but they're not alone in celebrating. Farmers are also ecstatic about the rain following months of drought.
Reddit user jesschaps2 took to Reddit recently to share a video of her father's reaction after rain hit his farm in New South Wales for the first time in months. It's fair to say that he's pretty excited about the whole thing.
Article continues below advertisement
Reddit users loved the father's enthusiasm, with one user writing: "OMG this makes me so happy! I can't imagine how happy your dad feels right now!"
While another added: "Omg that's awesome! So happy for everyone who finally got some good rain."
Article continues below advertisement
And he's not the only person happy to have some rain. This toddler from Victoria, Australia, was overjoyed to get out of the house after the precipitation helped to lessen the amount of smoke in the air.
Article continues below advertisement
These calves couldn't help but frolic while experiencing rain for the first time in their lives.
Article continues below advertisement
Others were just happy to get a chance to use their umbrella.
Article continues below advertisement
But it's not all good news. Storms accompanying the rain sparked two new fires in Victoria's Great Otway national park, on the state's south coast.
The Victorian Country Fire Authority also said that the rain "unfortunately had minimal impact in suppressing the fire activity across east and north-east Victoria".
Bureau of Meteorology senior meteorologist Kevin Parkyn warned that while the rain might help to tackle wildfires, it could lead to landslides in some areas and lightning could cause further fires.
"Thunderstorms, a bit of a two-edged sword. While they can bring some much useful rain, it can also come down in pretty fast, high quantities," Parkyn told the Daily Mail. "There's high concentrations of ash, very vulnerable landscape when it comes to short bursts of heavy rainfall - which could see very quickly mudslides developing."
Article continues below advertisement
New South Wales' fire service called the rain a "relief" but pointed out that it wouldn't extinguish all the fires.
Relief is here for a number of firefighters working across NSW. Although this rain won't extinguish all fires, it will certainly go a long way towards containment. This footage was captured down at the Good Good Fire burning near Cooma. #nswrfs #nswfires pic.twitter.com/fxV9u2hN6K

— NSW RFS (@NSWRFS) January 16, 2020