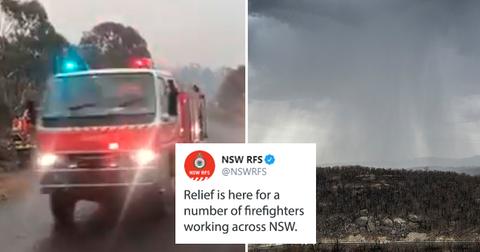 Rain finally hits Australia, helping to extinguish 32 bushfires
By Mark Pygas

Updated
Australia is experiencing its first significant rainfall following months of drought and wildfires that have ravaged 17.9 million acres. Fires across the nation have destroyed more than 3,000 homes, killed at least 28 people, and over one billion animals since September.
But firefighters in the country will receive at least some respite after heavy rain in New South Wales helped to extinguish 32 bushfires, bringing the total number of blazes down from 120 to 88 as of Thursday morning according to the Daily Mail.
New South Wales is expected to receive another 30 to 80mm of rain over the next few days according to the Bureau of Meteorology. Greater Sydney will receive less rain, but the precipitation has already helped to lessen smoke that had been hanging over the city.
Fire services across Australia took to Twitter to celebrate the rain, with New South Wales' service calling it a "relief."
"Relief is here for a number of firefighters working across NSW," they wrote on Twitter. "Although this rain won't extinguish all fires, it will certainly go a long way towards containment. This footage was captured down at the Good Good Fire burning near Cooma."
The force earlier took to Twitter to reintroduce windscreen wipers and umbrellas to the Australian public.
But it's not all good news. Storms accompanying the rain sparked two new fires in Victoria's Great Otway national park, on the state's south coast.
The Victorian Country Fire Authority also said that the rain "unfortunately had minimal impact in suppressing the fire activity across east and north-east Victoria".
Bureau of Meteorology senior meteorologist Kevin Parkyn warned that while the rain might help to tackle wildfires, it could lead to landslides in some areas and lightning could cause further fires.
"Thunderstorms, a bit of a two-edged sword. While they can bring some much useful rain, it can also come down in pretty fast, high quantities," Parkyn told the Daily Mail. "There's high concentrations of ash, very vulnerable landscape when it comes to short bursts of heavy rainfall - which could see very quickly mudslides developing."
Areas around the South Coast and Southern Tablelands could receive up to 30mm of rain, prompting their fire service to warn of landslides and flash flooding.
"While the rain is welcomed, heavy rainfall and storms in fire affected areas can lead to dangerous conditions such as a higher risk of flash flooding, falling trees and landslips," assistant commissioner Paul Bailey said.
"In areas impacted by fires where vegetation has been destroyed, water from heavy rainfall can flow into riverbeds and we could see run-off in areas we wouldn't normally, resulting in flash flooding."
"The NSW SES is also asking residents in fire-affected areas to watch for possible landslips as the ground and roads can be damaged, therefore creating a higher risk of a potential slip."
Hopefully, the rain will bring some respite to firefighters who have been tackling the blazes for weeks on end.