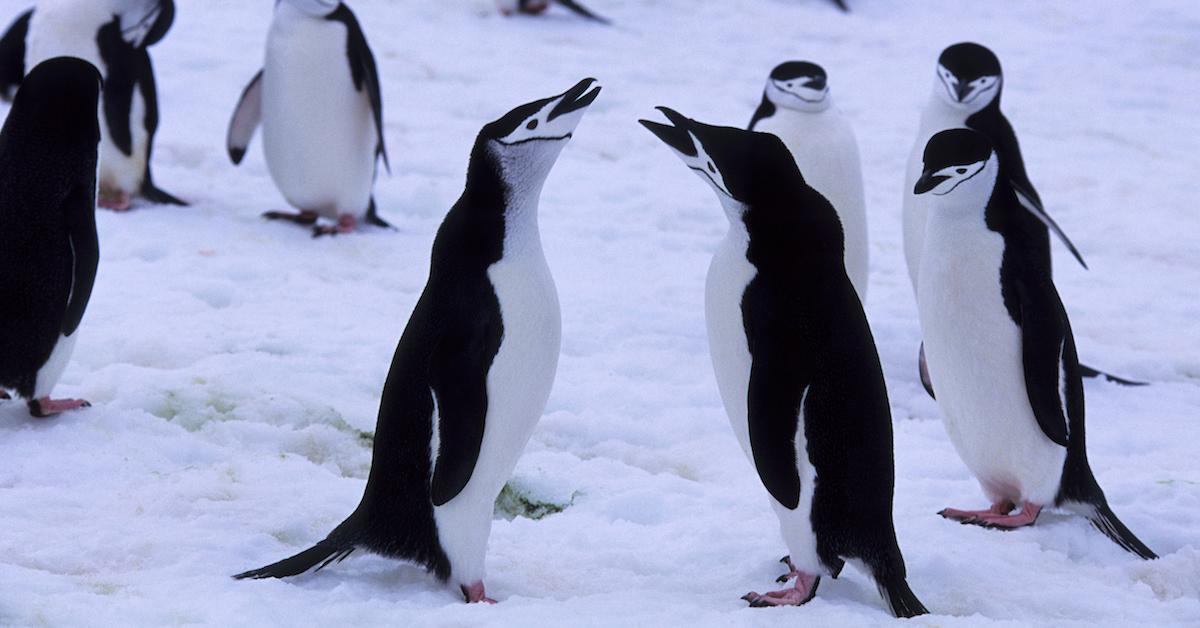 Antarctic penguin colony populations have gone down by 77 percent — here's how to protect them
By Sophie Hirsh
Antarctic chinstrap penguins are pretty amazing — each and every one of those cuties easily pulls off the chinstrap beard way better than any human man ever could. But more importantly, they are an important part of the Antarctic ecosystem. Unfortunately, like many other animals, their population is threatened in certain areas. On a recent Greenpeace expedition, researchers discovered that some chinstrap penguin colonies have significantly decreased over the last 49 years.
As detailed in a press release by Greenpeace, a group of independent researchers from Ushuaia, Argentina recently went on an expedition to Elephant Island, located off the coast of the Antarctic Peninsula, to survey chinstrap penguins. Chinstrap penguins in the region had not been surveyed since 1971, nearly five decades ago. On the recent expedition, the researchers found that the populations of some chinstrap penguin colonies have declined by up to 77 percent since the last survey.
The researchers counted a total count of 52,786 breeding pairs of chinstrap penguins. In 1971, scientist estimated a total of 122,550 pairs. Overall, the total amount of chinstrap penguins on Elephant Island has gone down by nearly 60 percent since 1971.
What accounts for such a significant reduction in penguin populations on Elephant Island? According to expedition leader Dr. Heather J. Lynch, Associate Professor of Ecology & Evolution at Stony Brook University, it has to do with the climate crisis' effects on the local ecosystem and food web.
"Such significant declines suggest that the Southern Ocean's ecosystem is fundamentally changed from 50 years ago, and that the impacts of this are rippling up the food web to species like chinstrap penguins," Lynch told Greenpeace. "While several factors may have a role to play, all the evidence we have points to climate change as being responsible for the changes we are seeing."
Part of that may also be rising temperatures on the northern tip of the Antarctic Peninsula, which is one of the fastest warming areas on Earth, according to the World Meteorological Organization (WMO). Last week, the tip of the peninsula hit what scientists think is Antarctica's highest recorded temperature ever: 64.9 degrees Fahrenheit (or 18.3 degrees Celsius). The drastic temperature peak was most likely the result of a "foehn" event, which is a rapid warming of air coming down a slope or mountain, according to Randal Cerveny of the WMO.
So how can we help protect the chinstrap penguins of the Antarctic Peninsula? According to Frida Bengtsson of Greenpeace's Protect the Oceans campaign, the most important thing is for governments to sign a Global Ocean Treaty this year. As explained by Oceanographic Magazine, the Global Ocean Treaty, which has been in discussion since 2018, would protect the world's oceans under the UN Convention for the Law of the Sea (UNCLOS).
Specifically, the treaty would establish sanctuaries in open oceans to protect marine animals from deep-sea mining, over-fishing, and more, according to the BBC. Not only would this benefit wild marine animals, but it could also help curb greenhouse gas emissions and therefore the climate crisis.
More From Megaphone
.

News

Hungarian Prime Minister Viktor Orbán announced that 10 trees will be planted for every baby born.

.

News

Baby boomers tend to be more environmentally friendly than Millennials and those in Generation Z, according to a new survey.