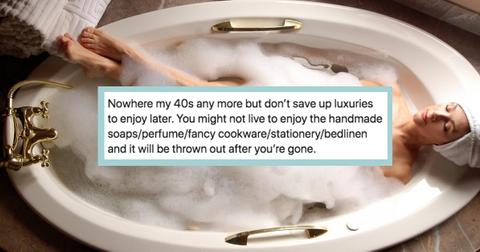 Women in their 40s share the lessons they learned later in life
By Robin Zlotnick

Updated
Learning is a lifelong process, and there's no point at which we become total experts in the ways of the world. One woman decided to ask other women over 40 what they've learned sort of later in life in an effort to help others of all ages focus on the things that end up mattering most. The answers were varied, but all of them equally as insightful.
Article continues below advertisement
Women in their 40s, what is one life lesson you learnt late in life?

I -learnt that sacrifices you make for others are overrated. At the end of the day, you'll be held responsible for the choices you made esp. by those whose share of responsbilities you took over!

Over to you!

— Gee (@GayatriiM) August 18, 2020
Twitter user @GayatriiM started it off by sharing the all-important lesson that you should not sacrifice too much of yourself for the sake of making others feel better. A little compromise here and there never hurt anyone, but you don't want to lose yourself to the choices and ways of other people.
Article continues below advertisement
Nowhere my 40s any more but don't save up luxuries to enjoy later. You might not live to enjoy the handmade soaps/perfume/fancy cookware/stationery/bedlinen and it will be thrown out after you're gone.

— Marryam H Reshii (@reshii) August 19, 2020
I love this one. That fancy perfume you never wear because it was really expensive? Wear it! Those nice heels you bought for special occasions? I bet they would look great with jeans. Don't resist luxuriating yourself because you think you're "saving up" these fancy things for some unspecified later date. Treat yo'self!
Article continues below advertisement
Not too late to focus on your identity. Be passionate about your interests. 50 and 60 is around the corner, you will turn frail and feel lonely. You need something to hold on to. Go, find your path.

— Subhashini (@Neelavanam) August 19, 2020
This is so important, too. It's never too late to take a different path, to realize what you really want and go for it. Maybe you just found out you want to be a writer or a gardener, but you're in your 50s or 60s. You know what I say? Great! Go do it.
Article continues below advertisement
1. Setting boundaries early on helps. 2 Revising boundaries as u learn more is perfectly OK 😊

— Abhijita Kulshrestha (@abhijitaserene) August 19, 2020
Boundaries! I love boundaries. They are super hard to set and to communicate, but once you learn to do it, your life will improve a million percent. And part two is crucial too. Sometimes, those boundaries will change. And that is absolutely OK.
Article continues below advertisement
Indulge yourself. Spend on yourself. Make your own wishes priority at times. It isn't selfish, it is essential.

— namita 👣 (@namitaj68) August 19, 2020
It's not selfish to treat yourself well. It's essential, as Namita says. This can take a long time to learn, but your health and happiness has to be your priority. You're no good to anyone else if all you do is put other people first and struggle to please them.
Article continues below advertisement
How true!!

I have learnt to say NO and without any guilt. Its like now I know what I dont want - very liberating to feel so

— Shalini Baisiwala | Travel & Books |🌍✈📚✏ (@Shalz75) August 19, 2020
Learning to say no is similar to learning how to create boundaries. Creating boundaries is one step, but learning how to enforce those boundaries by saying, "No!" without guilt is an entirely different skill. And it's extremely important.
Article continues below advertisement
To treat the other as just a human. Then their flaws don't overwhelm

— Aparna Ramachandra (@msaparna) August 19, 2020
It's important not to expect others to be perfect all the time. That does not mean that you don't address mistakes head on when they make them. But acknowledging that no one's perfect will allow some peace and understanding in the way you move through the world.
Article continues below advertisement
Thanks! Let go , let go... and that transforms you into a wonderful woman

— LekhaChakraborty🌎 (@lekhachakrborty) August 19, 2020
This one is sort of related to the last one. In the immortal words of Princess Elsa from Frozen, "Let it go." Let go of stuff. It benefits no one, least of all you, to hold grudges. It's tempting to continually punish people for their mistakes, but eventually, you'll learn the person you're actually punishing by holding on to that hate is yourself.
Article continues below advertisement
Focus on fitness/exercise even when you feel/are young and healthy and feel invincible. Focus on it even if you hate exercise for the sake of it. Do it no matter what. It WILL matter later in life.

— Maith Iyengar (@maith_i) August 19, 2020
Ah, a very practical tip! You don't want to let it consume your entire life, but it's definitely important to stay active and healthy even when you think nothing can hurt you. You don't want to pay for it later. Keeping fit and active is a lifelong practice, and it will help you age gracefully and healthily.
Article continues below advertisement
1. Self love. Its about being aware and to work towards what makes u happy
2. People don't change inherently. Not to waste time in 'changing' people
3. Toxic people need to be distanced and eliminated asap

— 𝕊𝕣𝕦𝕤𝕙𝕥𝕚 ℝ𝕒𝕠👩🏽‍🎨📖 (@ItemMom) August 19, 2020
These are all essential. You can't change someone. If they're going to change, it's going to come from within themselves. So it's much better for you to distance yourself, to worry about your sanity and your mental health than to try to engage with someone who isn't putting in the work to change themselves.