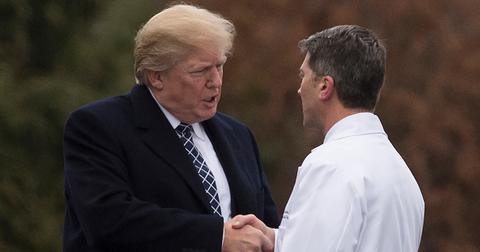 Former White House doctor says he put cauliflower into Trump's mashed potatoes to help him lose weight
By Mark Pygas
President Donald Trump has a notoriously bad diet. According to Corey Lewandowski, his former campaign manager, the president would go 14 to 16 hours without eating and then gorge on a McDonald's dinner of two Big Macs, two Filet-O-Fish sandwiches, and a small chocolate shake.
So it came as no surprise that President Trump changed up his diet in 2018 when a health checkup by White House physician Rear Admiral Ronny Jackson found that the president's weight was just one pound below obesity levels.
According to a report by Bloomberg later in the year, Trump began eating more soups and salads. But in an interview with the New York Times, Dr. Jackson revealed that not all had gone to plan when it came to the diet.
Dr. Jackson stepped down from his role as White House physician in December to lead the Department of Veterans Affairs. But his name was withdrawn from the running when a number of his White House aides accused him of being a bully who kept poor records and drank too much. Three colleagues also alleged that he drank on overseas trips with the president when he was supposed to be sober.
He's now running for Congress in Texas' 13th District, citing his close relationship with President Trump and other members of the administration as one of his main appeals.
During the interview, Dr. Jackson revealed that one of his main regrets was leaving the White House before fully implementing Trump's diet plan. He also went on to explain a few of the methods he used to help Trump meet his goal of losing 10 to 15 pounds.
"The exercise stuff never took off as much as I wanted it to," he told the New York Times. "But we were working on his diet. We were making the ice cream less accessible; we were putting cauliflower into the mashed potatoes."
Unsurprisingly, the strange confession that Dr. Jackson was sneaking cauliflower into Trump's potatoes was quickly picked up by social media.
And it attracted a fair deal of comments, with one user writing: "Like he was four years old. Trick him into eating his vegetables. I say give him everything he wants. Ice cream for breakfast lunch and dinner, fried chicken, burgers, fries all good food. Why should he be deprived? After all he works so hard for the people."
While another added: "'We were putting cauliflower into the mashed potatoes.' Lots of parents do this to get their toddlers to eat vegetables."