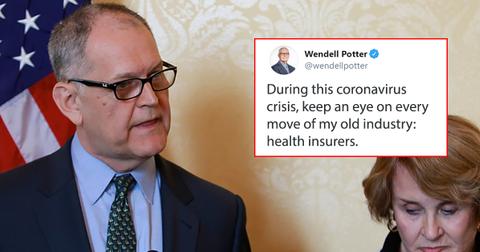 Ex-insurance VP warns people to 'keep an eye' on health insurance companies during coronavirus pandemic
By Mark Pygas
Vice President Mike Pence has promised that those who get tested for coronavirus won't need to worry about the bill. "We want people to get tested," Pence said, adding that insurers have pledged that patients won't get a bill for testing and that they've agreed to waive co-pays for those covered by their plans.
"We want the American people to know that they are covered through private insurance. They are covered through Medicare and Medicaid. And there will be no surprise billing," he added.
But in his address to the nation last week, Trump said that insurers would also cover the costs of treatment.
"Earlier this week, I met with the leaders of health insurance industry," he said, "who have agreed to waive all co-payments for coronavirus treatments, extend insurance coverage to these treatments, and to prevent surprise medical billing."
Though that seems to be inaccurate. In a statement to Politico, a representative for America's Health Insurance Plans said co-payments would be waived "for testing" but "not for treatment".
With all these mixed signals, Wendell Potter, the former VP of Cigna, is telling people to "keep an eye on every move" of health insurers. He warns that insurance companies "will be doing everything they can to deny care & maintain profits while making it look like they're heroes."
Potter, who describes himself as a "whistleblower and reformed insurance propagandist," resigned from Cigna in 2008 after seeing the appalling conditions at a free clinic in rural Virginia. He has since testified against the health insurance industry in the U.S. Senate and campaigned for Medicare for All.
In a series of tweets, Potter shared his views on how health insurers could actually respond to the coronavirus pandemic.
"The president said that insurers 'have agreed to waive all copayments for coronavirus treatments.' Don't count on that," Potter wrote. "Insurers' biggest trade group ("AHIP") said soon after Trump's speech that what insurers would waive would be cost-sharing for testing. Not treatment."
"You can be sure Trump's comment sent shockwaves through the industry," Potter added. "For many, treatment will be way more expensive than testing. If insurers let their enrollees (YOU) off the hook for out-of-pocket expenses related to treatment, their shareholders would be apoplectic."
Potter went on to claim that a number of insurers, including his former employer, won't be waiving copays or deductibles for treatment.
While Cigna does say that they'll cover the cost of testing on the webpage that Potter linked, they make no mention of treatment.
Potter went on to share a page from UnitedHealthcare, which again, only mentions testing. "Any care or treatment for COVID-19 will be covered in accordance with your health benefits plan," the website states. "Your deductibles, copays and coinsurance will apply."
Potter then goes on to explain a metric that health insurers watch very closely, called the "medical loss ratio."
"For-profit insurers are in the business to make a profit. Period," Potter warned. "And they do better when you don't need them or remember they exist. But when a crisis like this erupts, they get scared. Why? Because folks like you will see what they really do and don't cover."
Potter goes on to conclude: "As a former insurance exec, let me tell you: The strategy of moving Americans into high deductible plans has paid off beautifully for shareholders & top execs. But it's forcing millions of Americans to forego care, turn to GoFundMe or bankruptcy court due to awful bills."
"This pandemic will finally reveal how devastating insurers' greed will be to so many of us. Tragically, some Americans will likely die because policymakers turned the keys of our healthcare system over to profit-driven insurance corporations. That has to finally end."
The last thing that many people need at a time like this is a large medical bill.
The best way to prevent contracting or spreading the coronavirus is with thorough hand washing and social distancing. If you feel you may be experiencing symptoms of the coronavirus, which include persistent cough (usually dry), fever, shortness of breath, and fatigue, please call your doctor before going to get tested. For comprehensive resources and updates, visit the CDC website. If you are experiencing anxiety about the virus, seek out mental health support from your provider or visit NAMI.org.