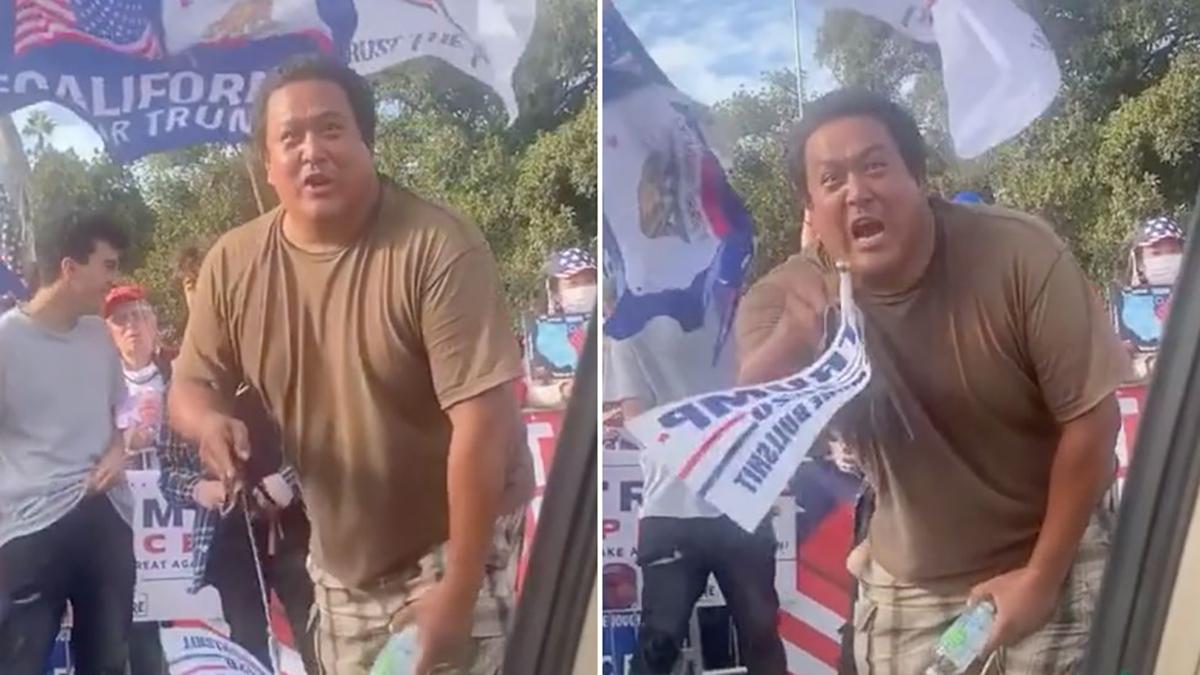 Man waves sword at woman near polling station telling her to 'vote for Trump whether you like it or not'
By Mark Pygas

Oct. 30 2020, Updated 9:18 a.m. ET
A video that appears to show a supporter of President Donald Trump attempting to intimidate voters has gone viral online. Ajay Rochester, the woman who filmed the incident, explained that she was driving past a Trump rally in Beverly Hills, California, when a man with a sword told her to "vote for Trump whether you like it or not" and photographed her plates.
Article continues below advertisement
"We got you now," the man can be heard saying in the video. "We got your plates, we got you. We know who you are now. You're going to vote for Trump whether you like it or not."
Throughout the video, the man waves a sword that has a Trump flag attached to it.
Article continues below advertisement
Rochester said she was left "scared and intimidated" by the incident, which occurred just two blocks away from a polling station. Rochester said that attendees of the Trump rally "were all there to tell and jeer at any car that did not honk and cheer them on."
"There was nothing on my car to indicate my affiliation at all," Rochester added. "As you can see by the video I was not responding and yet he escalated it."
Rochester said she contacted Beverly Hills Police Department after the incident, but that they "didn't seem to care." Rochester also said she had notified the FBI.
Rochester, who is originally from Australia, is not eligible to vote, according to the Daily Mail.
Article continues below advertisement
This incident comes a week after a Miami police officer faced disciplinary action after wearing a pro-Trump face mask while dressed in full uniform with a badge and a gun at an early voting site. Steve Simeonidis, the chair of the Miami-Dade Democratic Party, described the event as a "brazen" attempt at voter intimidation.
Simeonidis was moving through Stephen P. Clark Government Center, which is being used as an early voting site, when he spotted Officer Daniel Ubeda in a mask that read "TRUMP 2020; NO MORE BULLSHIT."
Simeonidis took to Twitter to write, "Here is City of Miami Police Officer Daniel Ubeda, in full uniform with badge and gun wearing his Trump mask inside of the polling location in the government center. This is city-funded voter intimidation. Ubeda should be suspended immediately."
Article continues below advertisement
Simeonidis told BuzzFeed News that Ubeda got within 10 feet of voters. According to top the publication, no one is allowed to solicit voters inside or within 150 feet of the entrance to a voting site. Intimidating voters is illegal under both state and federal laws.
"I just said, 'Excuse me, officer, I just want to take a picture,' and he made some snide comment," Simeonidis told the publication. "He called me 'sweetheart' or something like that — just complete disregard of the fact that he was intentionally intimidating voters at the polling location."
Deputy Police Chief Ron Papier told the Miami Herald that "appropriate disciplinary action" will be taken against the police officer. "Obviously this is a clear violation of our department policy regarding campaigning while on duty," Papier said. "Additionally, the mask has offensive language, which is also a violation of department policy."